'Baja dunga': Priyanka Gandhi's aide manhandles journalist, video goes viral
'Baja dunga': Priyanka Gandhi's aide manhandles journalist, video goes viral
Aug 14, 2019, 09:32 am
3 min read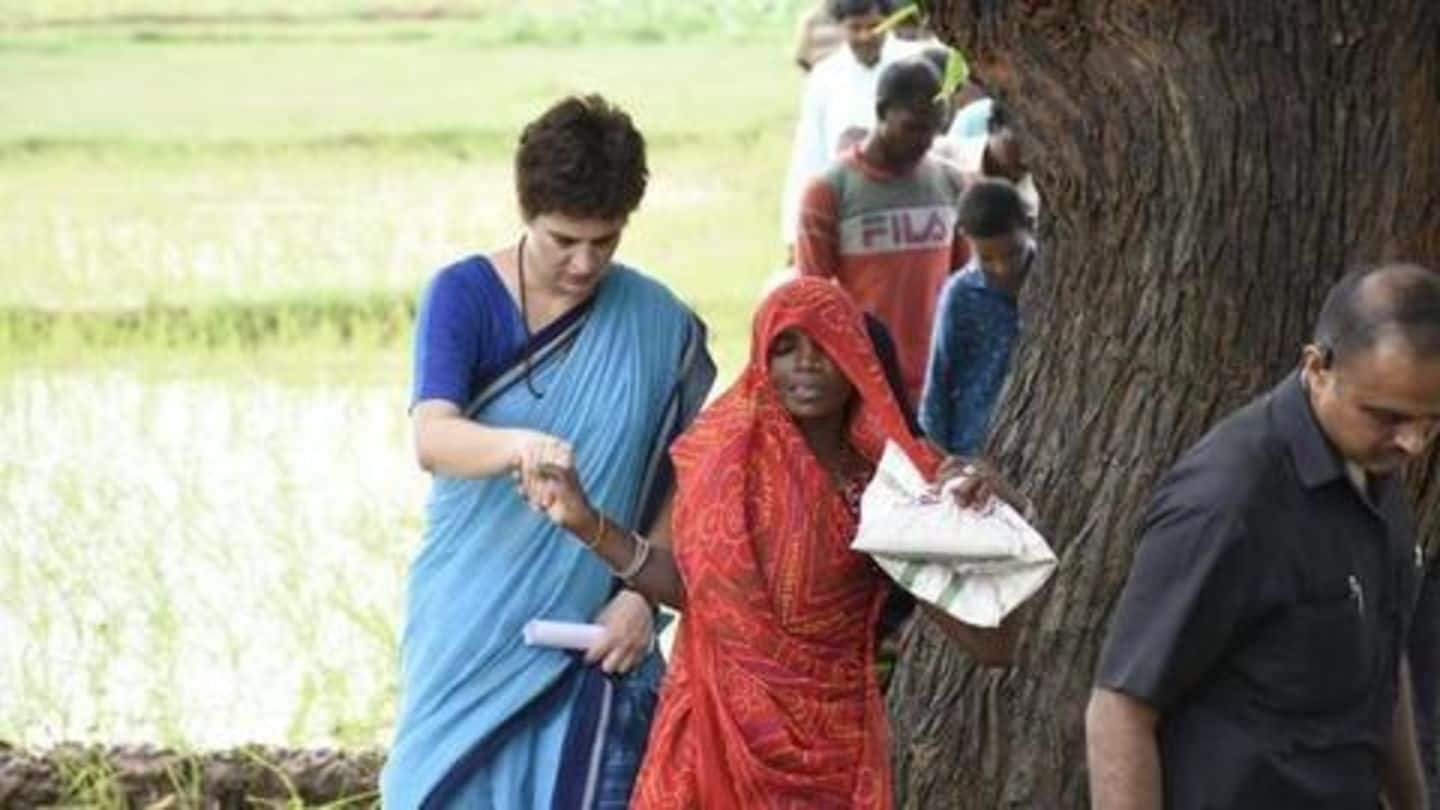 An aide of Congress leader Priyanka Gandhi Vadra manhandled a journalist in Uttar Pradesh on Tuesday, a video of which has gone viral. The journalist wanted a comment from Priyanka on the Centre's move of scrapping Article 370. After she ignored his questions, Sandeep Singh, said to be her personal secretary, threatened the journalist. A complaint has been lodged. Here are more details.
Context: Weeks after Sonbhadra violence, Priyanka visited Umbha village
Priyanka visited Sonbhadra's Umbha village, where a land dispute turned deadly last month. At least 10 Gond tribals were killed and over 20 were injured after village head Yagya Dutt ordered his henchmen to open fire. The Congress leader had slammed Chief Minister Yogi Adityanath's government after the massacre. Priyanka had also staged a protest after she was stopped from meeting the victims' families.
Before the visit, here's what Priyanka tweeted
चुनार के किले पर मुझसे मिलने आए उभ्भा गाँव के पीड़ित परिवारों के सदस्यों से मैंने वादा किया था कि मैं उनके गाँव आऊँगी।

आज मैं उभ्भा गाँव के बहनों-भाइयों और बच्चों से मिलने, उनका हालचाल सुनने-देखने, उनका संघर्ष साझा करने #सोनभद्र जा रही हूँ।

— Priyanka Gandhi Vadra (@priyankagandhi) August 13, 2019
After Priyanka avoided reporter's question, her aide misbehaved with him
Now, Priyanka's visit garnered attention but for all the wrong reasons. While her aide misbehaved with an ABP reporter, who wanted her opinion on the J&K issue, Priyanka kept quiet. In the viral clip, an aggressive Singh can be heard saying "Suno Suno, Thok ke yahi baja dunga, marunga toh yehi gir jaoge". He also accused the reporter of "taking a bribe" from BJP.
You can watch the video here
मेरे सहयोगी @ABPNews के संवादाता प्रियंका गांधी से धारा - 370 सवाल पूछ रहे थे...

प्रियंका गांधी के ख़ास सलाहकार माने जाने वाले संदीप सिंह यहाँ बोल रहे है, यही पर रखकर बजा दूँगा और तुम भाजपा से पैसे लेकर आए हो pic.twitter.com/cp8D52q9JV

— Aadesh Rawal (@AadeshRawal) August 13, 2019
Years ago, Singh had shown black flags to Manmohan Singh
Singh, a former leader of JNU, is not an office-bearer of Congress' state unit. "He is based in Delhi and takes care of Priyanka's schedules," a local Congress leader told TOI. Interestingly, Singh had shown black flags to Dr. Manmohan Singh for his "anti-people" policies in 2005. After quitting JNU, he became active in the anti-corruption movement, led by Anna Hazare.
Apparently, Singh wrote Rahul Gandhi's speeches
Reportedly, Singh also worked closely with former Congress President Rahul Gandhi and wrote speeches for him. Political commentators said Rahul's speeches took a Leftist turn after Singh started penning them. It seems Singh is now working for Priyanka.
Journalist and other Twitter users slammed Singh's behavior
Singh's inappropriate behavior became the talking point on social media with many questioning Priyanka's silence. @AnkitLal tweeted: Lovely to see the Congress loonies defending this...Wonder what 'Congress Sewa Dal journos' have to say about this (sic). Meanwhile, @vijaita called the behavior "disgusting". Separately, journalist Aditya Raj Kaul called it the "tragedy of Congress party". Another journalist Nistula Hebbar said the incident was "completely unnecessary".
What kind of language is this: Shekhar Gupta
What kind of language and physical intimidation is this. The worst goons in UP politics won't threaten to thrash journalists. Will be a disappointment and surprise if Priyanka, so polite herself, doesn't banish the guy at once, and apologises to the journalist https://t.co/Xcx0gOKAQZ

— Shekhar Gupta (@ShekharGupta) August 13, 2019
Unsurprisingly, BJP didn't let this opportunity go and berated Congress. Harish Chandra Srivastava, the party's spokesperson said, "This happened in the presence of Priyanka and is indicative of the party's negative politics." Separately, Mritunjay Kumar, the media advisor to CM Adityanath, asked Priyanka to "stop the theatrics of wiping tears of the poor". Notably, a complaint was filed against Singh at Ghorawal police station.
We are probing the case, said police
"One Sandeep Singh, mentioned as the personal secretary of Priyanka Gandhi, manhandled the reporter and threatened him with dire consequences. We are probing the case," Ghorawal SHO GP Pandey told TOI.