Why Adityanath shouldn't blame previous governments for Sonbhadra violence
Why Adityanath shouldn't blame previous governments for Sonbhadra violence
Jul 22, 2019, 04:29 pm
4 min read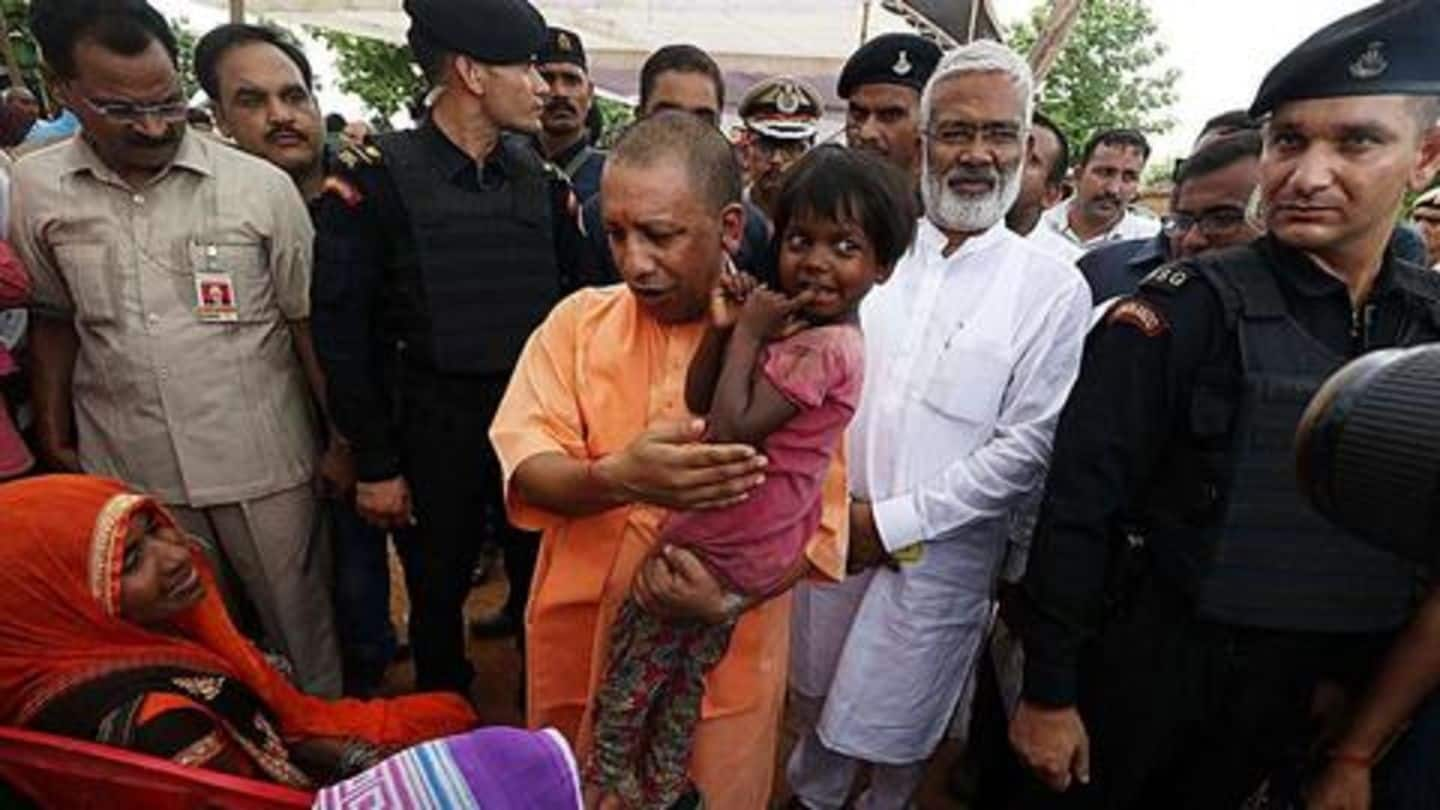 An unprecedented incident happened in Uttar Pradesh's Sonbhadra district last week. A land dispute turned violent after a village head ordered his henchmen to fire on tribals, killing 10 people. When Chief Minister Yogi Adityanath visited the village, he blamed SP, BSP, and Congress for it. However, this time Adityanath can't follow BJP's "rule-book" and hold previous governments responsible. Let's tell you why.
Context: Village-head opened fire after tribals refused to give land
The dispute pertains to 36 acres of agricultural land in Umbha village, which was being cultivated by the marginalized Gond community for years. The village chief, Yagya Dutt, claimed he bought the land two years ago. On July 17, Dutt arrived to take "possession" of the land. When Gond community members resisted, his henchmen opened fire for 30 odd minutes. Let that sink in.
On visit to Umbha, Adityanath cried "political conspiracy"
The massacre, one of the deadliest the state witnessed, put Adityanath on the line of fire. He visited Umbha on Sunday and quickly shrugged off responsibility. Adityanath said, "The main accused, village head Yagya Dutt, was a member of the Samajwadi Party and his brother worked for the BSP. Both have been arrested. The incident is an outcome of a political conspiracy."
Ignoring his government's wrongdoings, Adityanath followed BJP's template
Now, Adityanath's stance is hardly surprising. Since it came to power, all BJP has done is to blame previous governments for everything wrong that happens. But Adityanath missed the fact that two major things happened in his rule, which aided the violence. He may have claimed Congress, SP, BSP were "anti-tribal", but it seems he is also following their footsteps.
Apparently, land belonged to princely state
To understand how Adityanath is responsible, let's look towards history. Before Independence till 1955, the land belonged to a princely state. As per reports, a local ruler gifted the land to Raja of Badhal, way before Independence movement. The Raja gave the land for farming to his men. Most of them were tribals. Then in the 1950s, the call to abolish zamindari grew louder.
Villagers were promised their farming rights won't be compromised
In December 1955, the land was transferred to Adarsh Cooperative Society on the orders of tehsildar of Robertsganj. When farmers raised an objection, they were assured that land belonging to society won't be sold off, so they could continue farming. Till 1989, things worked smoothly until the land was transferred in the name of an IAS officer Prabhat Mishra, his wife, and family members.
New owners "let" villagers cultivate land after extorting money
When Mishra was made the owner, villagers raised objection again. But extortion ensured they worked peacefully. According to them, the new owners started extorting Rs. 300-400 per bigha for cultivation. In this quest of his, Mishra was aided by Gujjars, who are the more dominant caste in the area. Post demonetization, in 2017, the family "decided" to sell the land to the village head.
In 2017, deal was inked; in 2019, land registered
Now, the agreement to transfer the land from the IAS' family to Dutt was inked in October 2017, months after Adityanath took the helm of India's most populated state. Mishra's wife, daughter, and son-in-law executed this agreement, amid protests. In February 2019, despite objections from tribal farmers, the land was officially registered in Dutt's name after completing the dakhil-kharij exercise.
Adityanath ordered probe after killings. Why were pleas ignored earlier?
In fact, in 2018, when five people from the Gond community raised an objection about the deal, they were booked under the stringent Goonda Act. Now, Adityanath has sought a report into all wrongdoings, since the 1950s, within ten days. But the question is: Why did the administration ignore pleas of poor tribal villagers before the massacre? Perhaps because our governments wake up only after innocents die.
Ironically, Adityanath's visit to Umbha came after Priyanka met families
Adityanath's government turned a deaf ear to requests of tribals before the massacre and did the same after people died. The CM "found" time to visit Umbha village four days after the bloodbath. Till then, he was busy ordering police to stop Congress' Priyanka Gandhi Vadra from meeting the victims' families. These apathetic leaders are the reason why no one trusts the system anymore.