Pragya Thakur claims she helped raze Babri Masjid, gets EC-notice
Pragya Thakur claims she helped raze Babri Masjid, gets EC-notice
Apr 21, 2019, 12:57 pm
3 min read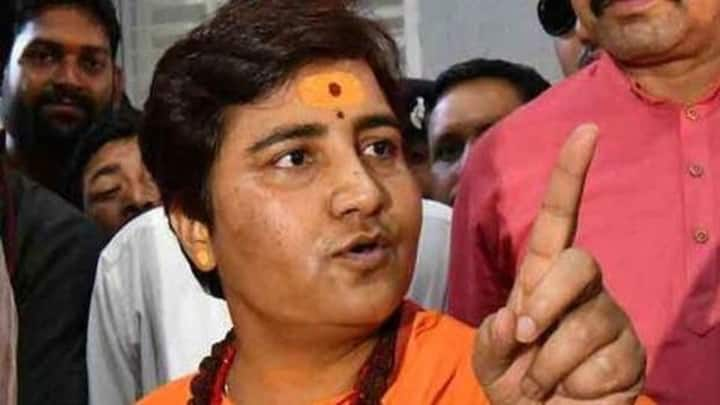 While the storm over her 'curse' comment was still raging, BJP's Bhopal candidate Sadhvi Pragya sparked a new controversy on Saturday when she claimed she helped demolish Babri Masjid in 1992. Her remarks caught Election Commission's attention and she was served a notice, her second for the day. She said she wanted a Ram temple at the disputed site in Ayodhya. Here's more.
Climbed on top of the structure to break it: Pragya
Pragya made the controversial remark while speaking to a news channel. She said a grand temple will be built at the spot. "I climbed atop the structure to break it. I am tremendously proud that God gave me the opportunity and the strength to do it. We wiped off a blot on the country. Now we will build the Ram temple there," she said.
Demolishing Babri Masjid awakened 'self-respect' in country, claimed Pragya
Pragya went on to say she was proud of demolition. "There were some waste products of the Ram temple and we removed it," she added and claimed this awakened 'self-respect' in the country. She slammed Congress and said the party ruled for 70 years but "even our temples weren't secure". "Where will the Ram temple be constructed if not in this country," she asked.
Nobody can stop construction of Ram temple: Pragya
Pragya Singh Thakur, BJP's Bhopal candidate: Yes, I had gone there (Ayodhya), I had said it y'day too, not denying it. I had demolished the structure. I will go there help in the construction of Ram temple, nobody can stop us from doing that, Ram rashtra hain, rashtra Ram hain. pic.twitter.com/d1g5kBA8Az

— ANI (@ANI) April 21, 2019
EC served a notice to Pragya
Taking cognizance of her comments, MP Chief Election Officer VL Kantha Rao issued a notice to her. An advisory was also issued to parties. The CEO's office noted that complaints and counter-complaints it has received shows candidates are deliberately making statements to cause mutual hatred. "Repeated violation of MCC and use of intemperate and abusive language may lead to action," the advisory read.
Earlier, Pragya said her curse led to Karkare's death
Earlier this week, Pragya sparked a row when she said former ATS chief Hemant Karkare died because she 'cursed' him. The Karkare-led team arrested Pragya for her alleged involvement in 2008 Malegaon blast case, in which five people died. Pragya, who faces trial under various sections of UAPA, was released on bail in 2017. After outcry, Pragya retracted her words and called Karkare a 'martyr'.
Later, Pragya demanded apology from those who 'tortured' her
After Pragya apologized for her demeaning statements, she sang a new tune. She said on Saturday, "I have myself apologized yesterday... I give you the authority to get an apology from those who tortured me. Will you get an apology from those who tortured me for nine years?" Pragya has been fielded from BJP bastion Bhopal opposite Congress stalwart Digvijaya Singh.