'Be a man', Rahul Gandhi tells PM Modi, invites criticism
'Be a man', Rahul Gandhi tells PM Modi, invites criticism
Jan 10, 2019, 12:50 pm
3 min read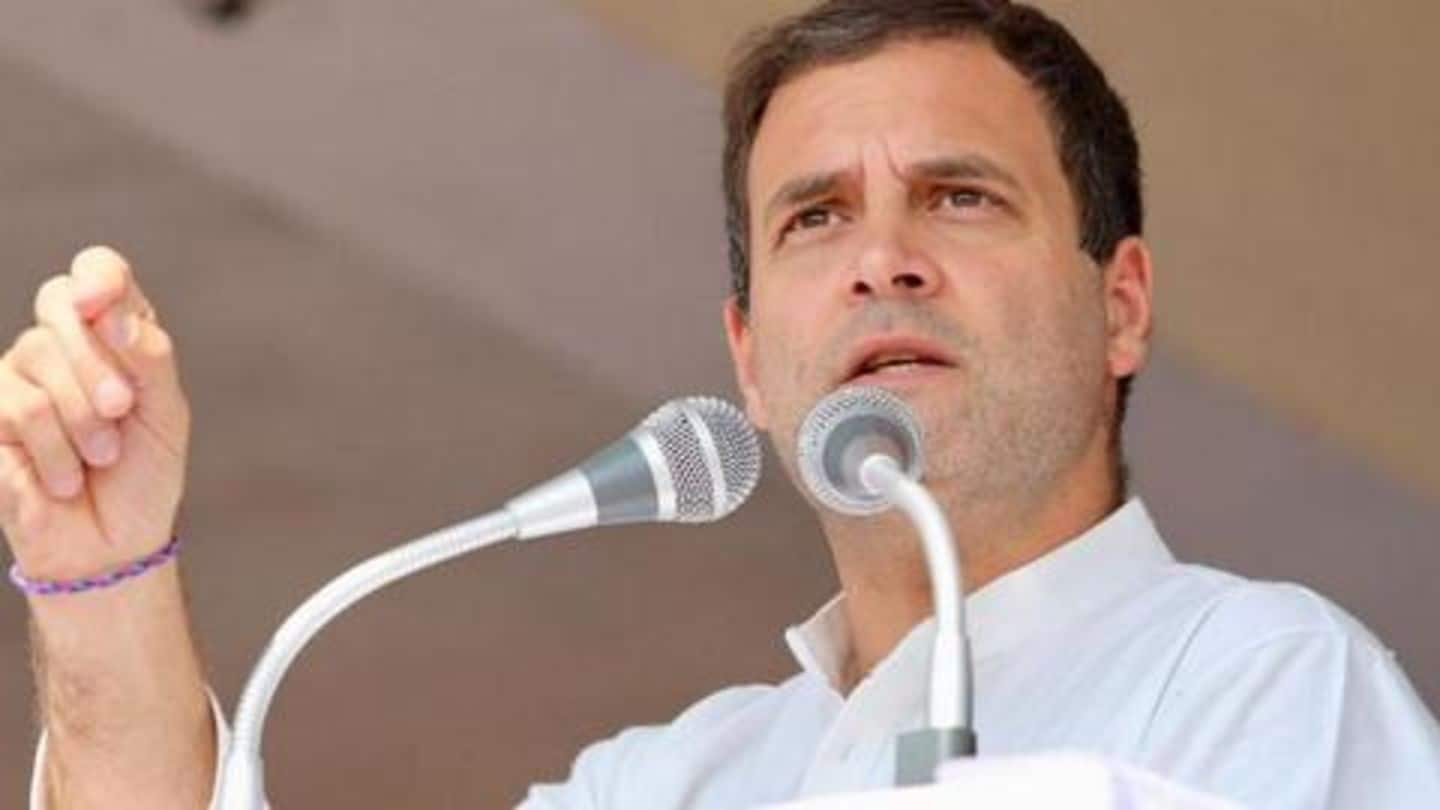 Congress President Rahul Gandhi has found himself at the center of a controversy after he claimed Prime Minister Narendra Modi was scared of his questions and instead sent a woman to defend himself at the Parliament. His obvious reference to Defense Minister Nirmala Sitharaman didn't sit well with BJP who called RaGa 'misogynist'. RaGa's tweet to repair the damage further created a stir.
PM Modi ran away, sent a woman, said RaGa
It all started when RaGa in a rally in Rajasthan mentioned Rafale and said PM Modi didn't face questions. "The watchman with a 56-inch chest ran away and told a woman, Sitharaman ji, defend me. I won't be able to defend myself, defend me," he said, using the word mahila for a woman. He added Sitharaman couldn't answer a yes or no question.
PM Modi says after lies demolished, Opposition attacking Defense Minister
On Wednesday, when PM Modi addressed a rally in Agra later in the day he attacked RaGa. He said Sitharaman was India's daughter and went on to become the first female Defense Minister. Referring to the marathon speech of Sitharaman in the Lok Sabha, PM Modi said she silenced the entire Opposition and they were stunned. He said RaGa insulted India's women power.
"Matter of pride that a daughter became India's Defense Minister"
"For the first time, a daughter of the county has become Defense Minister. Our Defense Minister silenced all the Opposition parties in Parliament (on Rafale) and exposed their lies. They were so stunned that now they are insulting a woman Defense Minister," PM Modi said.
Later, RaGa tweeted and added fuel to the fire
But the war of words was far from over. Last night, RaGa took to his Twitter account asking PM Modi to 'Be A Man' and answer his questions. This prompted BJP leaders, including Union Ministers Smriti Irani and Sushma Swaraj, to launch a sharp attack on RaGa. Swaraj said he hit a new low in politics and Irani tweeted RaGa was intimidated by Sitharaman.
"Stop shaking. Be a man," tweets RaGa
With all due respect Modi Ji, in our culture respect for women begins at home.

Stop shaking. Be a man and answer my question: Did the Air Force and Defence Ministry object when you bypassed the original Rafale deal?

Yes? Or No? #RafaleScam

— Rahul Gandhi (@RahulGandhi) January 9, 2019
Sushma Swaraj hits out at RaGa after his comments
Rahul Gandhi's comments on Defence Minister Nirmala Sitaraman's reply to a debate on a subject relating to Ministry of Defence is a new low in the history of Indian politics.

— Sushma Swaraj (@SushmaSwaraj) January 9, 2019
Separately, RaGa gets notice from NCW; slammed by Twitter users
Meanwhile, the National Commission of Women has sent a notice to RaGa over his 'PM ran away and asked a mahila to defend him' statement. Separately, on Twitter #BeAMan trend garnered plenty of tweets. @sanagajapati tweeted: A new low in Indian Politics! @RahulGandhi's remarks on India's Defence Minister @nsitharaman is disgraceful and is an insult to every Indian Woman. Real men celebrate women. #BeAMan
BJP's Amit Malviya slams RaGa
Rahul Gandhi betrays the misogynistic mindset of the Congress party. That also explains the several instances of women being exploited in the Congress ranks.

Disgraceful to see Congress President stoop so low. #BeAMan

— Amit Malviya (@amitmalviya) January 10, 2019