#CitizenshipBill: In Rajya Sabha, Rajnath Singh says false-information being spread
#CitizenshipBill: In Rajya Sabha, Rajnath Singh says false-information being spread
Jan 09, 2019, 05:00 pm
2 min read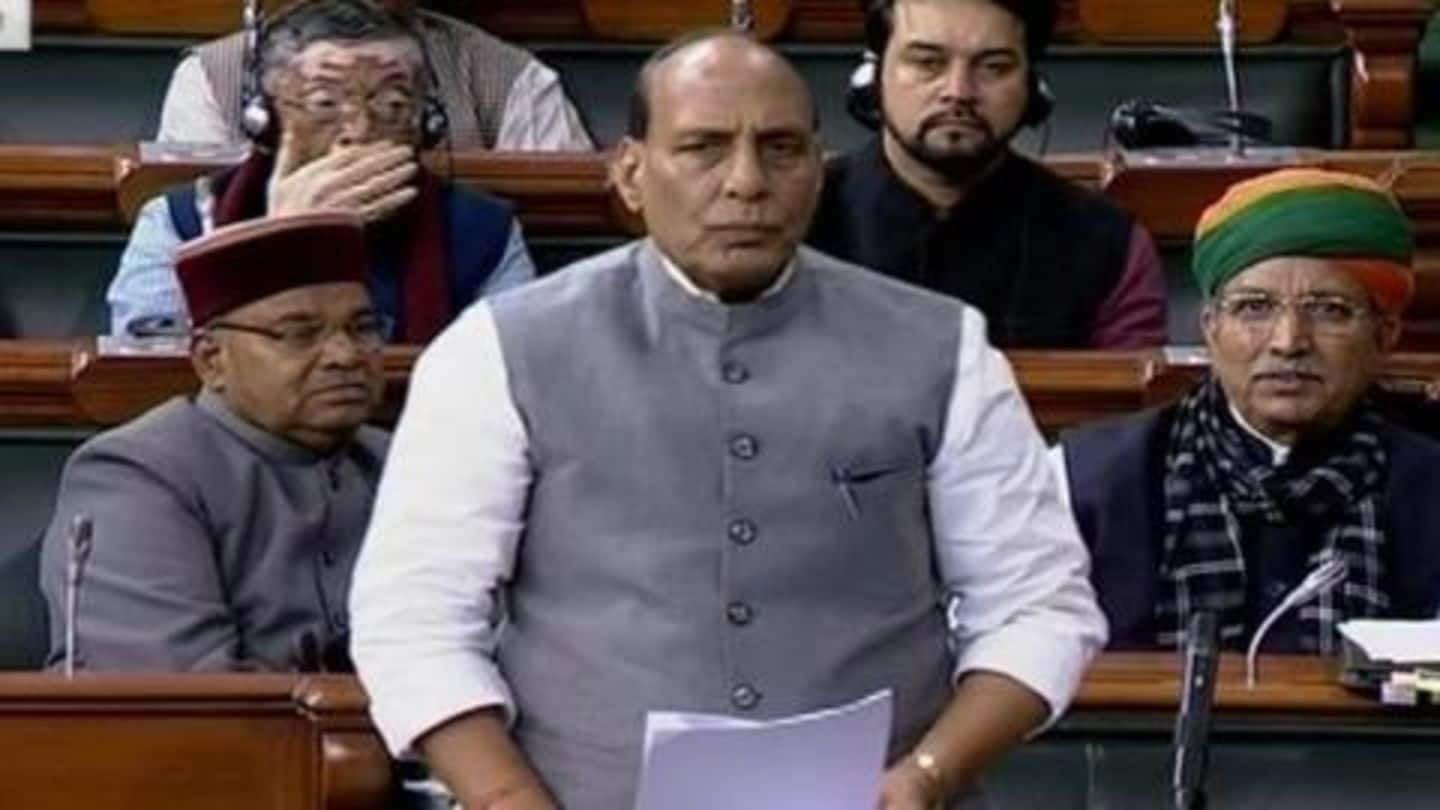 Union Home Minister Rajnath Singh spoke on the Citizenship Amendment Bill in the Rajya Sabha on Wednesday and said a lot of false information was being spread on it. He noted border security won't be compromised in any case. The bill was passed in the Lok Sabha on Tuesday, where the NDA has majority but faced resistance in the Upper House.
Backstory: Centre wants to give non-Muslims migrants citizenship
The bill hopes to extend Indian citizenship to minorities, namely Hindus, Sikhs, Jains, Buddhists, Christians, and Parsis persecuted in Bangladesh, Afghanistan, and Pakistan. The migrants will be eligible for Indian citizenship only after a thorough screening process by authorities. The Centre also reduced the minimum residency slab from 12 years to 7 years. The proposed bill will be applicable to all states and UTs.
People in Assam don't want the bill passed
The Centre's plans led to widespread protests in Assam. The North East Students' Organization (NESO), an umbrella organization of various students' unions, called for a bandh on Tuesday and Wednesday. The bodies believe this bill will nullify the 1985 Assam Accord, according to which all illegal immigrants should be deported. The Centre was attacked in the house for the brewing violence Assam.
Singh says Assam's identity will be protected
Defending the bill, Singh said the situation in Northeast is under control. He said, "We are committed to protecting the identity and culture of Northeastern States. The border security has been tightened to check illegal migration." He said six communities were given tribe status and assured that existing tribes won't be affected. "More power will be given to Bodoland Territorial Council," he said.
We will implement Assam Accord: Singh
"This is not solely about Assam. Minorities in neighboring countries who are victims of religious persecution will be given relief. Will implement Assam Accord. Reservation for Assamese in govt jobs and steps to protect the social, cultural and linguistic identity of Assamese," Singh said.
Meanwhile, Ram Madhav says India has duties towards persecuted minorities
Separately, BJP General Secretary Ram Madhav said it was upsetting that Asom Gana Parishad (AGP) was party to the protests. He said their apprehensions were just that and hoped they would reconsider the decision of leaving NDA. "They (minorities) seek refuge in India. It's India's duty to extend citizenship facility to them but it's not for any one region," he said.
One state will not be burdened, assures Ram Madhav
Ram Madhav, BJP: They seek refuge in India. It's India's duty to extend citizenship facility to them but it's not for any one region. It's coming with a number of conditions so that no single state will be unnecessarily burdened or unnecessarily subjected to demographic problem. https://t.co/ENPg7oalIX

— ANI (@ANI) January 9, 2019