Now, Smriti Irani slams Deepika Padukone for visiting JNU
Now, Smriti Irani slams Deepika Padukone for visiting JNU
Jan 10, 2020, 04:54 pm
3 min read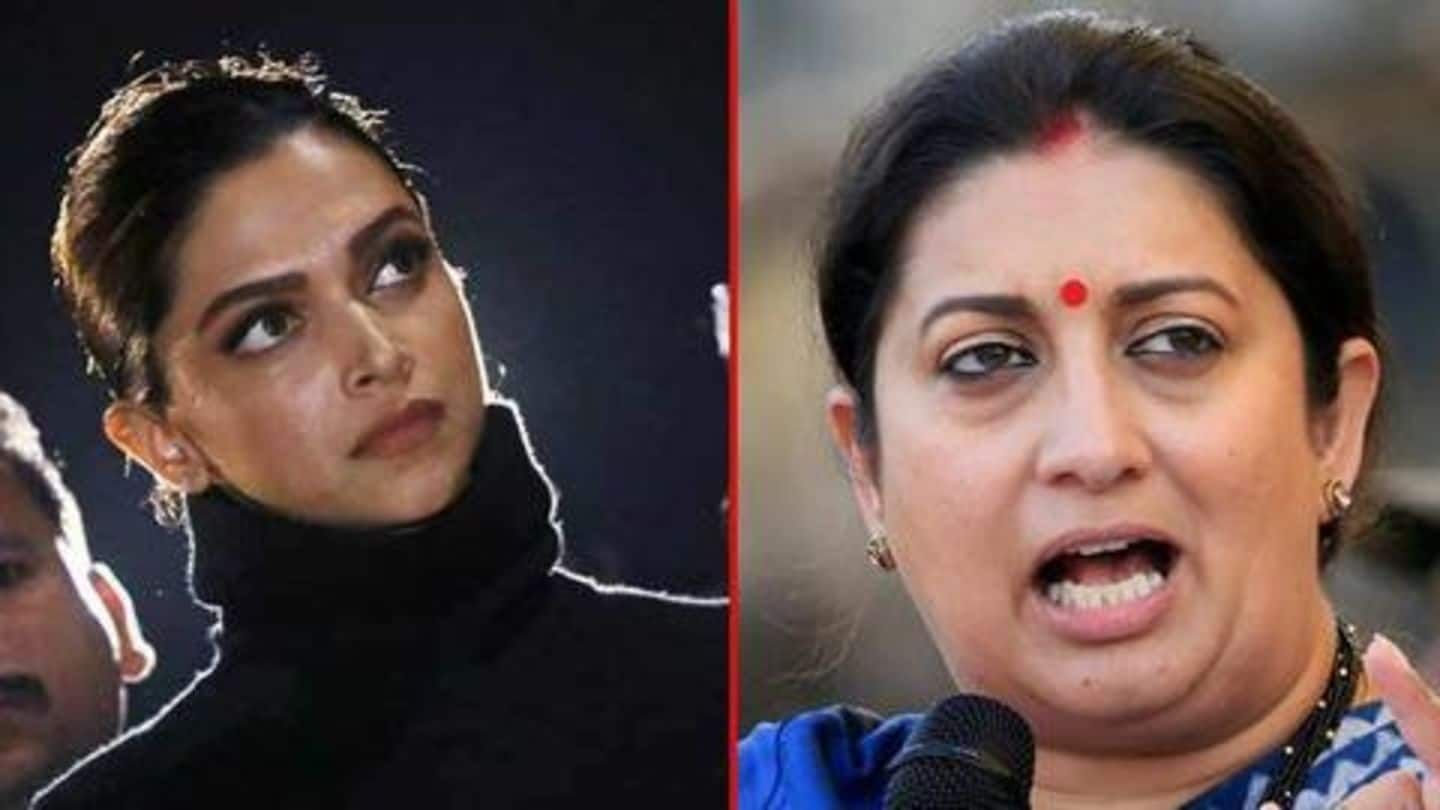 Jawaharlal Nehru University (JNU) is back in headlines after violence rocked the institution on Sunday. Both Left and Right parties are blaming one another, but the controversy took a new turn when actress Deepika Padukone participated in students' protest. Both ridiculed and lauded for her action, Deepika has taken over much of primetime and now, actor-turned-politician Smriti Irani has slammed her. Here's what happened.
JNU, Deepika's visit, and outrage: Quick recap of what happened
A few days ago, some 50 masked goons entered JNU, beat students with rods and hammers, vandalized the campus, and then fled. The rampage continued for three hours, scaring students, some of whom hid inside hostel rooms to save themselves. Over 20, including JNU Students' Union President Aishe Ghosh, suffered serious injuries. The incident inside the national capital upset everyone, including Deepika.
People took to streets after incident, Deepika went to JNU
After the deplorable incident, students and civil society members took to streets expressing solidarity towards the victims. One such protest was held inside the campus on Tuesday and Deepika surprised everyone by attending it. Dressed in black, she stayed for 15 minutes and greeted students before leaving. But she promptly invited criticism for her actions, as some claimed she stood with "anti-nationals".
Her political affiliations are known: Irani's jibe at Deepika
Since her gesture, BJP leaders have been condemning Deepika and on Thursday, Irani also hopped on the bandwagon. Speaking at an event organized by The New Indian Express, Irani said Deepika's political affiliations were known in 2011. She was referring to an old interview of Deepika in which the actress said she would like to see Congress' Rahul Gandhi as the country's Prime Minister.
Irani isn't surprised with Deepika's actions
"I think that anybody who has read the news knew where you are going to stand... knew that you are standing with people who celebrate every time a CRPF jawan is killed. It's her right (to) stand next to people who say Bharat tere tukde honge," Irani added.
You can watch Irani's speech here
Other BJP leaders aren't holding Deepika in high regards either
Before Irani, other BJP leaders like Himanta Biswa Sarma also condemned Deepika's visit. Sarma called it a publicity stunt. And, Mohan Bhargava, the leader of opposition in Madhya Pradesh, made a sexist remark by saying heroines should "dance and sing in Mumbai". "Why should she go to JNU?," he asked and suggested "people like Deepika" to join politics and contest elections.
Patriot earlier, traitor now: Kanhaiya on reactions to Deepika's visit
The vitriolic attack which Deepika was subjected to got a reaction from former JNUSU President Kanhaiya Kumar, with whom she shared the stage on her visit. "Deepika Padukone campaigning for Prime Minister Narendra Modi was deshbhakt (patriot) but when she came to JNU she became a deshdrohi (traitor)," Kanhaiya said, hinting at reports that Deepika might be dropped from Centre's Skill India campaign.
Deepika got attention when Delhi Police's laxity should
While Deepika's excursion to JNU may have garnered all the attention, it's pertinent to note that five days have passed but Delhi Police is yet to make a single arrest. This, despite a right-wing fringe group, Hindu Raksha Dal, claiming that it orchestrated the attack because JNU "is full of anti-nationals". The claims of the group are still being investigated.