Opposition shows strength at DMK-event, Stalin endorses RaGa as PM
Opposition shows strength at DMK-event, Stalin endorses RaGa as PM
Dec 17, 2018, 10:37 am
3 min read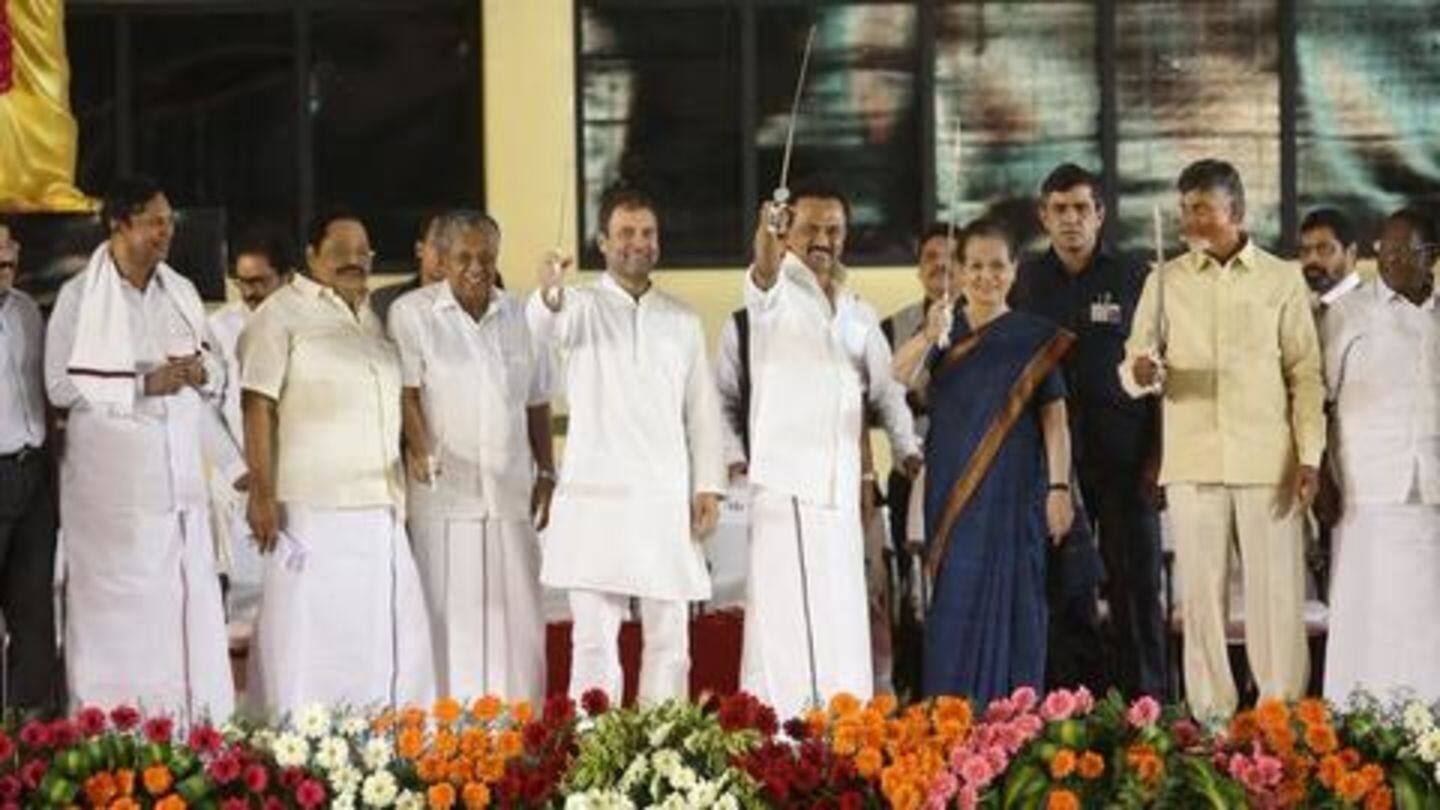 On Sunday, UPA Chairperson Sonia Gandhi went to Tamil Nadu to unveil the statue of DMK patriarch Karunanidhi and the gathering turned into a show of strength of mahagathbandhan or grand alliance with Stalin endorsing Rahul Gandhi's name as PM candidate. The current DMK chief said the Congress President was capable of taking on the 'fascist' BJP government. Here's what happened.
Political big shots come together against 'fascist' BJP
Others in attendance at the meet were TDP head Chandrababu Naidu, Kerala Chief Minister Pinrayi Vijayan, and Puducherry Chief Minister V Narayanswamy. Superstar Rajinikanth and disgruntled BJP leader Shatrughan Sinha were also present. Sonia Gandhi said the opposition was united against BJP while her son Rahul slammed the Centre for 'ruining institutions' like Reserve Bank of India (RBI) and the Supreme Court.
All voices will come together to dethrone BJP: RaGa
"BJP believes in one idea and is not ready to hear the voices of crores of people. We aren't going to allow the destruction of the idea of India, the destruction of our institutions, the Supreme Court, the RBI, the EC," said RaGa.
Criticizing BJP, Stalin gives a face to mahagathbandhan
While all leaders were speaking of trumping BJP at Lok Sabha, the biggest push came from Stalin who praised RaGa. He said BJP took the nation back to 15 years and if allowed to rule, India will be drawn back to 50 years. He added Karunanidhi welcomed Indira Gandhi, Jawaharlal Nehru's daughter, when she governed the country as PM, and he would follow same.
Welcome Rahul Gandhi, give us good governance: Stalin
"As a son of Karunanidhi and DMK's chief, I propose the candidature of Rahul Gandhi from Tamil Nadu. He has the ability to defeat the fascist Modi government. We will strengthen the hands of Rahul Gandhi. Welcome Rahul Gandhi, give us good governance," he said.
Naidu says opposition can't afford to go separate ways
Another strong voice at the podium was Naidu's who said it is a compulsion for opposition parties to unite against BJP. He said, "People elected a BJP government, all institutions were destroyed. Federalism is destroyed. They are misusing CBI. It's a premier institution for corruption control, now it's embroiled in corruption itself." He added the RBI chief resigned and CBI boss removed by BJP.
For second time in two days, opposition to display unity
Notably, the opposition will unite once again on Monday for swearing in of Congress CMs in Chhattisgarh, Madhya Pradesh, and Rajasthan. Ashok Gehlot, Kamal Nath, and Bhupesh Baghel have been given the top seats in the states respectively. Several leaders will attend the function. The Congress wrested power from BJP in the Hindi heartland states which gave a major boost to the opposition.