Should have confirmed: BJP's Sumitra Mahajan on her death news
Should have confirmed: BJP's Sumitra Mahajan on her death news
Apr 23, 2021, 03:52 pm
3 min read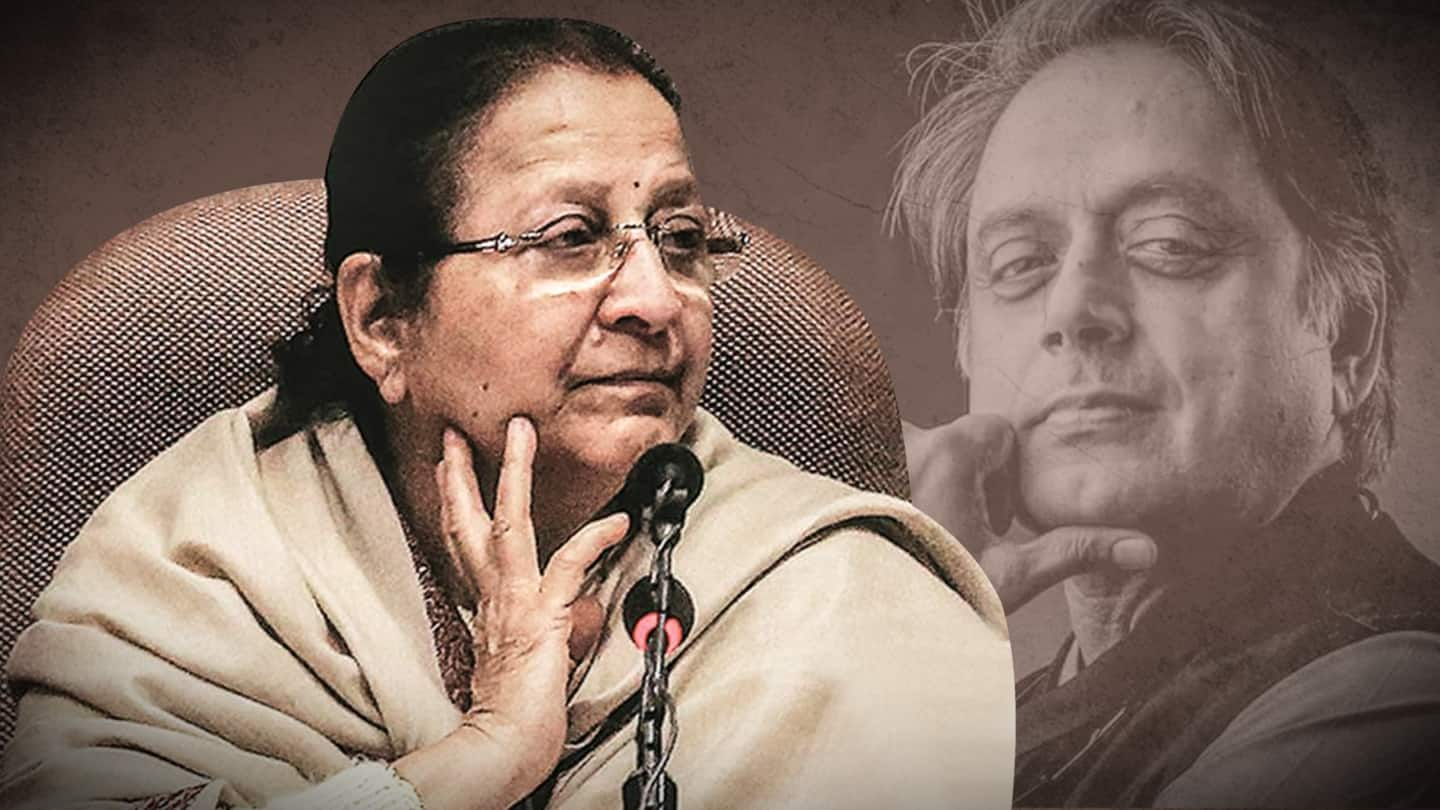 Former Lok Sabha speaker Sumitra Mahajan wants current speaker Om Birla and the federal government to take note of the fake news about her demise. A Bharatiya Janata Party (BJP) veteran, Mahajan said that those who offered condolences (Congress parliamentarian Shashi Tharoor included) should have at least sought confirmation from the Indore district administration. She revealed she got numerous calls after the news surfaced.
Tharoor condoled Mahajan's 'death,' son said she is fine
On Thursday night, several media outlets reported that Mahajan had died, aged 78. Tharoor also put out a tweet, saying he is upset with the news. Subsequently, Mahajan's son Mandar released a clip refuting the fake news. "Please do not rely on false news being spread about her. Her COVID-19 report is negative. I met her only in the evening," he said.
Tharoor deleted the tweet, said was relieved
BJP leader Kailash Vijayvargiya had also replied to Tharoor's tweet, saying that Tai (elder sister) is healthy. "I have deleted my tweet. I wonder what motivates people to invent and spread such evil news that takes in people. My best wishes for Sumitra ji's health and long life," wrote Tharoor. The Congress leader said that he is relieved to know that Mahajan is fine.
'Appalled that anyone would make up such news'
I am relieved if that is so. I received this from what I thought was a reliable source: "पूर्व लोकसभा अध्यक्ष श्रीमती सुमित्रा महाजन जी हमारे बीच नहीं रहीं.
ईश्वर दिवंगत आत्मा को अपने श्रीचरणों में स्थान दें.🙏" Happy to retract appalled that anyone would make up such news. https://t.co/3c8pDGaBRv

— Shashi Tharoor (@ShashiTharoor) April 22, 2021
I am as healthy as my voice: Mahajan
Mahajan was understandably irked by the death hoax. When a reporter called her to inquire about her health, she responded, "How am I sounding? I am as healthy as my voice." She also expressed displeasure that people didn't cross-check facts. "These people carried the news without any confirmation. They should have at least confirmed with the district administration in Indore," she said, reports PTI.
She received numerous calls from relatives in Mumbai
"The Central government and Lok Sabha Speaker Om Birla should take note of this. This became all-India news. I started getting calls from my relatives in Mumbai. My brother's daughter responded to Tharoor's tweet asking who gave him this fake news," she said.
She was admitted as she had fever
Mahajan, who has represented Indore in the Lok Sabha a record eight times, was on Wednesday admitted to the Bombay Hospital in Indore as she had a mild fever. "She was also tested for COVID-19 and her RT-PCR report has come negative," Rajesh Aggarwal, her close aide told the news agency. Mahajan had served as the Lok Sabha speaker between 2014 and 2019.