Delhi: Sunny Deol's roadshow turns filmy, courtesy hand pump
Delhi: Sunny Deol's roadshow turns filmy, courtesy hand pump
May 10, 2019, 12:56 pm
3 min read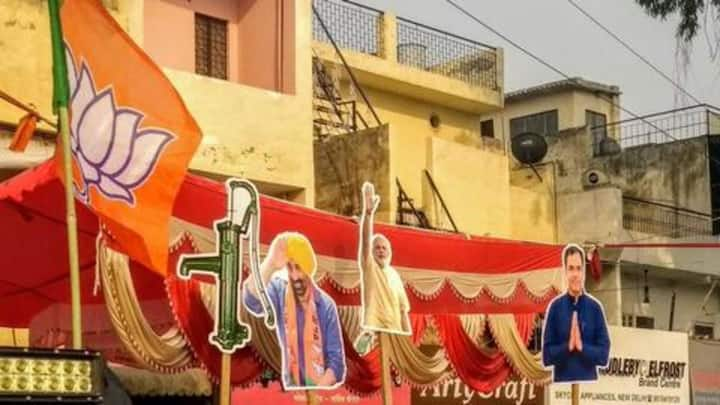 In the blockbuster movie Gadar, all Sunny Deol's character Tara Singh needed was a hand pump to fight hundreds of Pakistani goons. On screen, he was saving his wife and kid, and in real life, Deol has jumped into the political auditorium to build a "strong nation". So, when Deol came to Delhi to seek votes for BJP candidates, his "favorite weapon" made an appearance.
Scores of people came on streets to see Deol
Deol, who recently joined BJP and was given a ticket from Punjab's Gurdaspur, came to Delhi to seek votes for Ramesh Bidhuri, the party's South Delhi candidate. Streets in Ghitorni were swarmed with people. Scores of elderly and young people made an appearance to catch a glimpse of the Bollywood star. Both Bidhuri and Deol remained quiet as they waved to fans.
Locals gifted hand pump to Deol
As Deol's cavalcade moved towards Chhatarpur, locals gave him a dummy hand pump. Deol then handed over the hand pump, which was painted saffron and green according to BJP's flag, to Bidhuri. "Remember Gadar? The movie in which Sunny sir had pulled out a real hand pump? That is what the BJP has done to corruption," a supporter told HT.
Deol's songs and dialogues also made appearances
The supporter also added that there is an acute water shortage in the area. "The hand pump resembles the end of the water shortage issue too," he said. As Deol's car moved ahead, supporters played songs from his movies. His famous dialogue "Taarikh pe taarikh" from the movie Damini was also played on repeat. Reportedly, the roadshow was attended by some 3,000 people.
Deol greeted and met fans at West Delhi too
After South Delhi, Deol went to West Delhi. He held a roadshow in Hari Nagar to campaign for sitting MP Parvesh Singh Verma. The 62-year-old actor was supposed to arrive at 5 PM, and he finally turned up at 9 PM. An inordinate delay of four hours left some fans disheartened who left early. But there were hundreds who waited patiently.
Deol came late but his fans weren't disappointed
Flower petals were showered on Deol and people clicked pictures. On one side of the road, some supporters held placards which read "Main Bhi Chowkidaar" to show their support towards BJP. In the Sikh-dominated area, Deol started his roadshow by shouting "Jo Bole So Nihaal". A local, Nimisha Sharma told TOI the wait was worth it as she got a picture with Deol.