Here are some lesser-known facts about Manohar Lal Khattar
Here are some lesser-known facts about Manohar Lal Khattar
Written by
Siddhant Pandey
Oct 27, 2019, 06:09 pm
3 min read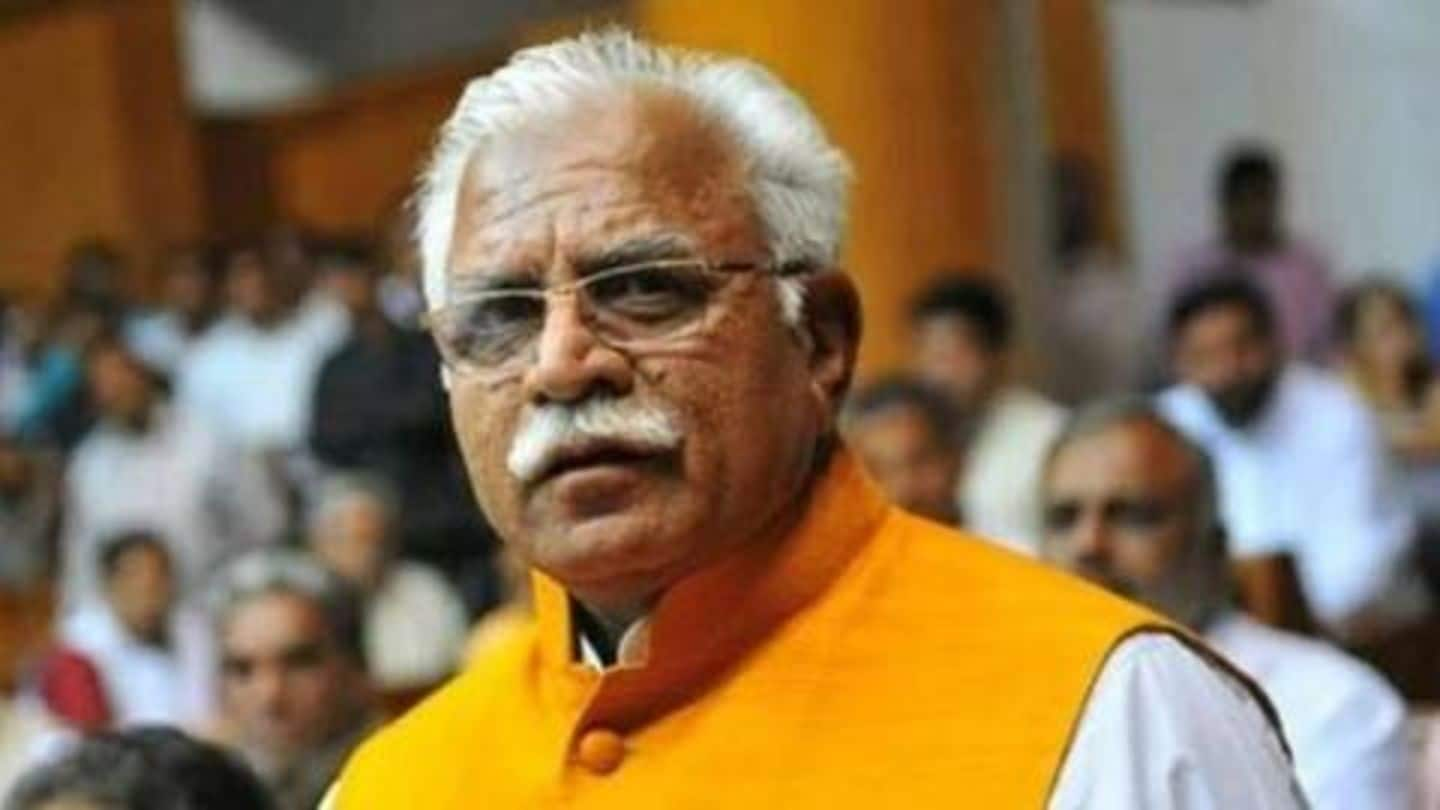 On Sunday, Manohar Lal Khattar took oath as the Chief Minister of Haryana for a second term. Although the Bharatiya Janata Party didn't win a majority in the state polls, it formed an alliance with the Jannayak Janta Party, whose chief, Dushyant Chautala, was sworn-in as the Deputy CM. While Haryana braces itself for a BJP-JJP government, here are some unknown facts about Khattar.
Khattar's family settled in Rohtak after India-Pakistan partition
Khattar was born in 1954 in Rohtak's Nindana village, after his father, Harbans Lal Khattar, migrated during the India-Pakistan partition. The family previously lived in East Punjab in present-day Pakistan. Originally laborers, the family started an agriculture business in Rohtak and urged Khattar to quit school and start farming, too. However, Khattar had other plans for himself.
He initially wanted to become a doctor
Kattar wished to become a doctor and took money from his mother to finish schooling from Pandit Neki Ram Sharma Government College in Rohtak. However, after he came to Delhi to prepare for the medical entrance, he abandoned the dream as it would have taken him years. At the time, he was living with his relatives, who ran a shop in Sadar Bazaar.
Khattar then opened a garment shop in Sadar Bazaar
Khattar decided to open a garment shop of his own in Sadar Bazaar and borrowed money from his father for the business. The shop turned out to be profitable and he returned his father's money. Meanwhile, he also completed graduation from the University of Delhi.
At age 24, Khattar joined RSS, decided to stay unmarried
It was at DU that Khattar was introduced to the Rashtriya Swayamsevak Sangh, a right-wing Hindu nationalist outfit that he joined in 1977. After going for the Triveni Darshan, he decided to stay with the outfit for life and in 1980, he became a full-time RSS worker. He also decided to stay a bachelor for life. His mother wasn't too pleased with this decision.
1999: He helped NDA win all 10 Haryana LS seats
After working with the RSS for 14 years, Khattar was made BJP's organizational minister of Haryana in 1994. He helped the BJP form the government in 1996 after talks with Bansi Lal's Haryana Vikas Party, however, later convinced BJP to withdraw support when things didn't go well. In 1999, he helped the NDA win all 10 LS seats after tying up with OP Chautala.
Khattar and Modi met for the first time in 1996
In 1996, he first met Modi, who was the then-Haryana in-charge. Modi assigned him crucial responsibilities and in 2002, he also called Khattar to manage his first election campaign. With Khattar's support, Modi won his first elections.