Chinmayanand case: Congress leaders detained, permission for protest march denied
Chinmayanand case: Congress leaders detained, permission for protest march denied
Sep 30, 2019, 01:17 pm
3 min read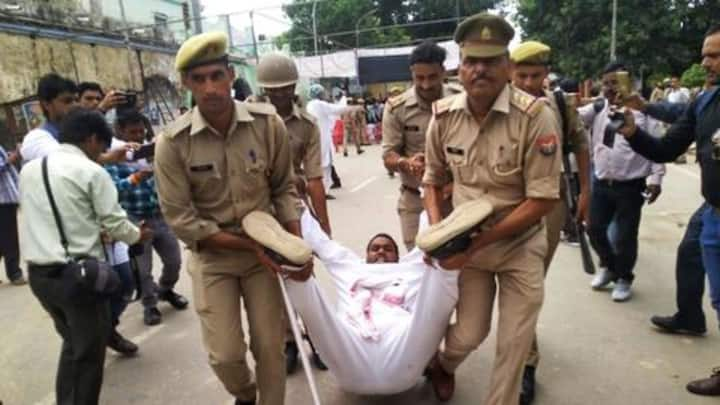 Yogi Adityanath's government in Uttar Pradesh, which is already being accused of going soft on rape-accused Chinmayanand, hit a new low on Monday after Congress leaders were detained. The leaders of the opposition party wanted to hold a march in support of the law student, who is in jail for "extortion". On Sunday, a Congress delegation met the family of the jailed survivor.
Backstory: Chinmayanand raped me for a year, claimed law student
Now, BJP may have distanced itself from Chinmayanand, but the way the case progressed shows he is being "saved". After the survivor leveled rape allegations on the 72-year-old last month, state police took days to book him. Even after she said he raped her for a year, the SIT, constituted by Supreme Court, didn't evoke IPC Section 376 (rape) on the former Union Minister.
After weeks, Congress finally donned the hat of opposition
Though the case first came to light in August, Congress didn't use the opportunity to target Adityanath. Waking up from their slumber on Sunday, Congress leaders met her family. "The girl who alleged rape was arrested. She should be released. The government is standing in support of Chinmayanand. The rape case should be heard in a fast track court," Congress' Ajay Kumar Lallu said.
We stand by her family: Lallu
शाहजहांपुर में पीड़िता के पिता से उनके घऱ पहुंच मुलाक़ात किया व भरोसा दिलाया कि कॉंग्रेस पार्टी न्याय दिलाने के लिए हर लड़ाई लड़ेगी। इस क्रम में पार्टी कल से पदयात्रा शुरु कर रही है। अंजाम जो भी हम पीछे नहीं हटेंगे। इस दौरान मेरे साथ सह-प्रभारी @dgurjarofficial जी भी मौजूद रहें। pic.twitter.com/UB2fB2War9

— Ajay Kumar Lallu (@AjayLalluINC) September 29, 2019
In fact, Congress leaders planned a 180-km-long march
Congress also decided to take out a Nyay Yatra from Shahjahanpur, the epicenter of the case, to state capital Lucknow. Aradhana Mishra, deputy leader of the Congress Legislative Party (CLP), accused Adityanath's government of helping Chinmayanand. "In order to ensure delivery of justice to the woman, the Congress will take out a 180-kilometer-long march from Shahjahanpur to Lucknow on Monday," Mishra added.
Congress leaders were stopped from "expressing solidarity"
Congress' plans, however, were foiled by the state government. Vineeta Singh, Shahjahanpur's Magistrate, said permission was denied to them in "writing". "To maintain the law and order during festival season, permission was denied," she claimed. Further, to ward off any "mishappening", the district administration blocked the borders of Shahjahanpur district. While Jitin Prasada was put under house arrest, other Congress leaders were detained.
How are we violating the law, asked Prasada
"Congress today wanted to hold a march to highlight the plight of the Shahjahanpur rape victim but the local administration is not allowing it. Tell me how is it a violation of law? It's unfortunate," said Prasada.
Here are dramatic visuals from Prasada's home
Meanwhile, Priyanka Gandhi Vadra slammed BJP
Berating the state police, Congress' Priyanka Gandhi Vadra in a series of tweets said BJP is blinded by the arrogance of power. She said the saffron party is stooping low to save a rape-accused and harass the victim who has been violated. She also wondered why were Congress workers being detained. "What are you scared of," she asked Adityanath's administration.
Everyone is protecting Chinmayanand, claimed Priyanka
सत्ता के घमंड में चूर उप्र भाजपा सरकार लोकतंत्र की धज्जियाँ उड़ा रही है। एक बलात्कार आरोपी को बचाने के लिए और शाहजहाँपुर की बेटी को आवाज को दबाने के लिए वो किसी भी हद तक गिर सकती है।

UP सरकार एक घबराई हुई सरकार है।#BJPBhagaoBetiBachao

— Priyanka Gandhi Vadra (@priyankagandhi) September 30, 2019