Denied food, tortured by Misa: Lalu's daughter-in-law makes shocking claims
Denied food, tortured by Misa: Lalu's daughter-in-law makes shocking claims
Sep 30, 2019, 01:07 pm
3 min read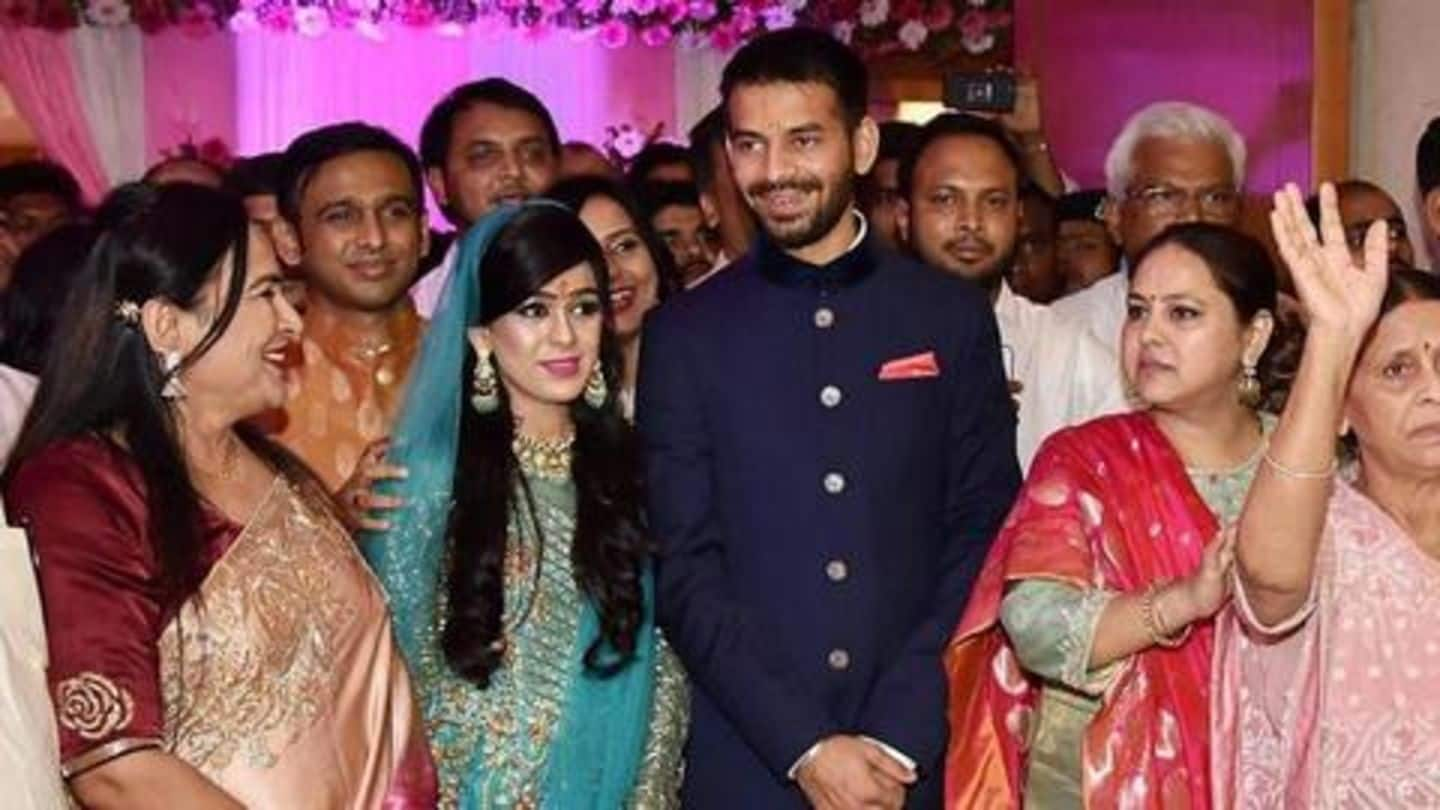 At a time when rains have ravaged Bihar and taken several lives, the state's capital Patna remained in news for an entirely different reason. Former Chief Minister Lalu Prasad Yadav's daughter-in-law, Aishwarya Rai, sat outside his house and alleged she had been tortured by her in-laws for months. Notably, Aishwarya got married to Lalu's elder son Tej in May 2018.
Tej's wedding was extravagant, his marriage not so much!
Aishwarya is the daughter of RJD leader Chandrika Rai, said to be close to Lalu. Last year, she married Tej in a lavish ceremony. Merely six months after the grand affair, Tej filed for divorce citing "compatibility issues". His family, apparently, tried to make him understand but failed. On Sunday, Aishwarya spoke to media for the first time since the incident and made explosive comments.
Aishwarya took refuge in a shed outside Yadavs' home
All day on Sunday, Aishwarya stayed at a shed in 10, Circular Road, the residence of the Yadavs. It was at this shed that Lalu used to hold public meetings. She said she remained with her in-laws despite Tej's decision to file for a divorce, as she hoped things would get better soon. Instead, she was tortured and denied food, Aishwarya claimed.
My parents sent food for me: Aishwarya
Aishwarya said her in-laws started behaving with her as if she was "already divorced". Claiming the ill-treatment has been going for three months, she added, "I was not given food, so every day my meals used to come from my residence. Since Saturday, however, I was being denied access even to the kitchen." She said a domestic help told her she has been "locked".
Further, Aishwarya said Misa Bharti misbehaved with her
Leveling serious charges on her sister-in-law Misa, Aishwarya said, "Misa regularly misbehaved with me, harassed and tortured me. Last night (Saturday) she again tortured me and threw me out of the house in the presence of Rabri Devi."
On her part, Misa said she is being "unnecessarily dragged"
As per Aishwarya, Misa is also responsible for driving a wedge between Tej and his younger brother Tejashwi. Denying the allegations, the Rajya Sabha MP said, "I'm unnecessarily being dragged into the entire controversy as I hardly live there. But it's normal in every husband-wife dispute that the sister-in-law is dragged into it." She claimed she hasn't been visiting Patna frequently.
Lalu would have solved the differences, claimed Aishwarya
Aishwarya also said that had Lalu been home, these differences would have been solved. The RJD supremo is in jail over corruption charges since December 2017. She also said Tejashwi has always helped her. "I don't know what happened since yesterday. Whether he was aware or not of what was going on," she went on. Aishwarya was allowed inside the house after police intervened.