Karnataka: Finally, Yediyurappa expands his Cabinet, 17 MLAs take oath
Karnataka: Finally, Yediyurappa expands his Cabinet, 17 MLAs take oath
Aug 20, 2019, 12:35 pm
3 min read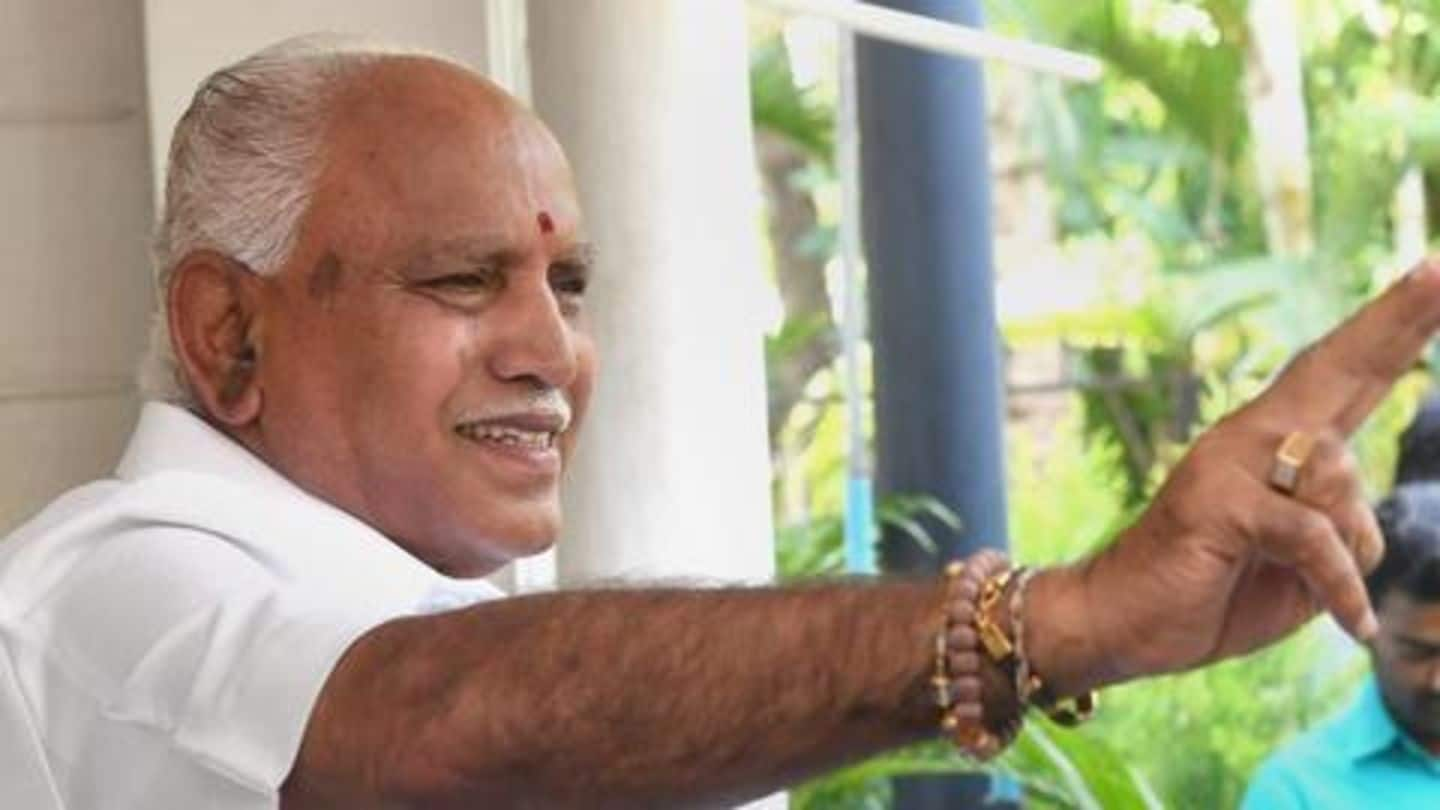 Almost a month after he was sworn-in as Karnataka's Chief Minister, BS Yediyurappa expanded his Cabinet on Tuesday, with 17 MLAs taking the oath. The tallest leader of BJP in the southern state sprung to power after the over one-year-old coalition of Congress and JD(S) crumbled. Yediyurappa held a series of discussions with BJP President Amit Shah before announcing his ministers. Here's what happened.
As expected, Lingayat community dominated Yediyurappa's Cabinet
Now, Yediyurappa is the most luminous Lingayat leader in Karnataka. It was expected that the community will get a fair representation in his Cabinet for backing BJP in Assembly and Lok Sabha polls. Keeping up with expectations, Yediyurappa inducted seven MLAs from this caste group. These include-- Laxman Sangappa Savadi, Jagadish Shettar, V Somanna, Basavaraj Bommai, JC Madhuswamy, CC Patil, and Shashikala Annasaheb Jolle.
Three people from Vokkaliga community were elevated
The saffron party also gave space to Vokkaligas, another caste group which influences votes in Karnataka. Dr. CN Ashwath Narayan, CT Ravi, and R Ashok, belonging to the Vokkaliga community, were made ministers. With their induction, BJP hopes to make inroads in South Karnataka, where it has little to no presence. Notably, the Vokkaliga community lent support to Congress and JD(S) earlier.
Members of Scheduled Caste were included, Sreeramulu became Cabinet minister
To bring diversity into the Cabinet, Yediyurappa also gave seats to people belonging to Scheduled Castes. Govind M Karjol, Prabhu Chavan and H Nagesh became ministers. B Sreeramulu, a towering BJP leader and close aide of mining baron Janardhan Reddy, was also included. Kuruba community's KS Eshwarappa and Billava community's Kota Srinivas Poojari were included. Suresh Kumar is the only Brahmin in Yediyurappa's cabinet.
Those who helped topple Kumaraswamy's government were "duly rewarded"
Interestingly, BJP "rewarded" Ashwath Narayan and Laxman Savadhi for their alleged role in shielding rebels, whose collective decision brought down HD Kumaraswamy's government. Savadhi is not a member of the Assembly and will have to be elected within six months. Separately, Arvind Limbavalli, who apparently "handled" the rebels, wasn't given a seat in the Cabinet but could replace Yediyurappa as BJP state president.
Here is the complete list
Earlier, Yediyurappa said he was waiting for Shah's list
The delay in finalizing Cabinet ministers put Yediyurappa at receiving end of criticism from members of JD(S) and Congress. Responding to the criticism, he said on Monday, "Within two-three hours, I am going to get the final list from Amit Bhai (Amit Shah). So, Cabinet expansion will be done tomorrow." While Yediyurappa ran his one-man Cabinet for weeks, floods battered Karnataka.