'Triple mutant' variant of coronavirus emerges; gene study inadequate: Report
'Triple mutant' variant of coronavirus emerges; gene study inadequate: Report
Written by
Siddhant Pandey
Apr 22, 2021, 01:05 am
5 min read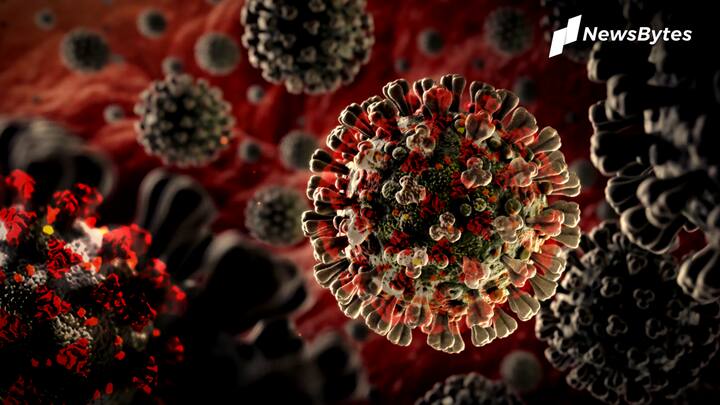 A third mutation has reportedly been detected in the "double mutant" variant of coronavirus, raising concerns about the ability of the virus to evade the human immune response. Reportedly, the "double mutant" variant, B.1.167, was first detected last October, and ever since, gene sequencing efforts have been inadequate due to underfunding and maladministration. This variant is possibly leading the outbreak's second wave in India.
3 different varieties of 'triple mutant' detected
Last week, the Union Health Ministry was briefed about the possibility of B.1.167 developing another significant mutation, The Indian Express reported citing multiple sources. Three different varieties of the "triple mutant" have been detected, two of which have the third mutation in the spike protein—which plays a crucial role in penetrating host cells and initiating infection. This could accelerate the pace of viral spread.
2 variants found in Maharashtra, Delhi, West Bengal, Chhattisgarh
According to TIE, these two "triple mutant" variants have been found in Maharashtra, Delhi, West Bengal, and Chhattisgarh: all states where infections are now reaching record highs. The third variant has the third mutation outside the spike protein, however, it is still considered significant, the report said. This variant has been detected in 17 samples in Maharashtra, Delhi, and West Bengal.
'Triple mutant could make virus more capable of evading immunity'
"West Bengal seems to be becoming the hotspot for such mutations. The new triple mutant could make the virus even more capable of evading human immune response," said a source. "We need to do a lot more sequencing of a lot many samples."
B.1.167 variant first detected on October 5 last year
The report also highlighted that the B.1.167 variant—which has E484Q and L425R mutations—was first detected on October 5. Since both mutations were located in the critical spike protein, the development should have raised alarm. However, the already slow genome sequencing exercise slowed down further between November and January due to underfunding, maladministration, and possibly also because of the dip in infections, TIE reported.
What is genome sequencing?
Genome sequencing is the process of identifying the sequence of nucleotide pairs in a genome. Changes in the genome observed through this process can help explain the origins of a virus, the pathway through which a virus causes infection, the mutations that make a virus stronger or weaker, etc. This information is crucial in designing control measures, drugs, and vaccines.
India's genome sequencing efforts falling short
However, in the first six months of the outbreak, India had barely done a few hundred sequences. In comparison, China, the UK, and the US had done several thousand and submitted these in public global depositories. It was only in January this year that the government established the Indian SARS-CoV2 Genomics Consortium (INSACOG) to ramp up gene sequencing through a network of 10 laboratories.
Developing one sequence takes Rs. 3-5K, several days
Gene sequencing is time-consuming and costly. Developing one sequence may take three-five days, once the virus sample has been extracted, cultured, and sent to the laboratory. Developing one sequence can cost between Rs. 3,000-5,000 and only a few government laboratories have been doing this work.
'We've been reacting to developments, instead of anticipating it'
A scientist associated with the sequencing effort told TIE, "The whole point of gene sequencing is to remain ahead of the curve, anticipate what new variants of the virus are likely to emerge, how they are likely to behave." "Unfortunately, India has been well behind the curve on this front. We have been reacting to the developments, instead of anticipating it," they said.
Department of Biotechnology asked to use own resources
The INSACOG was initially allocated Rs. 115 crore for a six-month period by the Centre. However, no additional allocation was made and the Department of Biotechnology was asked to fund the efforts through its own resources, TIE reported. The first tranche of money was only released on March 31. The allocation itself has been reduced to about Rs. 80 crore.
CCMB, IGIB also sequencing genomes using limited funds
According to the report, laboratories such as the Centre for Cellular and Molecular Biology (CCMB) in Hyderabad and the Institute of Genomics and Integrated Biology (IGIB) in Delhi have been sequencing the genome using their limited funds.
'Discovery of B.1.167 needed immediate action; now we're fire-fighting'
Another scientist involved said, "Most labs diverted money from other running projects to work on sequencing, in the hope that they would be compensated sometime later. But funds were just one problem. There has also been a lack of clear directives and goals." "The discovery (of B.1.167) should have been acted upon immediately. But nothing happened. Now we're fire-fighting," said the scientist quoted earlier.
INSACOG not meeting genome sequencing goal
Since INSACOG started work in February, over 13,000 sequences have been developed. INSACOG had aimed to facilitate genome sequencing of 5% of all the emerging new cases. Notably, India reported nearly 3 lakh new cases on Wednesday. To meet the 5%-goal, over 15,000 samples would have to be sent for sequencing, but only less than 1% is currently being sequenced.
'We don't know which variant(s) is contributing to second wave'
Karthik Gangavarapu of Scripps Research and part of the 20-member team studying global genome data said, "B.1.617 seems to be increasing in prevalence but when you actually look at the number sequenced per day, that number is quite low." Gangavarapu said there's not enough evidence to ascertain which variant(s) is contributing how much to the second wave. "That is why genomic surveillance is important."