Finally, WhatsApp is getting sticker support: Details here
Finally, WhatsApp is getting sticker support: Details here
Written by
Shubham Sharma
Oct 25, 2018, 07:48 pm
3 min read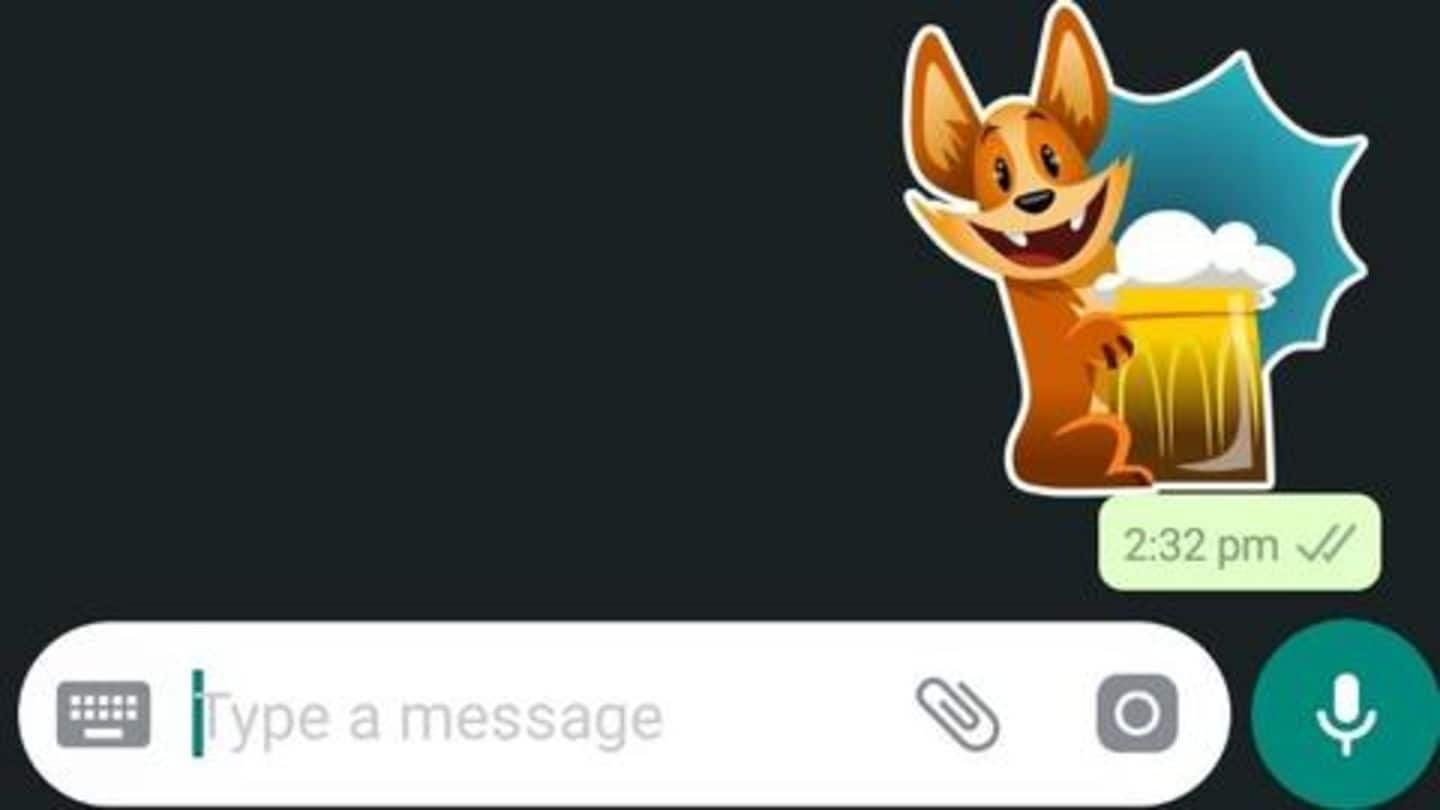 After a long wait, WhatsApp users would finally get the ability to send and receive stickers. The feature, which has been in the works for months, is being rolled out in beta for Android, iOS, and Web. It comes with WhatsApp version 2.18.329 for Android and will be available for all users in the coming days. Here are all the details.
How to use stickers on WhatsApp?
To start using stickers, tap on the emoji icon in WhatsApp's text box and go to the sticker tab located next to the 'GIF' option. This will open the sticker zone where you'll see pre-installed stickers as well as a '+' button to download more sticker packs - for free. As of now, only 'Cuppy' by Minseung Song sticker packs comes pre-installed with WhatsApp.
WhatsApp's store to download, delete, manage stickers
The sticker store of WhatsApp has been divided into two categories - 'All stickers' and 'My stickers'. The 'All stickers' tab displays all available sticker packs, including those that have been downloaded, and lets a user check and download stickers. Meanwhile, the 'My stickers' tab only shows the downloaded ones, with options to rearrange or delete them.
Quick access from 'sticker categories'
While the ability to send and receive stickers is pretty common, WhatsApp's sticker capabilities offer something new in the form of sticker categories. Essentially, along with the tab for most recently used stickers, users will also get tabs for categories like 'happy' and 'sad'. Each category will have stickers from different packs but representing the same emotion, therefore letting users choose more easily.
You can also choose your favorite stickers
Apart from categories, there's also a tab for favorites, where you can add your favorite stickers for quick access. To add a sticker into favorites, just long-press it in the sticker area or tap on it during a conversation.
Want to try stickers right away? Here's the way
The sticker feature is only available in beta, which means those who have signed up for Google Play's beta programme can download it right away. However, if you're not a part of the programme, you can download and install WhatsApp beta version 2.18.329 from APK Mirror (unstable). For iOS, the roll-out is pretty slow, but users on WhatsApp v2.18.100 have already received the stickers.
WhatsApp Web will also get sticker support
Once the sticker feature is available on your phone's WhatsApp, the web version of the service will also start supporting stickers. If it isn't working, clear browser cache, restart it and visit web.whatsapp.com again.