Huawei unveils Mate X foldable 5G phone, new MateBook laptops
Huawei unveils Mate X foldable 5G phone, new MateBook laptops
Feb 24, 2019, 11:43 pm
2 min read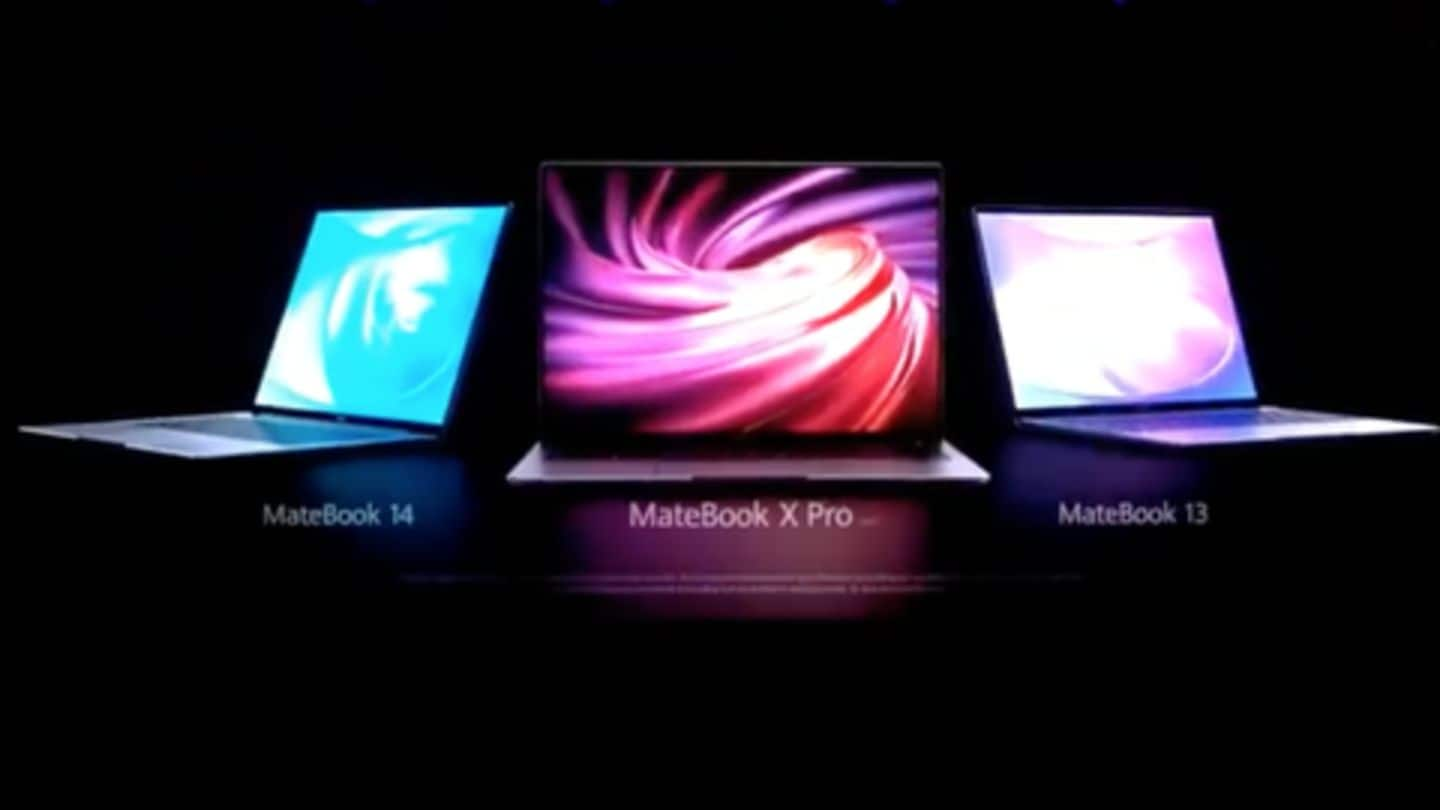 At its "Connecting the Future" event in Barcelona, Huawei has launched its all-new Mate X 5G foldable phone and several Intel-powered MateBook laptops. The flagship phone comes with a Balong 5000 5G modem and is backed by the Kirin 980 chipset. Further, the MateBook line-up comprises new MateBook X Pro, MateBook 14 models, MateBook 13 models with touchscreen displays. Here's our roundup.
Huawei Mate X: The world's first 5G foldable phone
The Huawei Mate X features a main 8-inch OLED display which folds into a dual-screen smartphone with a 6.6-inch front display and a 6.38-inch rear display. The phone also features a Lecia-engineered triple camera setup (specs not revealed). Under the hood, the Mate X comes with a Kirin 980 chipset, paired with Balong 5000 5G chipset and a 4,500mAh battery with 55W fast-charging support.
Huawei Mate X is price at Rs. 1.85 lakh
Touted as the world's first foldable 5G phone, the Mate X comes with support for dual SIMs, 8GB of RAM and 512GB of internal storage. Further, the phone is priced at Rs. 1.85 lakh and will be available from mid-2019.
Huawei has also announced new MateBook laptops
Huawei has also unveiled three new MateBook laptops with touchscreen displays. The MateBook X Pro offers a 13.9-inch screen with 3000x2000 pixel resolution whereas the 14-inch and 13-inch MateBook variants offer 2K displays. These laptops also feature Huawei Share feature that allows you to transfer images and other files between a Huawei phone and laptop via an NFC-based connection.
Huawei MateBook X Pro, 14 and 13: Specifications
The MateBook X Pro comes with 8th-Gen Intel Core i7 series processor, paired with NVIDIA GeForce MX250 GPU, 8GB/16GB of RAM, upto 1TB of storage, four speakers and pop-up webcam. The MateBook 13/14-inch models have the same internals but they offer upto 512GB of storage, two speakers and a slightly better battery life of upto 15 hours.
Pricing and availability of the MateBook laptops
The MateBook X Pro starts at Rs. 1.3 lakh and goes upto Rs. 1.6 lakh for the top-end model. Similarly, the MateBook 14 and MateBook 13 come at a starting price of Rs. 96,000 and Rs. 80,000 and go upto Rs. 1.2 lakh and Rs. 1.12 lakh, respectively.