Future is here: Lenovo shows off world's first foldable-screen laptop
Future is here: Lenovo shows off world's first foldable-screen laptop
May 15, 2019, 11:59 am
2 min read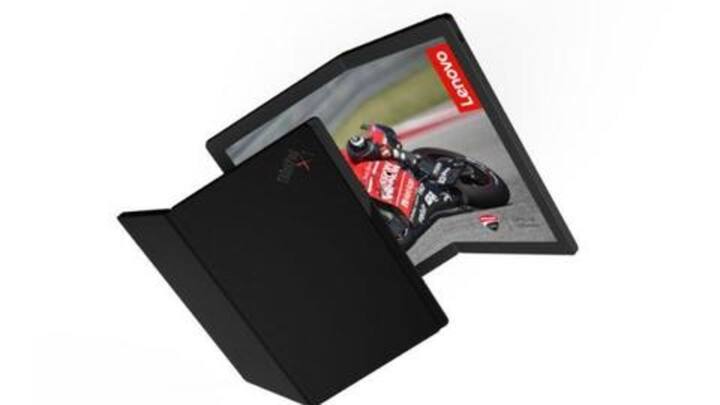 By now, you must have heard a lot about foldables, the devices that come with a flexible screen. The most popular (and probably worst) example of a foldable is Samsung's Galaxy Fold which debuted at $1,980 and started breaking even before going on sale. But, now, get over it because Lenovo is bringing something very different - a foldable-screen laptop. Here's all about it.
World's first foldable-screen laptop
Lenovo has long been selling convertible 2-in-1 computers under its ThinkPad Yoga series. But now, it's taking a new turn with, what it calls, the world's first foldable PC. The device looks like a tablet with a 13.3-inch screen and 4:3 aspect ratio but transforms into a laptop with a 9.6-inch display when 'half-folded' from the bottom.
Screen will fold inwards, like a book
The screen will fold inwards like a book. So, in the half-folded form, it will work as a laptop and in the full-folded avatar, it will be like a closed laptop, saving the screen real estate from potential damage.
No word on the exact capabilities of the machine
Lenovo showcased the foldable-screen laptop prototype at yesterday's Accelerate Conference in Florida but didn't provide specifications of the device. We just know it will incorporate an LG-made OLED panel, which will have 2k resolution and serve as a touch-based keyboard in half-folded mode. Notably, Lenovo will also provide a wireless keyboard and stylus so that you could take full advantage of the 13.3-inch screen.
Also, one side of the laptop is heavier than other
Lenovo has designed foldable-screen laptop meticulously, keeping one side of the display heavier than the other with the battery. This supports the half-fold position and makes it easier for the user to differentiate between the top and bottom end (heavier one) of the device. The screens used in this form have been latched magnetically, just like Galaxy Fold, leaving some space near the hinge.
Lenovo plans to release this device as part of its ThinkPad X1 series sometime in 2020. It will be running an Intel chip and Windows 10 out-of-the-box, but there's no word on the price tag at the moment. Also, as this just a prototype, there is a good chance that the final model might look much different than what we are seeing here.