NASA's Perseverance rover performs first test drive on Mars
NASA's Perseverance rover performs first test drive on Mars
Written by
Nikita Gupta
(Sourced from PTI)
Mar 06, 2021, 12:34 pm
2 min read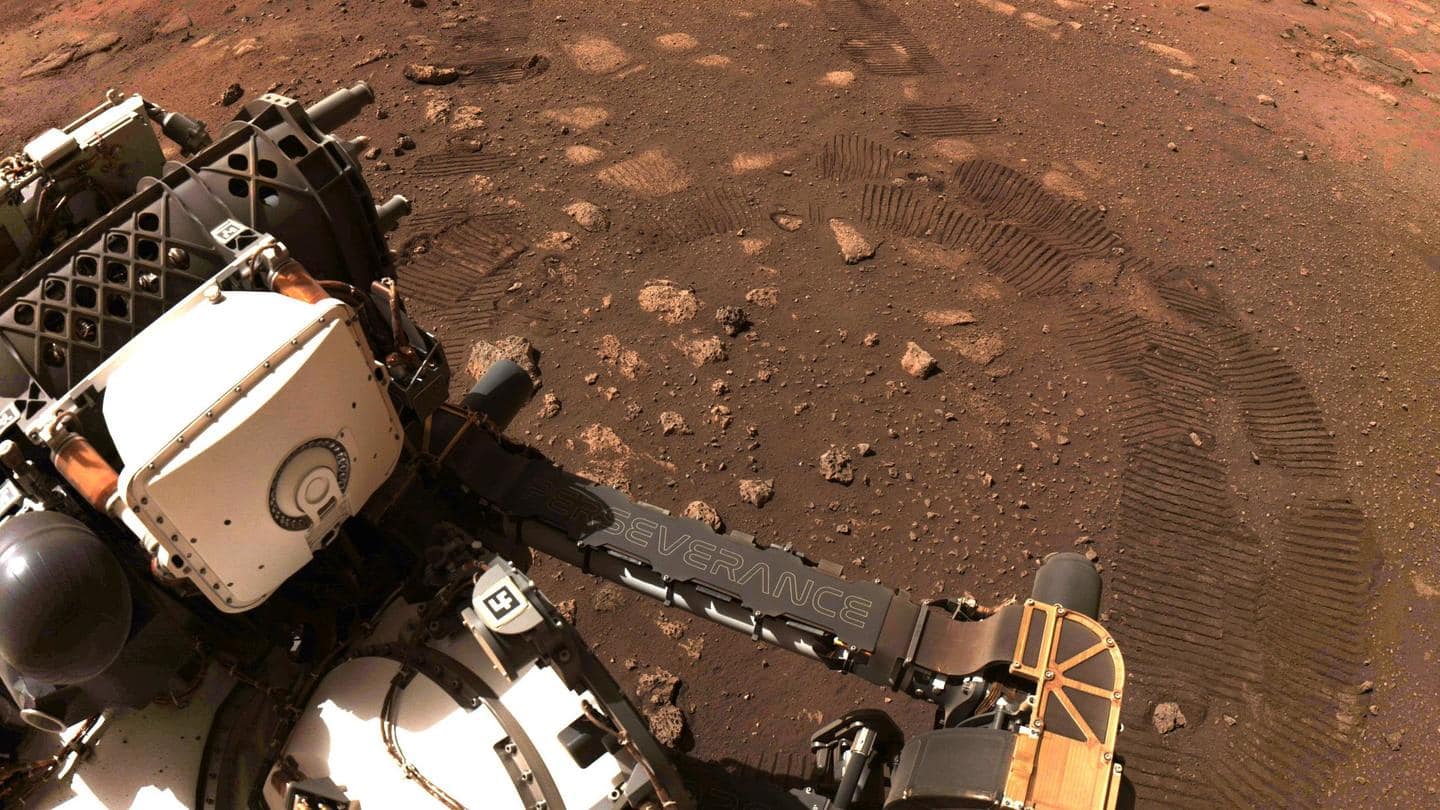 NASA's Perseverance Mars rover hit the dusty red road this week, putting 21 feet on the odometer in its first test drive. It ventured from its landing position, on Thursday, two weeks after landing, to seek signs of past life. During a news conference on Friday, NASA's Jet Propulsion Laboratory in Pasadena, California, shared photos of the tire tracks over and around small rocks.
A huge milestone for the mission
"I don't think I've ever been happier to see wheel tracks. This is a huge milestone. When it comes to wheeled vehicles on other planets, there are few first-time events that measure up in significance to that of the first drive," said engineer Anais Sarafian.
I'm on the move! Just took my first test drive on Mars, covering about 16 feet (5 meters). You're looking at the very beginning of my wheel tracks. Many more to make. pic.twitter.com/7tFIwWFfJ4

— NASA's Perseverance Mars Rover (@NASAPersevere) March 5, 2021
The drive lasted 33 minutes
The roundabout, back and forth drive lasted just 33 minutes in which the rover covered an area of 21.3 feet. The six-wheeled rover was back on the move on Friday. "This was our first chance to 'kick the tires' and take Perseverance out for a spin. The rover's six-wheel-drive responded superbly. We are now confident our drive system is good to go," Sarafian said.
Regular commutes of over 200 meters expected soon
"The drive was a mobility test and is one of the many milestones. Regular commutes of over 200 meters are expected once the rover begins pursuing its science goals, including the search for signs of ancient microbial life," NASA said.
Rover will soon head for an ancient river delta
As soon as the system checks on Perseverance are complete, the rover will head for an ancient river delta to collect rocks for return to Earth a decade from now. Scientists are debating whether to take the smoother route to get to the nearby delta or a possibly tougher way with intriguing remnants from that once-watery time three billion to four billion years ago.
The rover continues to send down images from Mars
Earlier, on March 2, NASA said its engineers unstowed the rover's 2-meter-long robotic arm for the first time, flexing each of its five joints over the course of two hours. All the while, the space agency said the rover continues to send down images from Mars using the most advanced suite of cameras ever to travel to the Red Planet.