Kabaddi World Cup gets underway at Ahmedabad
Kabaddi World Cup gets underway at Ahmedabad
Oct 07, 2016, 06:15 pm
3 min read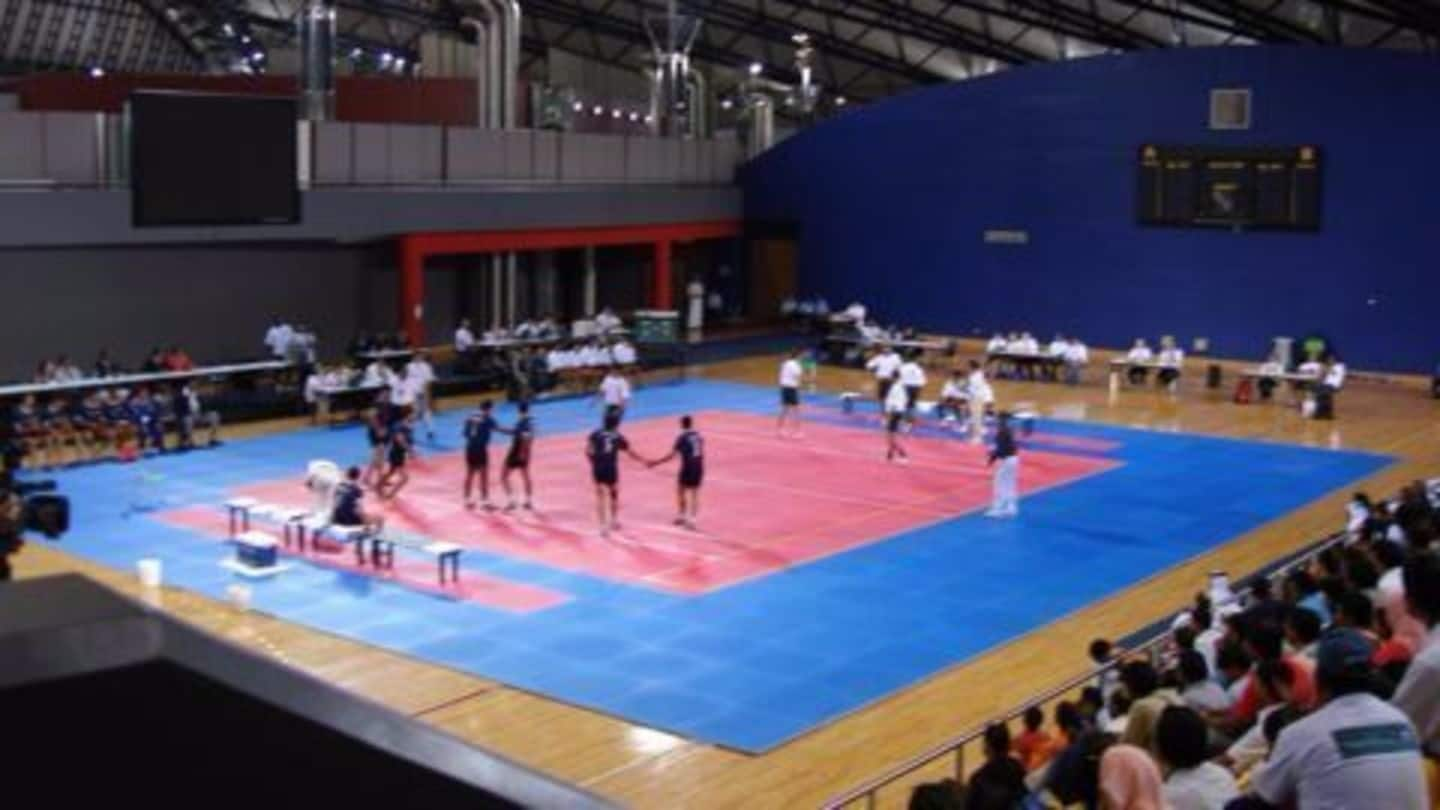 The '2016 Kabaddi World Cup' gets underway in Ahmedabad on Friday. 12 of the 32 Kabaddi playing nations are set to take part in the fortnight-long tournament. India start as the overwhelming favorites to win the 3rd edition of Kabaddi World Cup. President of International Kabaddi Federation (IKF) Janardhan Singh Gehlot called the event a "watershed moment for the sport of Kabaddi globally."
Kabaddi has been known to have originated in ancient India. The modern form of Kabaddi has been played across India and parts of South Asia since 1930. Kabaddi is a contact sport of high intensity, played between two teams, with 7 players on each side. The game is played over a total duration of 45 minutes which includes a 5 minute break (20-5-20).
Understanding the basic rules and terms
In the game of Kabaddi, points are scored by a player from attacking side raiding into the opponent's court and touching as many defending players as possible without being caught. The player who enters opponent's court for a raid is called a 'raider'. Each raid lasts for a maximum of 30 seconds during which, the raider has to keep chanting "kabaddi kabaddi".
How are the points scored?
When a raider raids the opposition team, he scores points equivalent to the number of defenders he touched, called touch point. These defenders are forced "out" of play. Raider can also score points by crossing the bonus line, if there are 6 or more defenders on the opposition side. A tackle point is given when the defending team prevents raider from returning to mid-line.
For each tackle point gained by defending team, the corresponding raider gets "out" and a player who was out from defending team is revived. When the players are "All Out" the opposition team gains 2 extra points. The play starts by reinstating all 7 players.
Teams participating in 2016 Kabaddi World Cup
Kabaddi World Cup 2016 is the 3rd edition of the tournament after the international format of World Cup was introduced in 2004. 12 participating teams: Group A- India, England, Australia, Bangladesh, Argentina, South Korea; Group B- Iran, Poland, Thailand, Japan, USA, Kenya. The Arena By TransStadia in Ahmedabad, Gujarat is the venue for all fixtures which conclude with a finale on 22 Oct.
Pakistan barred from the event
With cross border tensions soaring high, Pakistan has been barred from participating in the Kabaddi World Cup.
The 14-member Indian squad will be lead by captain Anup Kumar, who has been team India's mainstay for the past 10 years. The other members of squad include - Ajay Thakur, Deepak Hooda, Dharamaraj Cheralathan, Jasvir Singh, Kiran Parmar, Manjeet Chillar, Mohit Chillar, Nitin Tomar, Pardeep Narwal, Rahul Chaudhari, Sandeep Narwal, Surendar Nada, and Surjeet Singh.
Last two editions won by India
The first and second edition of Kabaddi World Cup, held in 2004 and 2007 respectively were won by India. Iran was the runner-up in both the finals.
In group stage, teams from both groups compete in round-robin format and top two teams from each group proceed to Semi-finals. During group stage matches, winning team scores 5 league points and losing team gets no points if victory margin is over 7 points. if the margin is 7 points or less, winning team gets 5 points and losing team gets 1 point.