USA lose to Costa Rica, World Cup spot in danger
USA lose to Costa Rica, World Cup spot in danger
Sep 02, 2017, 02:04 pm
2 min read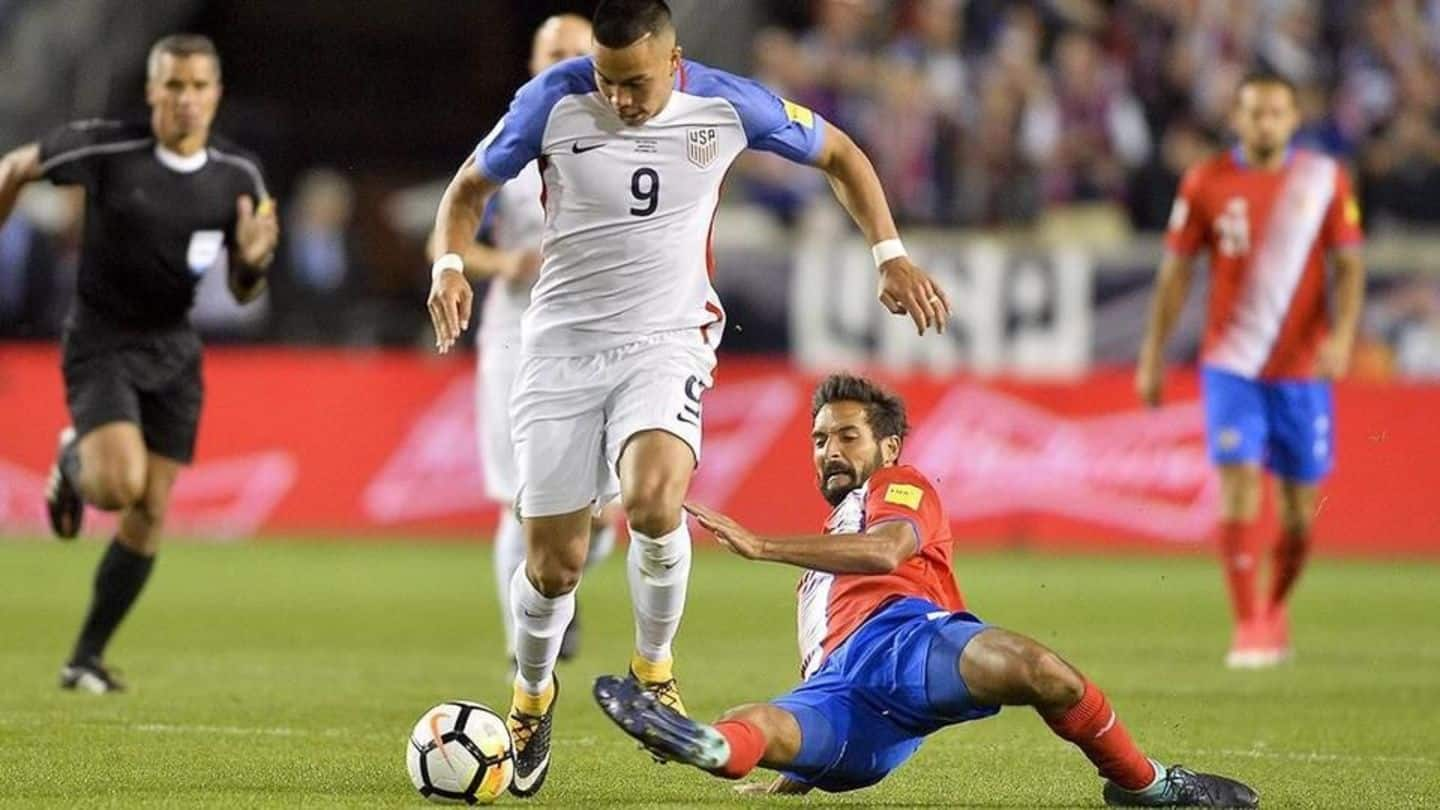 USA suffered an embarrassing 0-2 loss to visiting Costa Ricans. With three games left in the final round of World Cup qualifiers, USA occupies third place on points table, the last automatic berth. They have eight points, same as the fourth-placed Honduras. USA's final fate will be decided by remaining two home matches against Panama, Trinidad & Tobago, and an away match with Honduras.
The 2018 FIFA World Cup has two stages- the preliminary competition, and the final competition. 209 teams from across six qualification zones of the world compete at the preliminary stage, of which 32 teams qualify to play in the final. The preliminary tournament is a long drawn competition which started in March 2015 and concludes on 14 Nov 2017.
The 6 wualification zones are Africa (CAF)- 5 spots, Asia (AFC)- 4 or 5 spots, Europe (UEFA)- 13 spots, North Central America and the Caribbean (CONCACAF)- 3 or 4 spots, Oceania (OFC)- 0 or 1 spot, and South America (CONMEBOL)- 4 or 5 spots.
Who have qualified for the final so far?
Of the 32, apart from the host nation Russia, three other teams have qualified for the final World Cup competition so far. Iran and Japan qualified for the final by clinching top spots in AFC qualification zone after third round. Similarly, Brazil sealed their place in the final competition by coming on top of the CONMEBOL qualification table.
Latest results of UEFA qualifier
With groups A-I playing in Group Stage qualifying of UEFA zone, latest major results include England's 4-0 victory over Malta in Group F and France's 4-0 win over Netherlands from Group A. Apart from that Portugal won 5-1 against Faroe Islands, Belgium thrashed Gibraltar 9-0. Germany defeated Czech Republic 2-1 in Group C, and Denmark routed Poland 4-0 in Group E.
Mexico secure a WC final spot
After their recent 1-0 win over Panama, Mexico will remain in the top 3 of CONCACAF final round, making them an automatic qualifier.