#HappyBirthday: Modric's journey from a war to World Cup final
#HappyBirthday: Modric's journey from a war to World Cup final
Sep 09, 2018, 07:10 pm
3 min read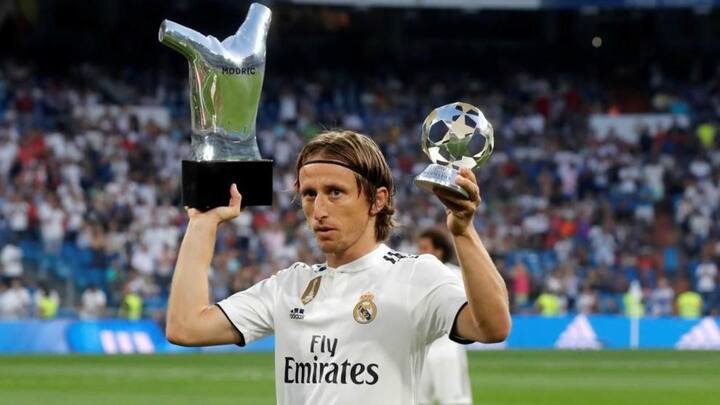 Today is the birthday of one of the greatest footballers of our times, a player who grew up amidst a civil war and single-handedly guided his team to the World Cup final. Luka Modric is a player in the league of Pirlo and Iniesta, someone who finds out small spaces and utilizes them like no other. Here is our tribute on the legend's birthday.
Early years: How were the growing years of Modric?
The Real Madrid player was only six when his hometown of Modrici was dragged into a civil war. Modric's home was burned to the ground. In December 1991, the Serbian army stormed through his village, executing his grandfather among others. Football helped him forget his pain, with his supportive family sending him to a sporting academy from an early age.
Modric's road from his hometown to the Premier League
Modric started with Dinamo Zagreb when he was 16, and with the club, he won three consecutive national leagues and domestic cups. Tottenham Hotspur signed him in 2008 and he instantly became influential, helping them feature in the UEFA Champions League for the first time in half a century. Modric's performances grabbed the attention of many big clubs, including Real Madrid.
Modric moves to Los Blancos and creates history
In 2012, the Croatian signed for Real Madrid and debuted in an El Clasico, which was the second leg of the Spanish Super Cup final. Modric became a regular in the squad post the arrival of Carlo Ancelotti and his cross-field passes have helped Real score numerous goals. Modric was also instrumental in Real achieving La Decima in 2014.
An integral part of one of the greatest teams ever
After La Decima, Real went on to create history by winning the Champions League on three consecutive occasions from 2016-18. Apart from Ronaldo, Modric was credited as one of the influential players for his prowess in the mid-field. He, along with CR7, helped Real Madrid dominate Europe for three years. In 2018, he was named UEFA Player of The Year.
Helping Croatia reach the finals of the World Cup
Modric's Croatia include some great players and they were named their second Golden Generation. Modric, as captain, led them to the World Cup final in 2018, which they lost to France after a valiant fight. He was named the best player of the tournament and was awarded the Golden Ball. This was a fairytale journey for Croatia where Modric led them valiantly.
Style of play: The Picasso of small spaces
Modric, an attacking mid-fielder, is among the greatest play-makers of football. He can dictate the rhythm of the game and unlock opposition defenses with his passes and unparalleled vision, making him indispensable for his team. It is said growing up in a war-torn area helped him develop the vision to find spaces and safe-zones which others don't even see. We salute this true champion!