PAK vs NZ: Pakistan's Azhar Ali suffers another comical run-out
PAK vs NZ: Pakistan's Azhar Ali suffers another comical run-out
Nov 25, 2018, 04:33 pm
2 min read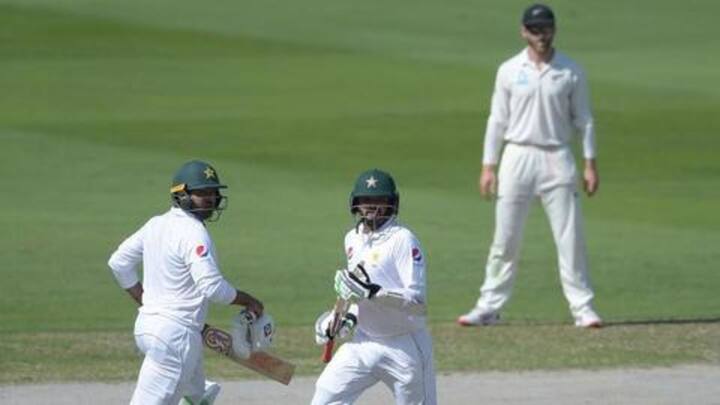 Pakistan's Azhar Ali is one of the most talented batsmen of this generation. However, in recent past, bizarre run-out dismissals have come his way. The stylish batsman, who suffered one of the most comical run-outs in Test cricket against Australia last month, was once again at the receiving end. This time it was during the second Test against New Zealand. Here is what happened.
Another sorry run-out dismissal for in-form Ali
Azhar played a superb knock of 81 in the first innings of the ongoing second Test. Unfortunately, Ali's communication with his partner Haris Sohail wasn't clear, as he suffered a run-out. Ali was facing Ajaz Patel and drove a full delivery towards mid-off. He didn't look at Sohail and started running, who in turn didn't respond. Ali tried returning back, but failed.
VIDEO: Azhar Ali's dismissal
When Azhar was involved in dumbest dismissal of all time
Against Australia, Azhar was batting on 63, but found himself involved in the dumbest dismissal of all time. Azhar edged a delivery off Siddle towards third-man. He and his partner were seen chatting in the middle of the pitch, without realizing that the ball hadn't reached the boundary. Starc got the ball and threw it to keeper Tim Paine, who whipped off the bails.
Pakistan are dominating the ongoing Test versus NZ
Pakistan are batting well against New Zealand on Day 2 and have lost just 4 wickets for 300+ runs. Sohail, who added a terrific 126-run stand with Azhar, has notched a century. He has added another 150+ partnership with the in-form middle order batsman Babar Azam. The hosts are trailing the Kiwis 0-1 in the series. Pakistan were stunned in the first Test.