Son of bus conductor helps India win U-19 Asia Cup
Son of bus conductor helps India win U-19 Asia Cup
Sep 15, 2019, 09:09 pm
3 min read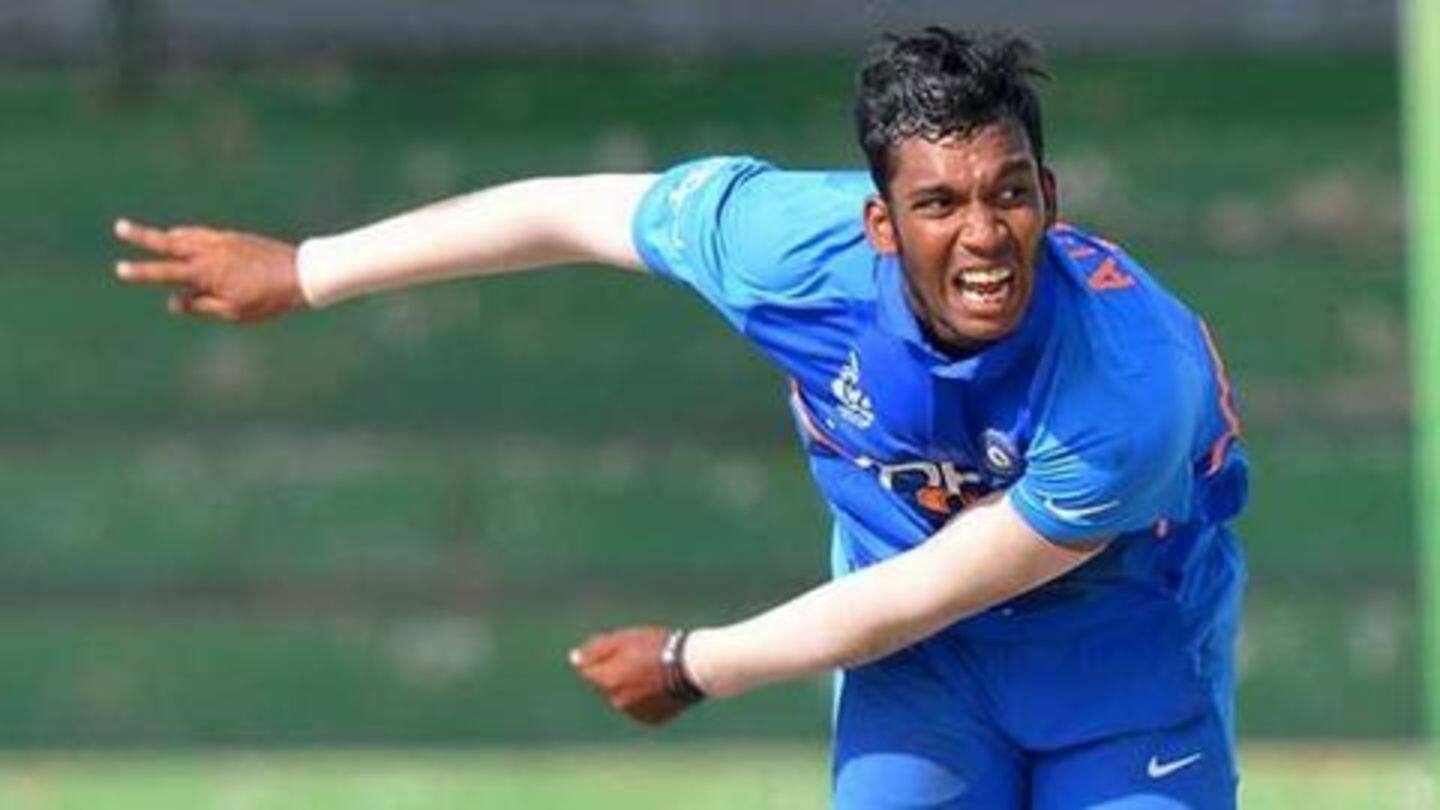 India created history when they won the U-19 Asia Cup 2019 for the record seventh time on Saturday. As a result, a number of deserving young Indians have displayed their talents and a glimpse to the future. One youngster to make an impact is Atharva Ankolekar, who finished as the highest wicket-taker for the side. Here, we present his story.
Ankolekar's mother is a bus conductor
Ankolekar's father had passed away at the age of 10, who had inspired him to play cricket and take up the sport as his profession. Meanwhile, he has been raised by his single mother, who currently is a bus conductor in Mumbai, working for BEST, as she was awarded the job following his father's demise. Ankolekar is currently studying commerce in a city college.
Ankolekar's mother ensured that his son lives his father's dream
"His mother is posted at Marol bus depot, and she has gone out of her way to ensure that the boy lives his dream. Her hard work has paid off," an MCA official was quoted as saying to Sportstar.
Ankolekar mother delighted with his performance in the tournament
Meanwhile, Ankolekar's mother, Vaidehi, said that while she was nervous, with the final being a low-scoring affair, she was delighted by her son's performance, who played the key role in India's win. She also thanked her friends, colleagues and the coaches (Suren Ahire, Prashant Shetty, Diwakar Shetty, Nilesh Patwardhan, and Arup Pai) for their support, for helping his dream come true.
Vaidehi believes Ankolekar can still improve a lot
Meanwhile, Vaidehi also stated that despite Ankolekar's flawless performance in the tournament, there is a scope for improvement, since it is just the beginning of his career. "It's a big day for us. But, he should not rest on his laurels and should work harder for days to come," she added, asides stating that all their family members are really excited to see him.
Vaidehi impressed with Ankolekar's fast maturity
"I was struggling to keep the house running, so couldn't give as much attention to the kids as I wished, but Atharva looked after himself and young Parth. His maturity comes to the fore on and off the field," Vaidehi further quoted to The Hindu.
How did the match pan out?
Winning the toss, India elected to bat first, as they failed to get off to a good start and were bundled for a paltry total of 106, within 33 overs. However, India came up with a commendable performance to defend the total, as Ankolekar became a nightmare for the Bangladeshi batsmen, who claimed 5/28 to spin the match away in favor of India.
Ankolekar received autographed pair of gloves from Sachin Tendulkar
In 2010, when Ankolekar was playing in the local cricketing circuit, he had managed to impress Sachin Tendulkar, who was overseeing his match. Following the match, Tendulkar presented him with an autographed pair of gloves, which is a prized possession for him.