'It was scary', Buttler opens up on Smith's Ashes concussion
'It was scary', Buttler opens up on Smith's Ashes concussion
Mar 27, 2020, 07:44 pm
2 min read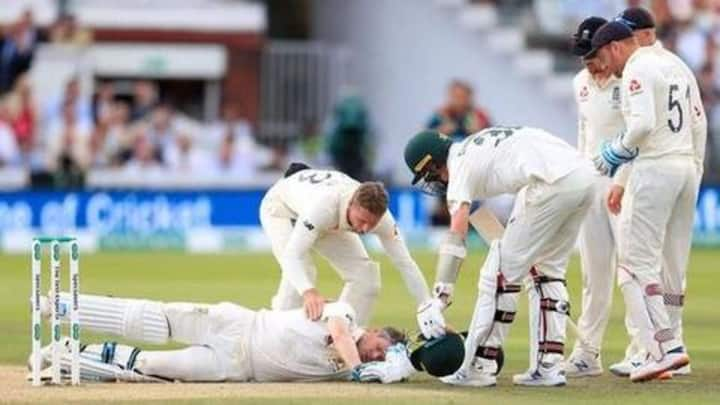 England wicket-keeper Jos Buttler opened up on the 2019 Ashes series which produced some intense moments. During the Lord's Test, Steve Smith was hit by a searing bouncer from Jofra Archer in the first innings. The former was later ruled out of the following Test. According to Buttler, everybody was reminded of Phil Hughes' miserable demise as Smith fell on the ground.
The horrific incident brought Lord's to standstill
After sustaining a few blows off Jofra Archer, the frivolous Smith misjudged a fierce bouncer which struck on his neck. The medical team was called immediately with the latter was lying on ground. He was forced to retire midway through the innings, but later returned and smashed the first two balls to boundary. Marnus Labuschagne was announced Smith's replacement for the second innings.
We sensed something was about to happen, says Buttler
"There was that sense of something happening. It was incredible drama. It was scary because he (Steve Smith) got hit on his neck or just beneath. People are very aware of what happened to Phillip Hughes, so there was huge worry for everyone," Buttler said.
The Smith vs Archer battle made headlines
Despite warming the bench in the first Test, Jofra Archer was all guns blazing in his Test debut at Lord's. Her perturbed the Australian batsmen with his raw pace as he consistently clocked around 150 KPH. However, his duel with Smith followed by perpetual verbal spats, grabbed quite a few eyeballs throughout the series. Overall, he scalped 22 wickets in four Tests.
Smith had a memorable outing in England
Smith ended his magnificent run in the Ashes 2019 with a record 774 runs from seven innings, including three hundreds. He emulated Sunil Gavaskar's feat of 774 runs (vs West Indies, 1971). Notwithstanding, Smith also missed one Test, owing to concussion.
Archer came with a lot of expectations
Buttler praised Jofra's blistering spell on Test debut. "That was Jofra's first Test - he came with a lot of expectations, but for a guy to produce a spell on debut like he did was quite incredible," Buttler said. He added, "Jofra - a new kid on the block bowling extremely fast to the world's best batsman at Lord's in an Ashes Test."