#ThisDayThatYear: Casillas debuted for Real Madrid on this day
#ThisDayThatYear: Casillas debuted for Real Madrid on this day
Sep 12, 2018, 09:07 pm
2 min read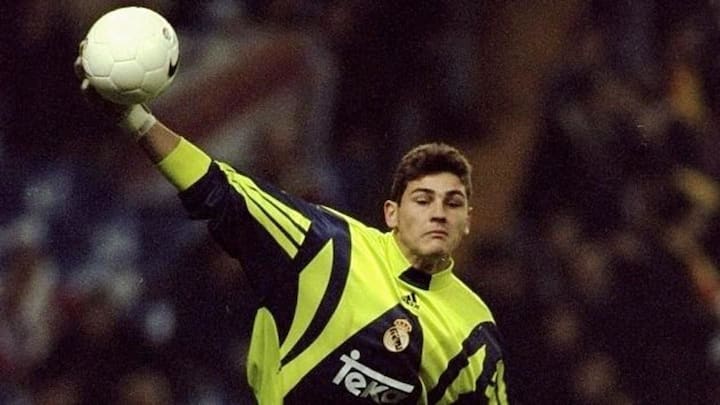 The legendary Spanish goal-keeper, Iker Casillas, made his debut for Los Blancos on September 12, 1999. Casillas, with jersey number 27, played against Athletic Bilbao in his first senior team game for Real Madrid. The decorated goal-keeper has won everything possible in football. He now plays for the Portuguese club Porto. Here are further details on his life and achievements.
The numerous achievements of Casillas at Real Madrid
Casillas has won numerous trophies in his long journey with the Spanish giants. He clinched 5 La Liga titles with Real Madrid in 2000-01, 2002-03, 2006-07, 2007-08, and 2011-12. He also won 3 Champions League titles with Los Blancos in 2000-01, 2002-03, and 2013-14. Iker was also named the IFFHS Goalkeeper of the Year on 5 occasions, a joint record held along with Buffon.
The international successes of Casillas
He achieved multiple honors with his country, Spain, as well. He captained Spain during the most glorious period in their footballing history. He won two Euro Cups consecutively in 2008 and 2012, and also the World Cup in 2010. Casillas, who currently plays for Porto, was voted the 'Best European Goalkeeper' in 2010.
The legend was unceremoniously released by Real Madrid
Casillas was released by Real Madrid in 2015, in an unceremonious manner, considering the legend he was at the club. Rifts between him and the club started appearing mainly after Jose Mourinho became Real's manager. He left the club he called home for twenty-five years, without any fanfare, with tears in his eyes on a Sunday morning.
The numerous records held by the legend
Casillas has made the highest number of UEFA club competition appearances (178). He holds the record of the most number of clean-sheets in UCL history (58). He is the youngest goal-keeper ever to win a UCL final, he was only 19 years and 4 days when Real won in 2000-01. For a goal-keeper, he has the most number of appearances for Los Blancos (725).