To reach top ten in Asia will take time: Chhetri
To reach top ten in Asia will take time: Chhetri
Jul 30, 2019, 10:05 pm
2 min read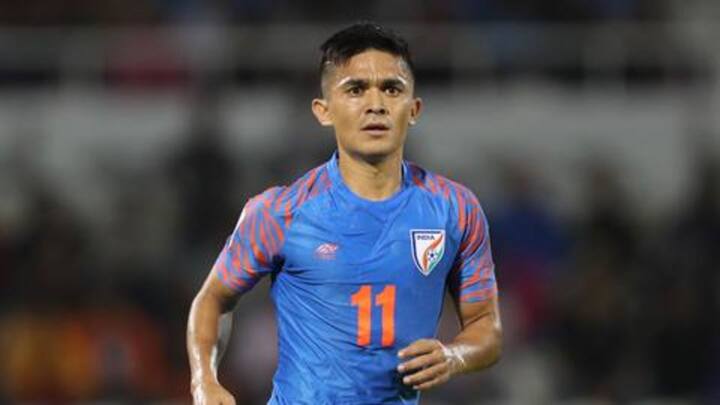 In a candid discussion, Indian football superstar Sunil Chhetri shared his views on the nation's place among Asian football powerhouses. The veteran striker feels that the Indian team has made progress in the past decade. He credited both grassroot development and talent scouting as the reasons behind this rise. However, Chhetri feels Indian team still remains far behind compared to other Asian countries.
This is where Indian football team stands in Asia
When it comes to locking horns with the biggies of Asia, the Blue Tigers are lagging behind at the moment. India are currently ranked 103 in the Men's FIFA Rankings, whereas, sides like Qatar (62), Saudi Arabia (68), China (71), Japan (33) and South Korea (37) are well ahead. India will need to develop the standards at grassroot level to close in.
Where we want to reach is still far, says Chhetri
"Not only the grassroots but also the overall development of Indian football has been good. The hard part is reaching top 10 in Asia is still far. No matter how fast we improve, the improvement seems small as compared to other Asian powers," said Chhetri.
The road is still very far: Chhetri
Chhetri also highlighted the reasons that have seen India lag behind despite the promise. "We are not good enough in identifying talent, infrastructure, making sure that young players get nourished food etc. We are not there yet. We are far better than we were in the last 10 years but the road is still very far. We have to keep working hard," he added.
India gearing up for 2022 FIFA World Cup Qualifiers
Recently, India failed to win a single game in the recently concluded Intercontinental Cup under coach Igor Stimac. Sunil Chhetri's side is gearing up for the upcoming 2022 FIFA World Cup Qualifiers. They are scheduled to take place from September onwards. India will be up against Qatar, Oman, Afghanistan and Bangladesh. Can they qualify for the next round? This remains the biggest question.
World Cup Qualifiers: India face a tricky test
The Blue Tigers face a tough start to their 2022 FIFA World Cup Qualifiers campaign. Qatar are the heavyweights in this group and are destined to take first place. If India have to qualify for the next round, then they need to stay ahead of Oman and finish second. India will be hoping to get things right this time around and achieve the impossible.