Christian Pulisic could join Chelsea in 2019 summer
Christian Pulisic could join Chelsea in 2019 summer
Dec 30, 2018, 10:25 pm
2 min read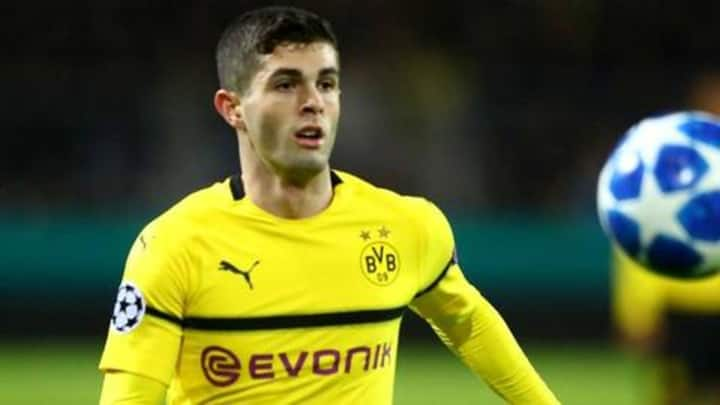 It has been reported that Chelsea are looking forward to signing American midfielder Christian Pulisic from Dortmund if things go right between the two clubs. Reportedly, there has been interest from other clubs like Manchester United and Liverpool, but the Blues are the ones who have made a concrete offer. Pulisic had earlier spoken of his desire to play in the Premier League.
Pulisic's tryst with Dortmund so far
Pulisic first joined the U-17 team of Dortmund in summer 2015, but his impressive performances saw him getting called up for the first team in winter of the same year. Then-manager Thomas Tuchel was so impressed by his performance that he said, " we see him as a full-time player on our team". Pulisic ranked after Mbappe among 2018's Kopa Trophy nominees.
Pulisic's performances with Dortmund have been pretty impressive
Since the American started playing for the Germans, he has made 80 appearances for the team, scoring 10 goals. Pulisic is a great dribbler, and can play as an attacking midfielder or winger. However, since Jadon Sancho rose to prominence, Pulisic's starting XI chances seem to have reduced, thus making the player want to switch clubs.
Dortmund waiting for higher offers
Dortmund have reportedly not yet said yes to Chelsea, as they are keen to see whether any other offers come their way. Notwithstanding, one thing is for sure - Pulisic will be making a move in the summer, as his contract, which runs till 2020, has not been renewed by the player. Liverpool had apparently made a bid of £45 million, says The Sun.
Pulisic will be able to play with Hazard and company
If the youngster ends up joining Chelsea, he will have wonderful opportunities with the current squad the Blues have. Pulisic's dribbling abilities coupled with his pace can help in creating attacks along with Eden Hazard. However, Chelsea have a fairly formidable midfield, and what they should really spend on is a prolific striker who would provide them with much-needed goals.