Brazil drub Peru 3-1 to clinch ninth Copa America title
Brazil drub Peru 3-1 to clinch ninth Copa America title
Jul 08, 2019, 06:12 pm
3 min read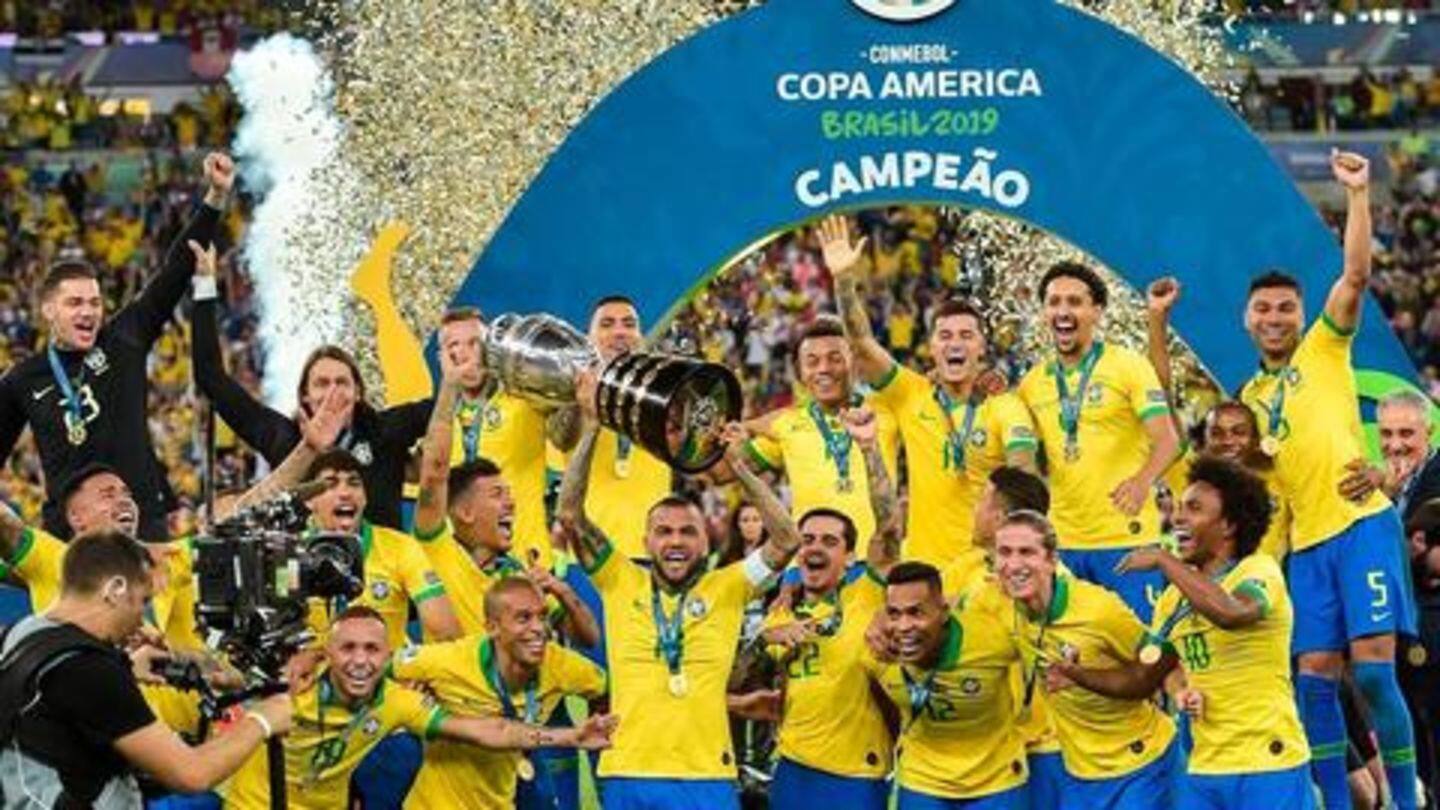 Brazil came up with a stellar performance as they drubbed Peru 3-1 in the final of the Copa America 2019 at the Estadio do Maracana in Rio de Janeiro on Sunday. The win helped Brazil clinch their ninth title, as goals from Richarlison, Gabriel Jesus and Everton sealed it for them. It was also their first title win under coach Tite.
Brazil keep possession to score the opener
In the opening quarter, Brazil were off to a patient start, keeping the ball in their possession for most of the time. It was not until the 11th minute when Brazil had the first shot on target, as Everton put the hosts ahead, following a lovely cross from the right flank by Jesus. Peru visibly looked shaken as Brazil continued to suffocate them.
Peru equalize, but Brazil strike back again
Brazil were relentless until the 41st minute when Thiago Silva's handball awarded Peru a penalty. Following a brief VAR review, the decision stood as Paolo Guerrero swiftly converted it, sending goal-keeper Allison Becker the wrong way. However, just three minutes at the stroke of half-time, Brazil's Arthur came up with an excellent pass to Jesus, who calmly dispatched it home, as Brazil led 2-1.
Brazil get going right after half-time
Following half-time, there seemed to be no difference. Brazil went after Peru again as the first chance of the half came in the 51st minute when Philippe Coutinho attempted one from the box, only to send it wide. Another chance in the 57th minute saw a link-up between Everton and Alex Sandro to set up a header for Firmino, who steered it wide.
Red card for Jesus makes no difference
The closing quarter saw Jesus being shown his second yellow card of the match in the 70th minute, resulting in a red, after he struck Zambrano with an elbow. As Peru decided to press ahead, the 87th minute saw them awarding a penalty to the hosts instead. It was Zambrano again, who blocked Everton's path, while Richarlison converted it for the winner.
Everton adjudged Man of the Match
Brazil have won each of five Copa America as hosts. Jesus became the first player in the Copa America final to score and be sent off. Everton's opener was the first Copa America final goal since 2011 edition. Tite becomes the first coach to win Copa America, Copa Libertadores and Copa Sudamericana. Peru's goal ended Alisson's clean sheet for 889 minutes across competitions.
Some key stats from the match
Copa America 2019 award winners