Brazil vs Bolivia: Preview, head-to-head, line-ups and Dream XI
Brazil vs Bolivia: Preview, head-to-head, line-ups and Dream XI
Jun 14, 2019, 07:19 pm
2 min read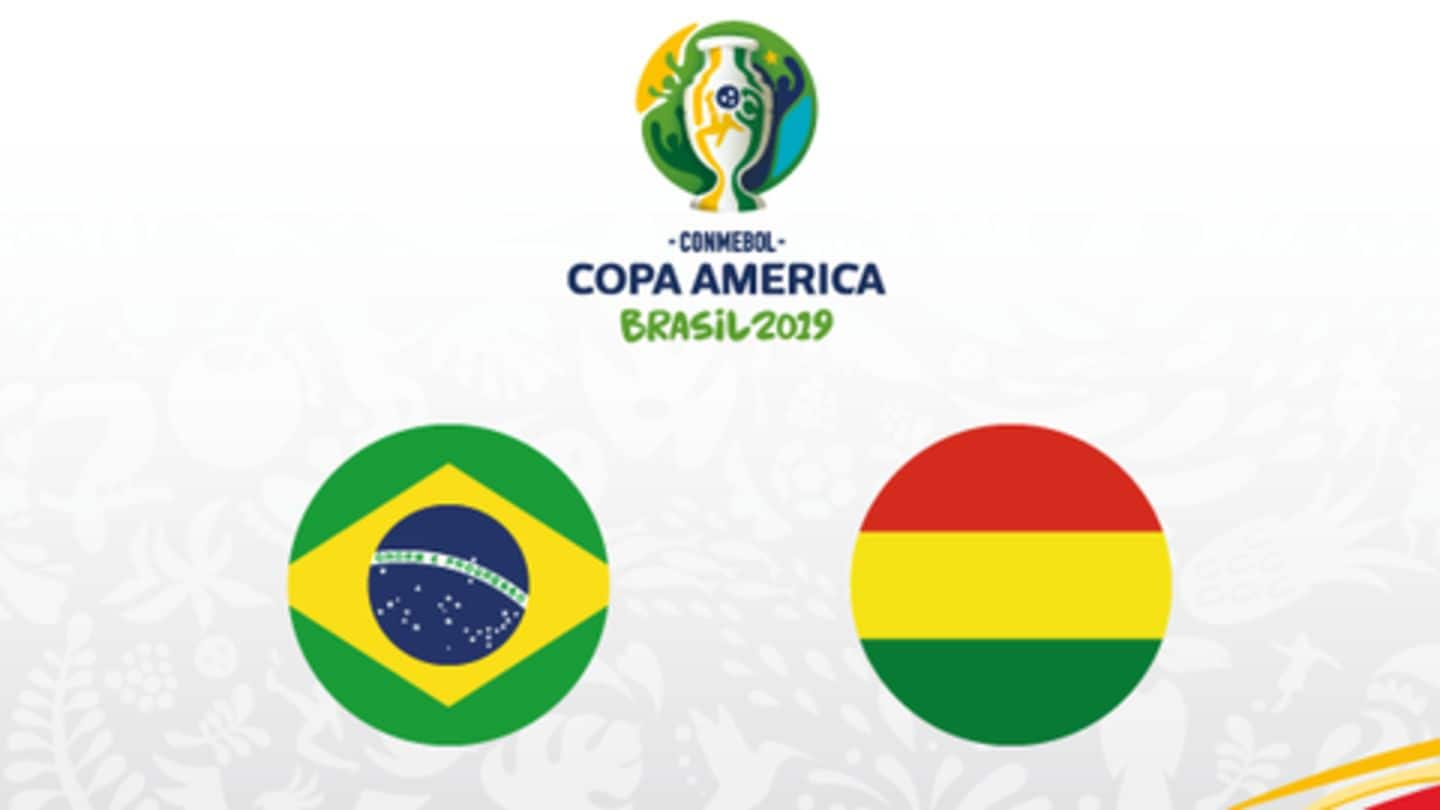 Brazil get set for the international season when they take on Bolivia in the opening game of the Copa America 2019 at the Estádio do Morumbi in Sao Paulo on Friday. Selecao, who have won the title on eight occasions ,would look to get off to a flier, against a weak Bolivia. The latter are yet to win the tourney. Here's the match preview.
Brazil on a high, Bolivia coming off consecutive losses
Talking about the recent performance of both the teams, Brazil are high on confidence. Post Brazil's World Cup 2018 defeat to Belgium, they have played four international games, winning three and drawing one. As for Bolivia, in 2019, they have played four matches, losing three and drawing one. Thus, Brazil have the upper hand heading into the match.
Brazil play without Neymar, Bolivia to rely on Marcelo Martins
As for the players, Brazil are packed with superstars. However, with their top striker Neymar missing out, they will heavily rely on services from Fernandinho, Philippe Coutinho and Gabriel Jesus. As for Bolivia, they don't have many top players in the side, and would mostly rely on Marcelo Martins, who, being a Brazilian, can give them a fight.
Brazil hold massive edge over Bolivia
Overall, both the sides have clashed on 29 occasions, with Bolivia winning just five, while Brazil have pocketed 20 matches. The last game between the sides was goalless, while Brazil are unbeaten in the last three games against them, scoring nine goals. Their last meeting in Brazil saw the hosts winning 5-0, while only once Bolivia have managed a draw in the country.
Here are the predicted XI for both the sides
Brazil (4-2-3-1): Alisson, Dani Alves, Marquinhos, Thiago Silva, Filipe Luis, Arthur, Fernandinho, Richarlison, Philippe Coutinho, Roberto Firmino, Gabriel Jesus. Bolivia (4-2-3-1): Carlos Lampe, Diego Bejarano, Luis Haquin, Adrian Jusino, Marvin Bejarano, Raul Castro, Samuel Galindo, Erwin Saavedra, Leonel Justiniano, Alejandro Chumacero, Marcelo Martins. Dream XI (4-3-3): Alisson, Alves, Silva, Marvin Bejarano, Jusino, Coutinho, Chumacero, Castro, Firmino, Jesus, Martins.
When, where and how to watch?
Match: Brazil vs Bolivia Venue: Estádio do Morumbi, Sao Paulo Time: 6:00 AM IST (Saturday) Where to watch (TV): There is no broadcast of the tournament in India. Where to watch (Online): There is no official streaming of the tournament in India.