Dembele is showing why Barcelona trusted him after Neymar's departure
Dembele is showing why Barcelona trusted him after Neymar's departure
Sep 14, 2018, 07:32 pm
2 min read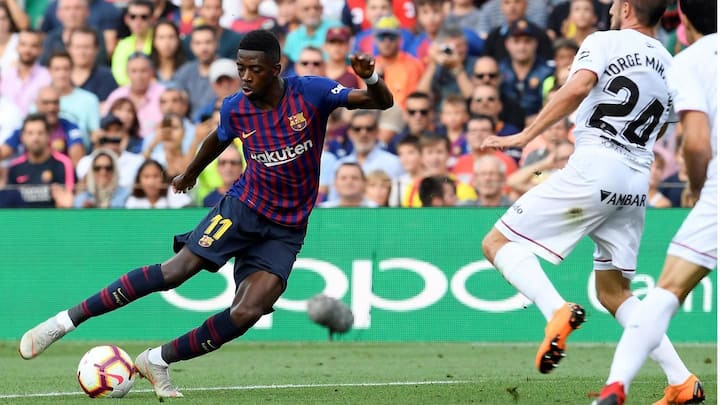 Fans had a lot of expectations from Dembele, when he took a transfer to Barcelona from Dortmund. At that time, Neymar had just left Barcelona in a world record move to French outlet Paris Saint-Germain. Dembele was brought in to fill Neymar's shoes, but his first season was disastrous. However, he seems to have found his form this term.
Dembele could not find his mojo last season
The French star had a tough time settling in at the Camp Nou in his first season. Dembele suffered a hamstring injury in September 2017 that saw him remain out of action till January. Except some flashes of brilliance, Dembele failed to impress Barca management. Notably, he was only given 5 minutes of game time during the UCL quarter-final against Roma.
The 2018-19 season has been a turning point for Dembele
Since the start of 2018-19 season, Dembele has started showing why Barcelona were not wrong to pay that big an amount (€145 million) for him. His Spanish Super Cup goal against Sevilla was the crucial moment from where Dembele started picking up form, this term. In the league, his solo goal against Valladolid helped solidify three points for Barcelona.
Was his price tag an issue?
Dembele was the costliest footballer in the history of Camp Nou when he was bought for €145 million as just an eighteen-year-old. The price tag might have been a huge burden to bear for someone that young. But with the arrival of Coutinho at €160 million, he doesn't feel that pressure any more and Dembele has been able to concentrate more on his performances.
Dembele has begun connecting more and more with Leo Messi
Camp Nou's leader, Leo Messi, has also started connecting with Dembele during their on-field exploits. If inside rumors are to be believed, Messi sees immense potential in the teenager and gives him special attention during training. Messi has also begun playing defense-searing passes with Dembele, while on the attack, and this may cause problems for all defenders across Europe.