How would Federer react to Nadal breaking his Slam record?
How would Federer react to Nadal breaking his Slam record?
Feb 09, 2020, 02:19 pm
2 min read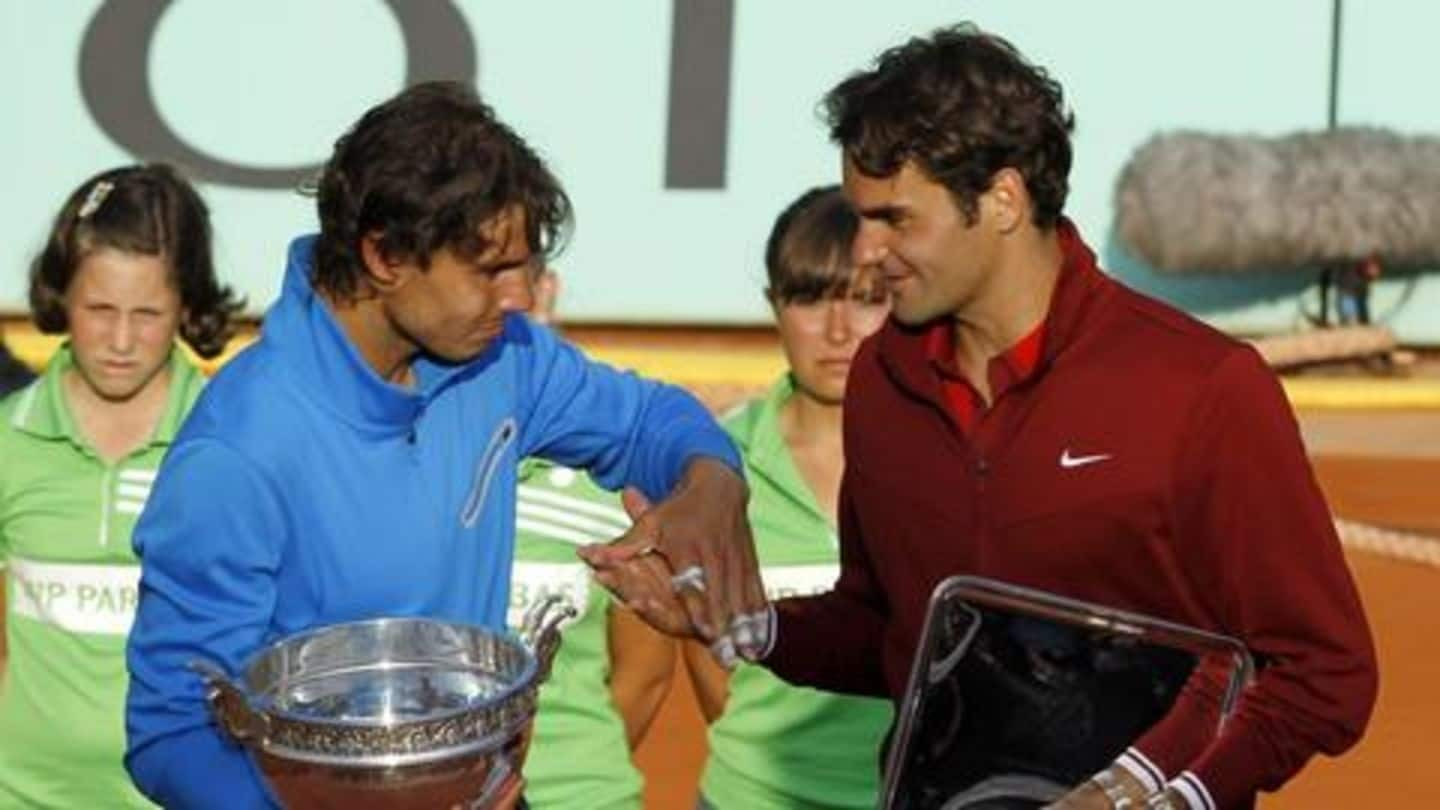 Roger Federer is considered the GOAT of tennis, having won record 20 Grand Slam titles. However, his reign is under threat, with Spaniard Rafael Nadal just a title short of matching him. Two more Slams could see Rafa surpass the Swiss. Meanwhile, speaking on his reaction to the possibility, Federer said that he would be fine with it. Here's more.
Federer all right with Nadal catching him up
Speaking on the topic, Federer said that he, along with Nadal and Novak Djokovic, would be satisfied with their careers, while he wished he could play longer. "We'll see how much more. But, there's still lots to look forward to. In my dreams, I never dreamed this far. I hoped to win just a Wimbledon. If he [Nadal] catches me, it's OK," he said.
Federer expresses happiness playing against Nadal in South Africa
"We tried our best as always. It's a lifetime experience playing in front of such an amazing crowd in an amazing stadium. It was a big pleasure for me to be a part of it," added Federer, reports Tennis World USA.
Federer defeats Nadal in an exhibition showdown in South Africa
Federer's words come following an exhibition showdown against Nadal in Cape Town, South Africa. While Federer earned a solitary break to claim the first set 6-4, Nadal too struck back in the second set with a break and win it 6-3. The final set once again saw Federer get a break and win the set 6-3, as both enjoyed the friendly atmosphere and bonding.
Some all-time records held by Federer
Following are some of Federer's all-time records: Most men's Grand Slam singles titles: 20 Most men's Grand Slam finals: 31 Most consecutive final wins in ATP tournaments: 24 Most ATP hard-court titles: 71 Most weeks as world number 1: 310 Most consecutive weeks as world number one: 237 Most Wimbledon singles titles: 8 Most World Tour Finals singles title: 6
Some all-time records held by Nadal
As for some records held by Nadal: Most titles won at a single Grand Slam: French Open (12) The only man to win three Slams on different surfaces in a year. Highest overall match wins percentage across surfaces: 83.21 Highest overall match wins percentage on clay: 91.79 Has qualified for ATP Finals for 15 consecutive years: 2005-19 Most ATP Masters titles: 35