US miss out on FIFA World Cup berth
US miss out on FIFA World Cup berth
Oct 11, 2017, 08:16 pm
2 min read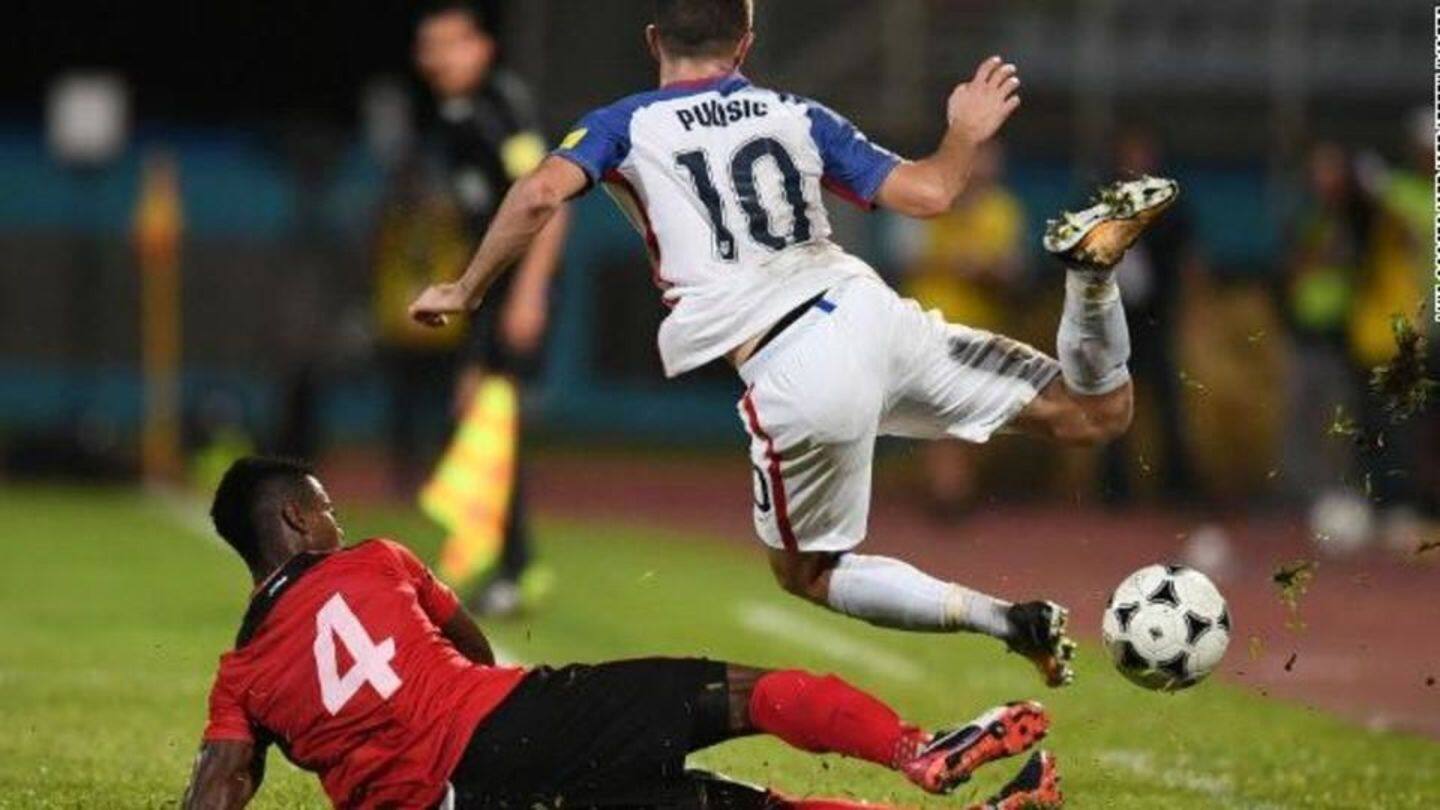 For the first time since 1986, US national team failed to qualify for FIFA World Cup, the 2-1 loss to Trinidad & Tobago being the final nail in the coffin. Their loss coupled with wins for Panama and Honduras meant that the US side finished fifth in their group, losing out on a chance to make it to the play-offs. Let us know more!
These stars will be out of action for World Cup
The 2018 World Cup will not feature the likes of Real Madrid star Gareth Bale (Wales), Alexis Sanchez (Chile), Arjen Robben (Netherlands), and Borussia Dortmund's Pierre-Emerick Aubameyang (Gabon), after their countries failed to make it to the World Cup's final 32. More big names that will miss the tournament include: Riyad Mahrez (Algeria), Arturo Vidal (Chile) and Atletico Madrid's goalie Jan Oblak (Slovenia).
Iceland's historic World Cup qualification
Iceland football team is best remembered for its heroics at the UEFA Euro 2016, where it defeated England to reach the quarter-finals. The nation with a population of just 3,35,000 has qualified for its first ever World Cup, ahead of the group favorites Croatia, after the 2-0 win over Kosovo. Wait for the Icelandic signature thunder clap in Russia, world.
Argentina, Portugal sneak into the final 32
Messi's Argentina and Ronaldo's Portugal were in a tight spot before the final group match and were required to win to secure an automatic qualification. However one couldn't imagine a tournament without these two. While Argentina sneaked into the World Cup owing to hat-trick by Messi leading to 3-1 win over Ecuador, Ronaldo's side managed a 2-0 victory over Switzerland to seal the spot.
23 of the 32 World Cup spots booked
So far, 23 teams have secured their qualification to play at the 2018 World Cup. Apart from hosts Russia, these teams are - Belgium, Germany, England, Spain, Portugal, France, Portugal, Serbia, and Iceland (Europe); Brazil, Uruguay, Argentina, and Colombia (South America); Nigeria, and Egypt (Africa); Mexico, Costa Rica, and Panama (North, Central & Caribbean America); Iran, Japan, Saudi Arabia, and South Korea (Asia).
Italy in play-offs , yet to qualify
Among the big teams awaiting their World Cup qualification fate is Italy which finished second after qualification group stage. Italy's team will now play in the 8-team play-off round from where four winning teams qualify for the World Cup.