F1: Records that could be scripted at the Italian GP
F1: Records that could be scripted at the Italian GP
Sep 06, 2019, 05:58 pm
3 min read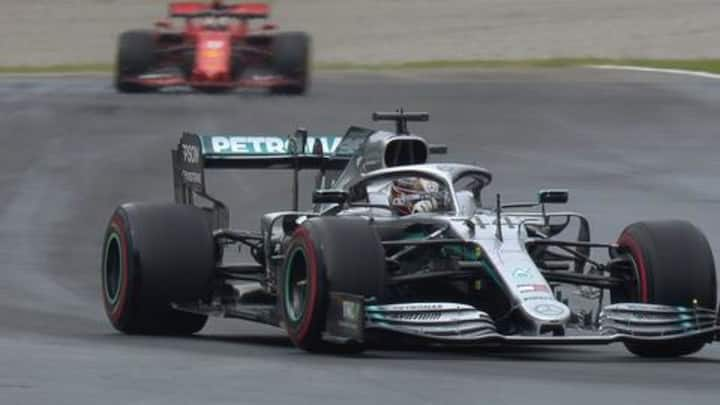 The Italian Grand Prix is set to be held this weekend and teams are busy preparing with the practice sessions ahead of the qualifying race on Saturday. The main race will be held on Sunday. The focus will be on Mercedes and Ferrari at the 2019 Italian GP. Ahead of the event, we look at the records that could be scripted.
Key details about the Italian GP
The Italian GP will consist of 53 laps. A lap distance is of 5.793 km. The total distance of the Italian GP is 306.720 km. Lewis Hamilton of Mercedes won the 2018 race. Sunday's race will be the 90th edition of the Italian GP.
Hamilton in line to script these unbreakable records
Hamilton has won at Monza on five occasions. It is a record he shares with F1 legend Michael Schumacher. If Hamilton wins the 2019 race here, then it will be his sixth title at this venue. He is also eyeing to be only the second driver to win three successive races here alongside Juan Manuel Fangio, who won in 1953, 1954 and 1955.
Vettel can equal Moss and script this unusual record
Ferrari's Sebastian Vettel will have a strong test ahead of him. The German can only be the second driver, and first since Britain's Stirling Moss in the 1950s, to win at Monza with three different F1 teams. Moss won the Italian GP with Maserati, Vanwall and Cooper. Meanwhile, Vettel has done so previously with Toro Rosso (2008) and Red Bull (2011 and 2013).
These records are in sight at the 2019 Italian GP
Schumacher holds the record for the most podium finishes at Monza (8). If Hamilton finishes at the top three, then he will equal this record. Mercedes are in line to clock 300 points at the Italian GP. They need 34 points to become only the second team after Ferrari to achieve the record here. However, McLaren need only a point to script this record.
Raikkonen's unbreakable record, Ferrari hope to extend Monza wins
Former Ferrari driver Kimi Raikkonen had set the 2018 pole lap at an average speed of 263.587 kph. This is the fastest in Formula 1 history. This record could remain unbreakable for a long time. Ferrari have won 18 times at Monza (the highest ever).
Raikkonen in sight of these records
Raikkonen needs eight points to become only the fourth driver to have amassed a tally of 100 at the Italian Grand Prix. Hamilton, Vettel and Fernando Alonso are the only drivers to have achieved the same. Raikkonen has started 305 career races. He is set to equal Jenson Button's tally of 306 starts and become the fourth-most experienced driver in F1 history.