Records held by Michael Schumacher in Formula 1
Records held by Michael Schumacher in Formula 1
Sep 25, 2019, 07:50 pm
2 min read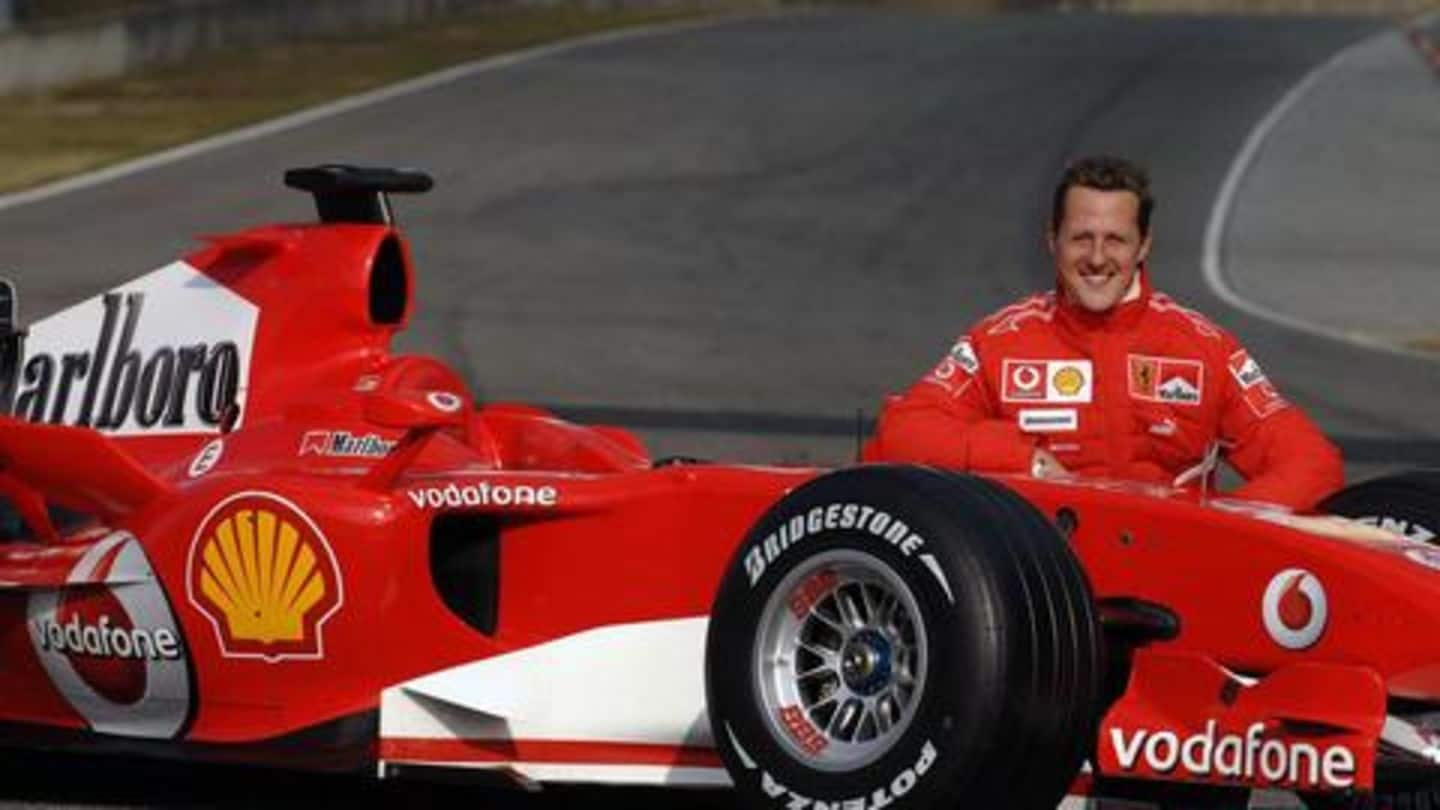 Michael Schumacher has been the greatest ever to grace the Formula 1 world. He has dominated the circuit more than anyone else. The former Mild Seven Benetton, Ferrari and Mercedes driver went on to win a record seven Drivers Championships between 1994 to 2004. He set the standards in F1 with his champion driving. Here are the records held by Schumacher.
A look at Schumacher's F1 career
Schumacher won two F1 titles with Mild Seven Benetton in 1994 and 1995 respectively. His major success came with Scuderia Ferrari between 2000 to 2004. He had joined Ferarri in 1996. His record seven Drivers Championships is still in tact. Schumacher didn't race between 2007-09 and made a return with Mercedes in 2010. He finished ninth, eighth and 13th respectively.
Schumacher part of these mega records
Schumacher holds the record for the most races with a single constructor. His 179 races for Ferrari sits atop the list. The German scripted the most Grand Prix wins in F1 (91). He holds the joint-top record for most wins in a season alongside Sebastian Vettel (13). He has the joint-second best record for consecutive races won (7) alongside Alberto Ascari and Nico Rosberg.
Schumacher holds these brilliant records
He is one of the 14 drivers in F1 history to win a race after starting furthest on the grid. He had won the Belgian GP in 1995 after starting 16th. Schumacher holds the record for most wins at the same Grand Prix (8). He also has the record for most seasons with a Grand Prix won (15).
Schumacher associated with these records as well
In terms of pole positions, Schumacher (68) is second on the list after Lewis Hamilton (87). He has the joint-second best tally for most consecutive pole positions (7). In terms of most pole positions at the same Grand Prix, Hamilton holds the joint-best record (8). He holds the record of most fastest laps in F1 (77).
Schumacher's domination highlighted by these records
He is first in terms of total podium finishes (155). He holds the joint-top record for most podium finishes in a season (17). He holds the record for most consecutive podium finishes (19). In terms of total races finished in the points, Schumacher is number one (221). Schumacher is second in terms of pole and win in the same race (40).