Rafael Nadal overcomes Schwartzman to enter the French Open semi-final
Rafael Nadal overcomes Schwartzman to enter the French Open semi-final
Jun 09, 2021, 09:49 pm
2 min read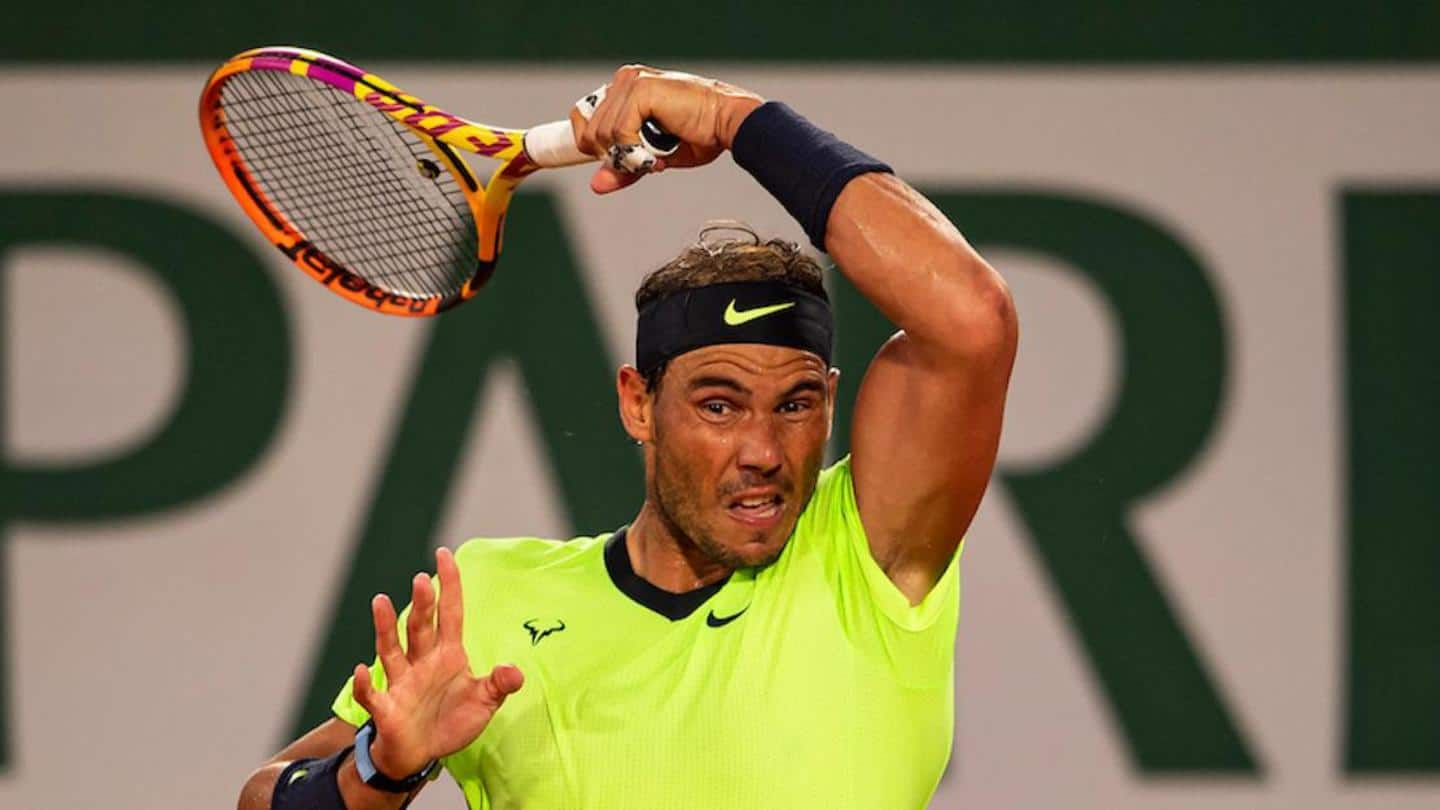 Spanish maestro Rafael Nadal earned a hard-fought victory over Argentina's Diego Schwartzman to enter the semi-finals of the 2021 French Open. Although the 10th seed duly tested Nadal in the quarter-final that spanned over two hours, the Spaniard won 6-3, 4-6, 6-4, 6-0. Notably, Nadal has never missed out on a Roland Garros title after claiming a spot in the semis. Here is more.
How did the match pan out?
Schwartzman did fairly well in the first set despite having a 2-4 deficit. His efforts paid off in the second set as he took a set off Nadal. However, the Spaniard used all his experience to bounce back, winning the next set 6-4. Nadal was all over the Argentine in the final set, making it one-sided in the end.
Nadal earns his 11th victory over Schwartzman
Nadal has won his 11th match against Schwartzman. He has an 11-1 lead in the ATP head-to-head series. Schwartzman's only win against Nadal came in Rome last year. However, weeks later, he was handed a straight-set defeat by the Spaniard in the Roland Garros semi-final. Notably, Schwartzman is the only player to take a set off Nadal in this year's French Open so far.
Schwartzman ends this streak of Nadal
By winning the second set, Schwartzman ended the 36-set winning-streak of Nadal at Roland Garros. The Argentine had ended Nadal's 38-set winning streak in the same tournament in 2018. Notably, Bjorn Borg holds the record for winning 41 consecutive sets at the French Open.
An incredible record of 105-2 at French Open
Nadal has improved to an astonishing 105-2 match record at the French Open. The 20-time Grand Slam champion has entered his 14th Roland Garros semi-final. As stated, he has never lost the penultimate clash of the tournament. He is through to his 35th Grand Slam semi-final overall. Nadal is 23-3 in the season, which includes titles in Barcelona and Rome.
Rafa is unbeaten in his last 35 French Open matches!
Nadal likely to face Novak Djokovic in semis
Nadal is likely to set up a high-voltage semi-final clash with world number one Novak Djokovic, who faces Matteo Berrettini next. The Serbian advanced to the quarter-final after an intense encounter against Italy's Lorenzo Musetti, who retired through injury. Notably, Nadal trails Djokovic 28-29 in their ATP head-to-head series. However, the Spaniard has beaten Djokovic in seven out of eight Roland Garros matches.