India U-19 captain Dhruv Chand confident of Asia Cup dominance
India U-19 captain Dhruv Chand confident of Asia Cup dominance
Sep 02, 2019, 05:14 pm
3 min read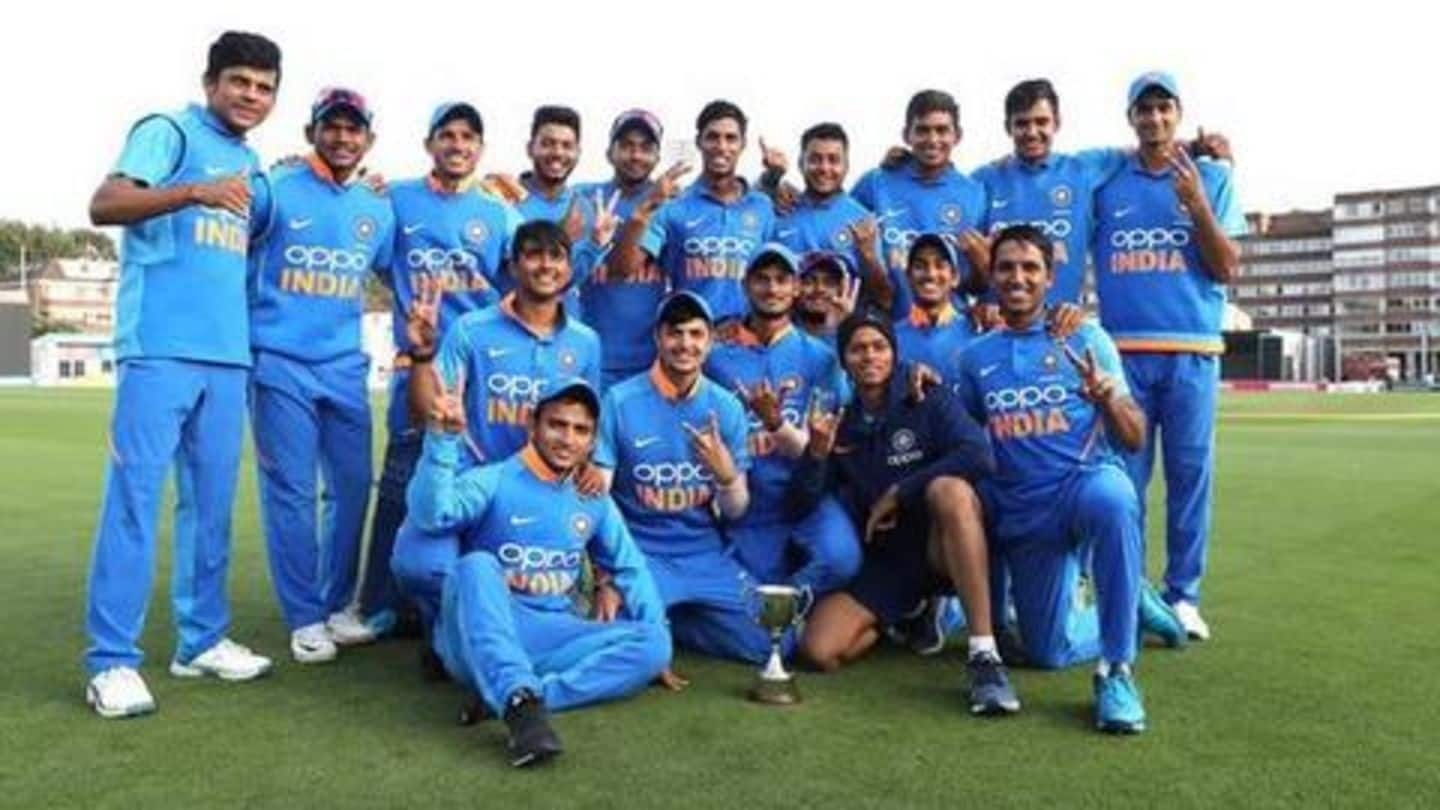 India are undoubtedly the leading force in cricket in Asia and even their Under-19 team has dominated the continent. To date, there have been seven editions of the U-19 tournament, and India have won on six occasions. With the eighth edition getting underway from Tuesday, India are once again favorites to lift their seventh title. Meanwhile, here's what India's U-19 captain Dhruv Chand said.
Boys focused on winning the series: Dhruv
Speaking ahead of the tournament, Dhruv said that the boys were already focused on winning the series, asides having an abundance of talent, along with players, who can turn the game around at any point. He also claims to admire AB de Villiers and looks up to him as a source of inspiration in all departments (batting, fielding, and wicket-keeping).
Dhruv grateful to his father for helping him in cricket
"My father is an army man so he is very particular about discipline. When I chose cricket, he helped me a lot. I am really grateful to him for the immense support," Dhruv further told Times of India.
Arjun Azad recalls playing against Arjun Tendulkar
Ahead of the tournament, another fellow youngster from Punjab Arjun Azad shared his memory on how he rose to the limelight by playing against Arjun Tendulkar. He recalled that during a U-19 match, he had smashed Arjun for a number of boundaries, as he went on to score 151, while his side won the match by 20 runs.
Azad admires Sachin Tendulkar as his inspiration
Azad also claimed that he admired Sachin Tendulkar. While he too is not a tall player, he revealed to have faced difficulties initially playing the bouncers. However, upon seeing the videos of Sachin play fearless cricket despite not being tall, Azad has learned a lot. It is since then, he has been inspired by Tendulkar and it keeps him driving in his career.
'I started my career because of Sachin Tendulkar'
"I started my career because of him (Tendulkar). I don't have anybody else in my family who plays any sport. I was 10 when I saw his innings on the television screen. I'm really thankful to my parents and my mentor Manan Vohra," added Azad.
Don't take any pressure: Rahul Dravid's advice to Azad
Azad further stated that during his camp at NCA, he came across Rahul Dravid, who advised him not to take any pressure upon himself and play his natural game. "I just keep things simple. This is the mantra I have learned from Rahul Dravid sir. I do my homework ahead of a match. I see the videos and statistics of the opposition," concluded Azad.