#Explainer: All you need to know about UEFA Nations League
#Explainer: All you need to know about UEFA Nations League
Sep 04, 2018, 02:55 pm
2 min read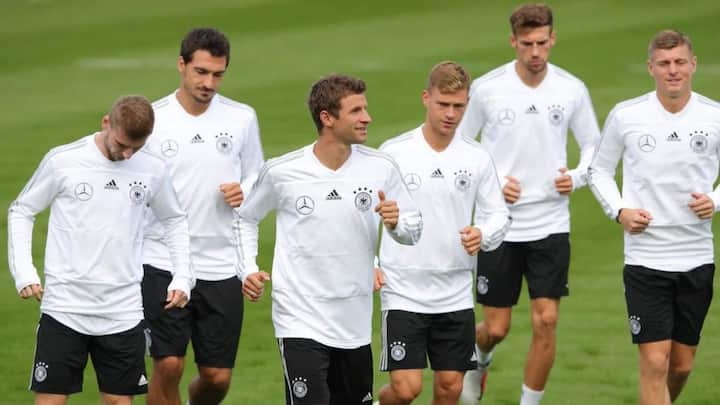 Germany will host France in the opener of the UEFA Nations League on September 6. The UEFA introduced this league for European nations in order to scrap the 'meaningless' friendlies. The new tournament will see 55 teams participating across 4 divisions. There will be a promotion and relegation battle with the bonus of sealing a berth in the Euro 2020 Championships. Here's more.
This is what teams will play for
Why the inception of the UEFA Nations League?
Over the years, international friendlies have seen the attendance of fans coming down by a huge margin. Big teams failed to attract interest and smaller ones never managed to arrange quality international friendly matches. Now, the UEFA has come up with a solution. The UEFA Nations League will be fought competitively because there's a trophy to be won. Also the rules make it interesting.
How will the league function?
55 nations have been divided into 4 leagues. The 12 sides, as per rankings, are all in League A. The next three leagues see 12, 15 and 16 teams respectively. Each leagues have groups with 3-4 teams in them. These teams will play each other in a home and away encounter. The matches will be held between September and November this year.
How does the league work? Vital details
League A will see winners of the four groups qualify for the finals to be held next year. A semis, third-place play-off and a finale will be played. The host nation is yet to be finalized at the moment. The teams finishing bottom in each group in League A, B and C, will be relegated. The teams then finishing atop will replace them.
Euro 2020 qualifiers explained
The qualification process for the European Championships 2020 will involve 4 nations from Nations League play-offs. The Euro 2020 will have 24 teams in the main edition. 20 teams will make it via the European Qualifiers. 4 teams will have the chance to enter the tourney from the Nations League play-offs. Therefore, this league has a big value attached with it.