La Liga: Granada upset Barcelona 2-0 to claim top spot
La Liga: Granada upset Barcelona 2-0 to claim top spot
Sep 22, 2019, 12:04 pm
3 min read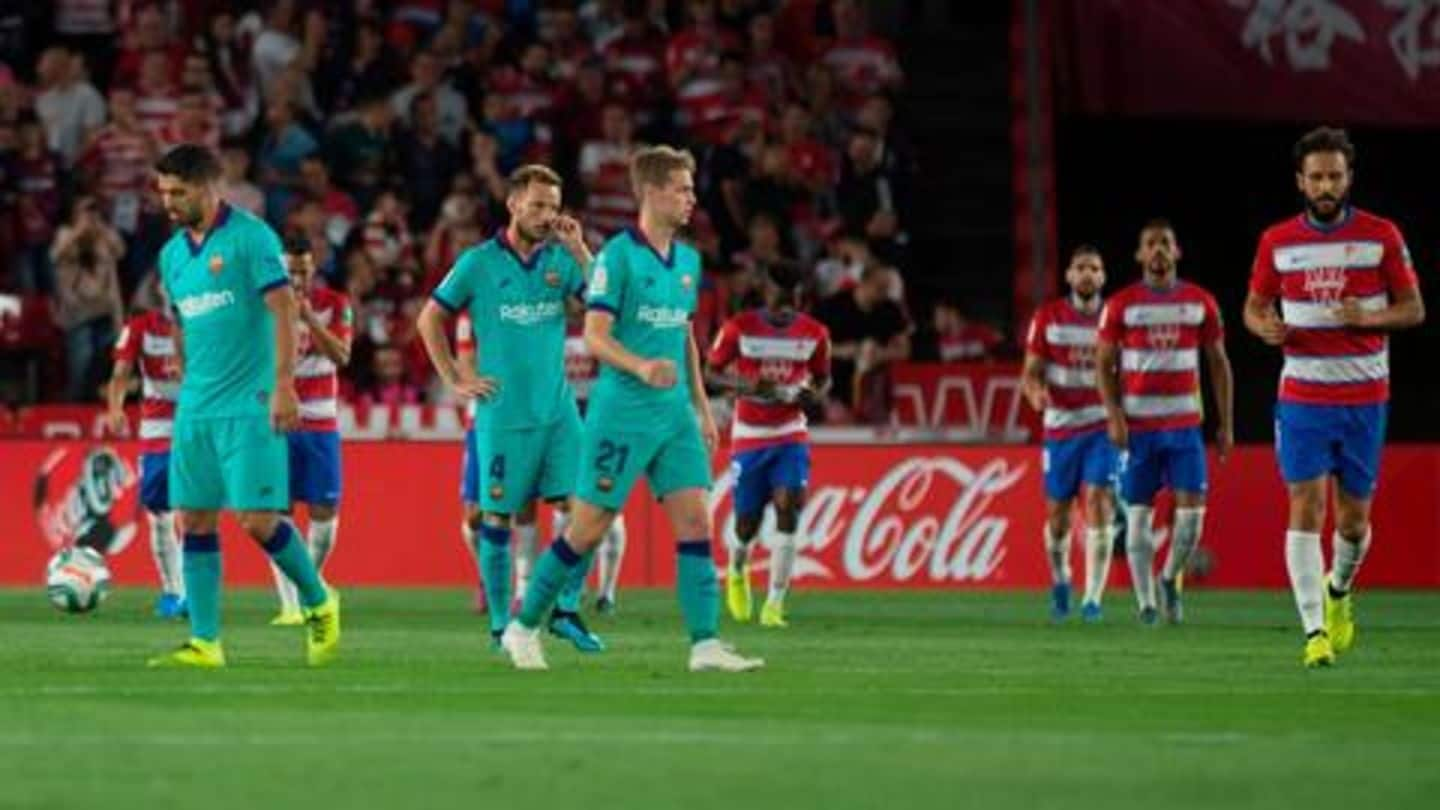 Granada continued their surprising, but dominating start to the season, as they upset defending champions Barcelona 2-0 in their La Liga 2019-20 match at Estadio Nuevo Los Carmenes on Saturday. The win takes Granada to the top of the table, for the time being, while Barca slump to the seventh spot, as their woeful start to the campaign gets even worse. Here is more.
Ramon Azeez puts Granada ahead in 2 minutes
The hosts were off to a fine start as Ramon Azeez ensured that they get the lead in the opening two minutes of the game with a simple close-range finish. Meanwhile, they also came close to doubling it in the 14th minute as Antonio Puertas came up with a good chance, only to be smartly denied by Barca goalkeeper Marc-André ter Stegen.
Two unpromising chances for Barca before half-time
The second quarter saw Barca come up with two chances, but were not promising. While Luis Suarez and Carles Pérez were double-minded with an effort in the 33rd minute, Granada's Yangel Herrera too had a decent effort of doubling the lead, only to shoot it over the crossbar. Suarez had another chance at the stroke of half-time, only to be denied by the defense.
Granada double despite Lionel Messi taking over captaincy reins
The beginning of the second half saw Messi coming in, as he took over the captaincy reins from Gerard Pique. Granada almost doubled it again in the 52nd minute, only to be denied by Ter Stegen, as Roberto Soldado could have tapped one in. Nonetheless, the 66th minute penalty, following a handball off Arturo Vidal, saw Alvaro Vadillo sending Ter Stegen the wrong way.
Chances for Barca at closing stages, but to no avail
The final quarter saw three relentless attacks from Barca. Ansu Fati came up with a promising chance in the 68th minute, along with a vigilant Pique, but Rui Silva made a fine save. The 82nd minute saw a couple of chances again, as Vidal came up with a powerful shot, only to be blocked by the defense, while Messi's rebound was denied by Silva.
Barca off to worst start in 25 years
As Barca succumbed to their second defeat of the season, they have managed to claim only a point in their three away ties this season so far. Meanwhile, this has also been their worst start to the season in 25 years, following a similar start in 1994-95 under then-coach Johan Cruyff. Furthermore, Barca have not won their last seven away ties across competitions.
Antoine Griezmann has indeed struggled since moving to Barca
Are Barca showing true colors without Messi?
Messi's calf-injury surely came as a setback for Barca during the start of the season, as he is yet to completely recover from it. While it has been a test for Barca with an irregular Messi, critics are certainly shocked by their dismal start. As a result, fans and experts have started questioning that if Barca were over-reliant on Messi until now.
Valverde must look for a turnaround with job at stake
Meanwhile, it is no secret that Barca coach Ernesto Valverde's job would be at stake in the next couple of games. Failure to come up with a win could see him being sacked. Thus, the author feels that it's about time Valverde takes some bold stepsand ensures that the team gets back to winning ways, as they face Villareal at home on Wednesday.