A look at all-time records scripted by Borussia Dortmund
A look at all-time records scripted by Borussia Dortmund
Aug 11, 2019, 09:22 pm
2 min read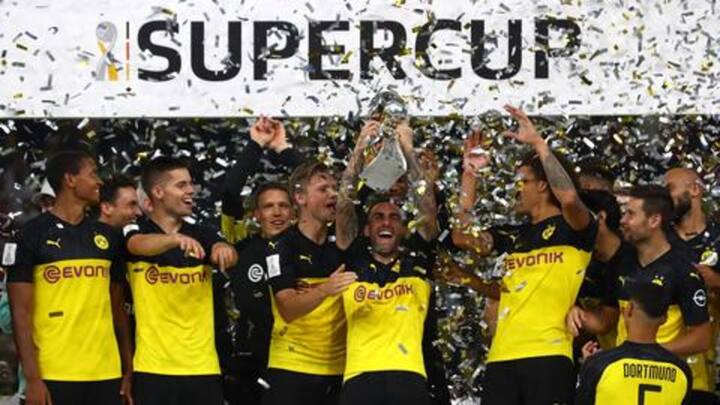 Germany is considered one of the powerhouses of European football. Although the country does not have many competitive clubs, besides Bayern Munich, Borussia Dortmund is one such club who have been scaling good heights of late. Over the years, their consistent success has helped them break a number of records. We take a look at their all-time records to date.
83,000 fans voice their support on six occasions
Playing in front of a capacity and record crowd always gives a great feeling to the players. However, what if the record attendance happens on more than one instance. It has been the case for Dortmund, who have to date witnessed a record crowd of 83,000 at their home ground in Westfalenstadion on six different occasions. Notably, it all happened during the 2004 season.
Alfred Preissler: The goal-scoring legend of Dortmund
Scoring goals is the ultimate goal for any player playing for a club. On the same note, Dortmund's all-time goal-scoring legend is Germany's Alfred Preissler, who played for the club on two occasions, scoring 168 goals. In his first tenure, he scored 45 goals in 78 appearances, while his next tenure was the most successful one, scoring 123 in 211 appearances.
Michael Zorc: Dortmund's most reliable man
Along with goal-scoring ability, one also needs to perform on a consistent basis to make an impact for the club. The man who made the most impact for Dortmund, courtesy his consistency and regular appearance was Michael Zorc. Having played 463 matches for the club, he went on to score 131 goals as a mid-fielder, in his 17-year career at the club.
Ottmar Hitzfeld and Jürgen Klopp: Dortmund's men of silverware
Dortmund has had a notable manager a few years back in the form of Jürgen Klopp, who in his seven-year tenure at the club managed to win five trophies, including twin Bundesliga wins. However, prior to him, it was Ottmar Hitzfeld, who already had made a tremendous impact at the club in his six-year stint, having won five titles, including the UCL in 1996-97.
A look at some other Dortmund records
Biggest win in UCL: 8-0 vs Floriana (1965-66) Player with most UEFA appearances: Stefan Reuter (86) Youngest player: Nuri Şahin (16 years and 335 days) Youngest goal-scorer: Nuri Şahin (17 years and 82 days) Longest-serving manager: Jürgen Klopp (7 years)