These are the two best clubs according to Leo Messi
These are the two best clubs according to Leo Messi
Sep 06, 2018, 03:18 pm
2 min read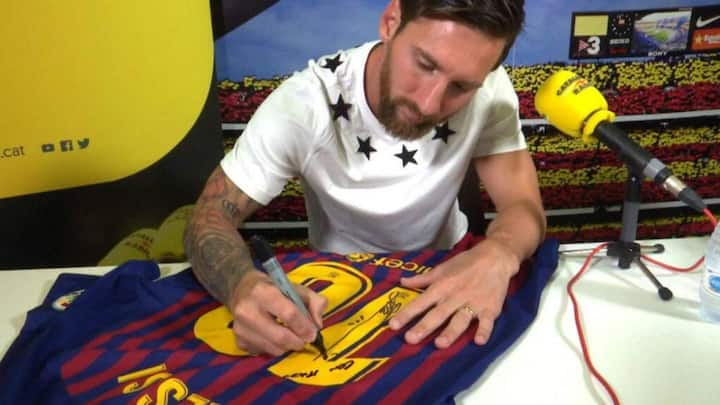 Leo Messi, in a recent interview with Catalunya Radio, revealed which two clubs are the best in the world, as per the Little Magician. The Barcelona captain was in a casual mood as he spoke about his family and how they deal with him when he loses an important match. Messi also took jibes at rich clubs. Read on to find out more.
Barcelona and Real Madrid are still the best: Messi
In the interview, Messi said he still feels Real Madrid and Barcelona are the two best clubs in the world. However, he did not forget to mention that nowadays there is not much difference between Real-Barca and clubs like Paris-Saint Germain, Bayern, Manchester United, and City as all these are rich and can spend money to bring in top players.
Was this a jibe at players going to oil-rich clubs?
Messi said that there are many clubs which can spend tons of money and players change loyalties to where the money is. This might be a jibe at someone like Neymar, who switched to PSG for a record transfer fee of €222 million. Barcelona's first captain revealed that Champions League competition has become stiffer due to the decreasing differences between Europe's best clubs.
A loss is not a good topic of conversation: Messi
Being in a light mood, Messi also revealed how he and his family deal with the situation when he loses important matches. Messi said that he usually prefers not talking about it at all, but his son Thiago sometimes ends up blurting out something, but quickly checks himself. "Even he knows we suffer a lot when we lose", revealed the Barca captain.
Messi: Real Madrid no longer as good without Ronaldo
Messi finally opened up on his long-time rival Cristiano Ronaldo's transfer to Juventus. He said that Ronaldo's transfer has definitely weakened Real Madrid and instantly made Juventus UCL favorites. These two have kept the Ballon d'Or between themselves for a decade now, and still, share a mutual admiration. Messi expressed that he is content at Barcelona and has no intention of switching clubs.