Lionel Messi's son celebrates Real Betis' goal against Barcelona
Lionel Messi's son celebrates Real Betis' goal against Barcelona
Aug 27, 2019, 08:08 pm
2 min read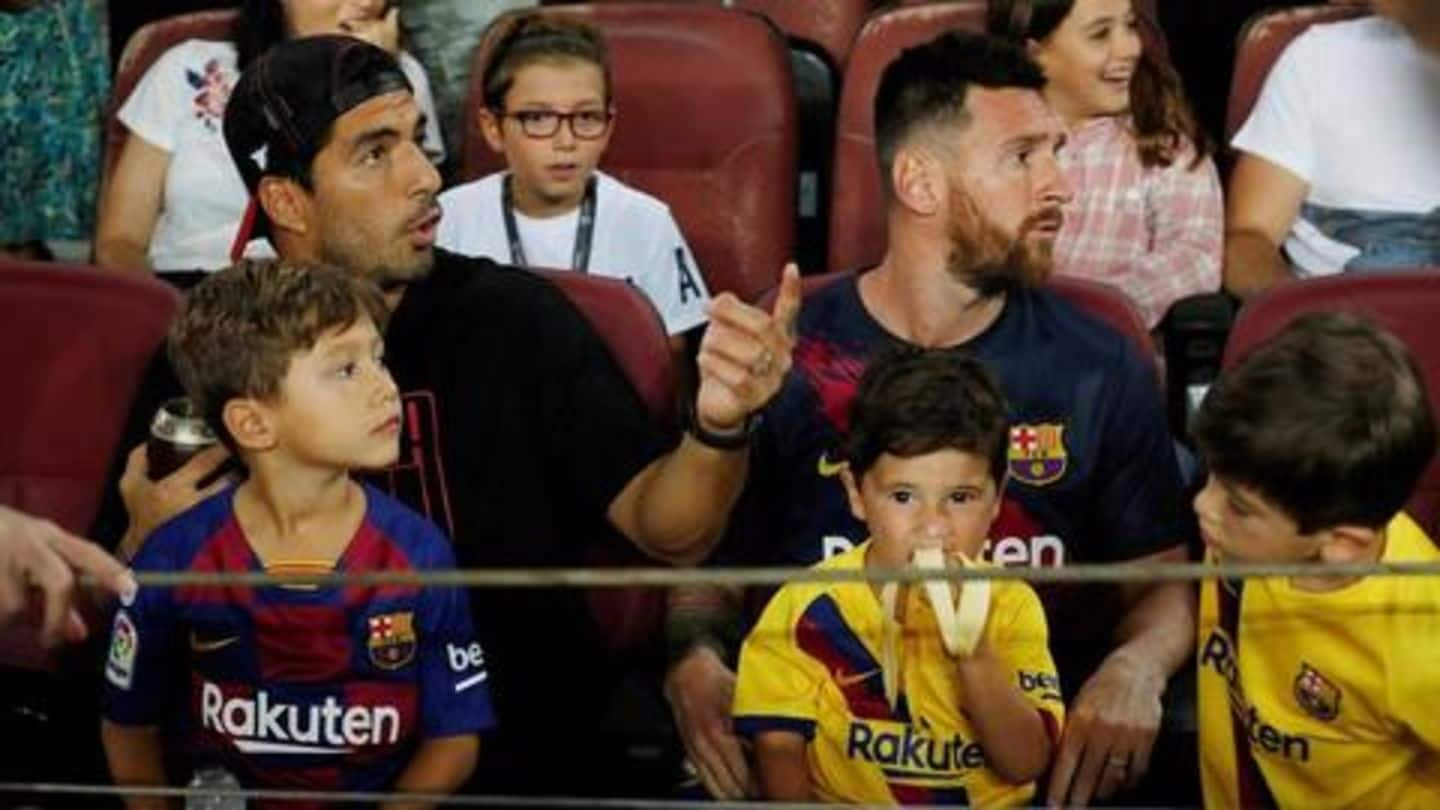 Barcelona didn't get off to a great start in the 2019-20 La Liga season, having lost their opening game of the season. Meanwhile, their star player Lionel Messi is nursing an injury and is yet to feature for them this season. As Barca faced off against Real Betis on Sunday, which they won 5-2, there was a hilarious moment involving Messi's son, Mateo.
Luis Suarez stunned at Mateo celebrating Betis' goal
The incident saw Mateo celebrating the opening goal of the match, scored by Betis, in the 15th minute. While the Barca community was shocked to see the goal, Mateo seemed to have enjoyed it, as he started celebrating. Messi's team-mate Luis Suarez, who was sitting right next to him, was the first to react as he laughed over Mateo, while Messi gave a grin.
Mateo messes up with wrong goal celebration
Messi-less Barca come from behind to tame Betis
Following Betis's early lead, it was Barca's new signing Antoine Griezmann, who leveled things in the 41st minute. It was followed by another one from the Frenchman in the 50th minute, as Carles Pérez and Jordi Alba struck in the 56th and 60th minute respectively. Meanwhile, Arturo Vidal scored the winner in the 77th minute, while Betis scored a consolation in the 79th.
Barca in no rush to field Messi
"There wasn't a positive feeling. He [Messi] hasn't had a relapse of the injury. We already said that we wouldn't rush any player. What we wanted to avoid was a relapse," said Barca coach Ernesto Valverde, following their win over Betis.
Can Barca maintain consistency for long without Messi?
While the author had certain apprehensions against Barca performing without Messi, especially following the opening game, he is fairly impressed with their performance against Betis. However, with Messi's return date still uncertain, the author wonders as to if the side can maintain the same level of consistency. Regardless, they would want Messi back next Saturday against Osasuna in an away tie.