Neymar Jr. injures ankle against Strasbourg as PSG win 2-0
Neymar Jr. injures ankle against Strasbourg as PSG win 2-0
Jan 24, 2019, 10:57 am
3 min read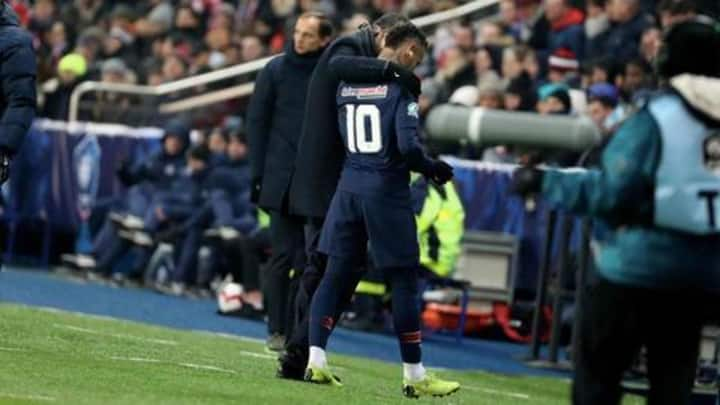 Paris Saint-Germain superstar Neymar Jr. suffered an ankle injury in a Coupe de France match against Strasbourg. Though PSG managed to win the match 2-0, it is worrisome for them because it is the same ankle which had kept Neymar out of action for quite some time last year. Manager Thomas Tuchel is also anxious and is waiting for the medical reports. Here's more.
Tuchel blames the referees for their incompetency
PSG manager Thomas Tuchel later said to the media that Neymar suffered this fate because the referees didn't take action after Neymar was fouled repeatedly. According to him, the referees did not book any player after Neymar was fouled three times back-to-back, and that is what made him twist his foot. He informed the press that Neymar is currently at the hospital.
What did the club and captain Thiago Silva say?
PSG said in a statement, "Initial examinations have revealed a painful recurrence of his injury to the fifth metatarsal of his right foot". It was against Marseille that Neymar first injured the same foot, and it had surely impacted his performance in the World Cup. "I think that he went off before he was totally hurt. The doctor will update us", said Silva.
Strasbourg players feel Neymar is provocative on the field
Strasbourg players reportedly said that Neymar's playing style is something which provokes negative reactions from the opponents. Strasbourg mid-fielder Anthony Goncalves said, "It's Neymar's style, but don't come and complain when you get kicked". However, it should be kept in mind that the one who is getting provoked is in the wrong and risks getting booked by reacting violently to Neymar's style of play.
PSG still won the match convincingly
Albeit Neymar's injury, PSG managed to hold Strasbourg at bay without much difficulty. Edinson Cavani and Angel di Maria were the goal-scorers as PSG won the fixture 2-0. PSG were dominant throughout the match, keeping 68% of the possession and having seven shots on target. Moussa Diaby replaced Neymar in the 62nd minute of the match.
PSG will hope Neymar will be fit for Champions League
PSG have matches against Rennes, Lyon, and Bordeaux in the upcoming days, fixtures they might manage without their Brazilian maestro. However, they will hope he returns to playing condition for their UEFA Champions League round of 16 match against Manchester United on February 13 at Old Trafford. Considering the form United are in, PSG will want their best players available.