Neymar: Captaincy is added responsibility, enjoying it
Neymar: Captaincy is added responsibility, enjoying it
Sep 07, 2018, 05:18 pm
2 min read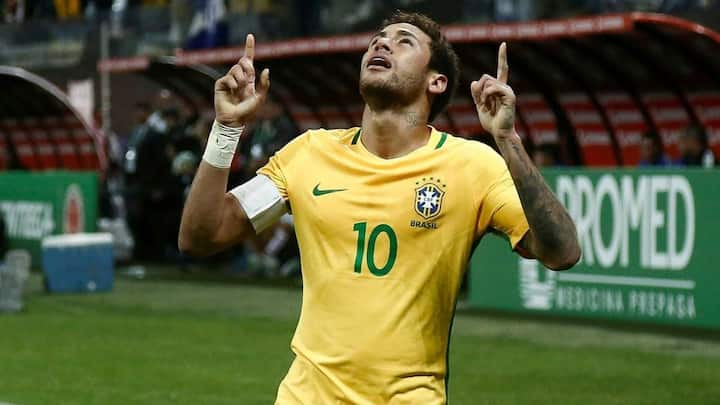 Brazil's star forward, Neymar da Silva Santos Junior, has opened up about being named the permanent captain of his national squad. The PSG star has said that he will be enjoying this added responsibility and it will be beneficial to him as well. He has also opened up about the numerous fouls, he was subject to, during the 2018 World Cup. Further details follow.
Tite has scrapped the rotational captain policy
After Tite took over as the head coach of Selecao in 2016, he adopted a rotational captaincy policy. The method was also followed by Brazil during the 2018 World Cup in Russia. Miranda, Thiago Silva, and Marcelo had captained the team during the group stages. However, the manager has done away with this policy and only Neymar will now be wearing the armband.
Brazil and Neymar's run at the FIFA World Cup 2018
Brazil started their World Cup campaign on a great note but had to suffer an early exit in the quarter-finals after being handed a defeat by Belgium. A lot was expected from the star Neymar Jr, but he did not live up to the hype, scoring just two goals in the tournament. He was also accused of playacting during the coveted tourney.
What did Neymar say about Brazil's World Cup run?
Neymar has defended himself by saying that he is the kind of player who will always look to attack, and thus move forward. He added that opposition players will be blocking and fouling him and he cannot just ask them to step aside so that he can score a goal or give a pass. Neymar also said the fouls have taught him a lesson.
Neymar's first match as Selecao's permanent captain
Neymar will lead his national side in a friendly, tomorrow, September 8, at 5:00 AM against the United States of America. This will be Brazil's first outing after their World Cup exit, and Neymar will want to start his stint as captain with a win.