Visually-challenged Soundarya Pradhan brings glory to India
Visually-challenged Soundarya Pradhan brings glory to India
Aug 24, 2018, 04:15 pm
2 min read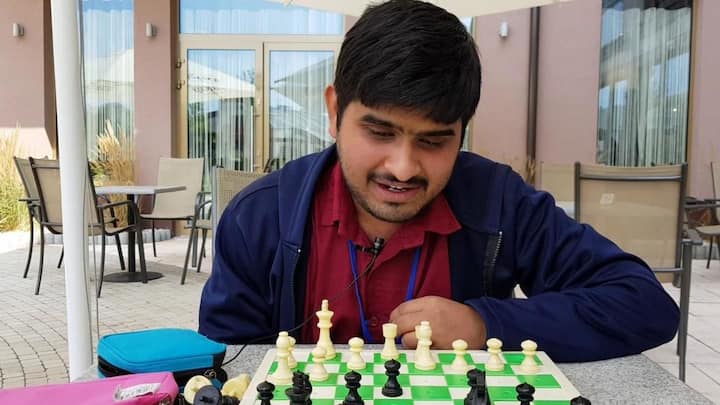 India's Soundarya Pradhan won the silver medal in the World Juniors (Chess) for the Blind and Visually Impaired. As reported by Chessbase India, this is the best result achieved by an Indian in the competition ever. The event, held at Solec Zdroj in Poland, is organized by the IBCA or International Braille Chess Association. Here are further details.
Explanation: How do visually-impaired people play chess?
Black squares are raised 3-5 mm from the white ones to make identification easy. Each square has a hole in the center to fit in the pieces. Black pieces have a pin fixed on their heads to distinguish them from the white ones. Players call out the move they just played for their opponent's knowledge. They use Braille or tape-record the moves they play.
What do we know about the IBCA?
Like FIDE is the apex body of chess amongst the sighted, IBCA or the International Braille Chess Association is the governing body for the visually challenged and is, itself, affiliated to FIDE. The IBCA started out in 1951 to promote the game of chess amongst the blind and visually impaired. IBCA now has 60 member countries from all across the world.
ChessBase India congratulated Pradhan on his historic triumph
A proud moment for Indian chess! Soundarya Pradhan creates history by winning the silver medal at the World Junior for Blind and visually impaired 2018 held in Solec Zdroj, Poland from 14th -23rd August 2018.
Read more: https://t.co/MYAsB8sHeC
Photo: Amruta Mokal/ ChessBase India pic.twitter.com/KoGY8Qxhnh

— ChessBase India (@ChessbaseIndia) August 23, 2018
Other astonishing achievements by the champion
Soundarya is the youngest FIDE-rated visually challenged chess player of India. He has participated in all the World Junior Chess Championship for the Blind and Visually challenged since 2013. Before Soundarya came second in the world championship, the previous best belonged to Darpan Inani, who had won the bronze at World Juniors 2013.
Soundarya's long road to success
The champion suffers from Leber's Congenital Amaurosis, a disease that genetically passes through families and people impacted by it are born blind. His uncle, who represented the state of Odisha, introduced Soundarya to chess when he was four years old. The NIT Jamshedpur student had the honor of addressing Indian Parliamentarians on World Children's Day on November 20, 2017.