The CoA lifts suspension on Hardik Pandya and KL Rahul
The CoA lifts suspension on Hardik Pandya and KL Rahul
Jan 24, 2019, 06:36 pm
3 min read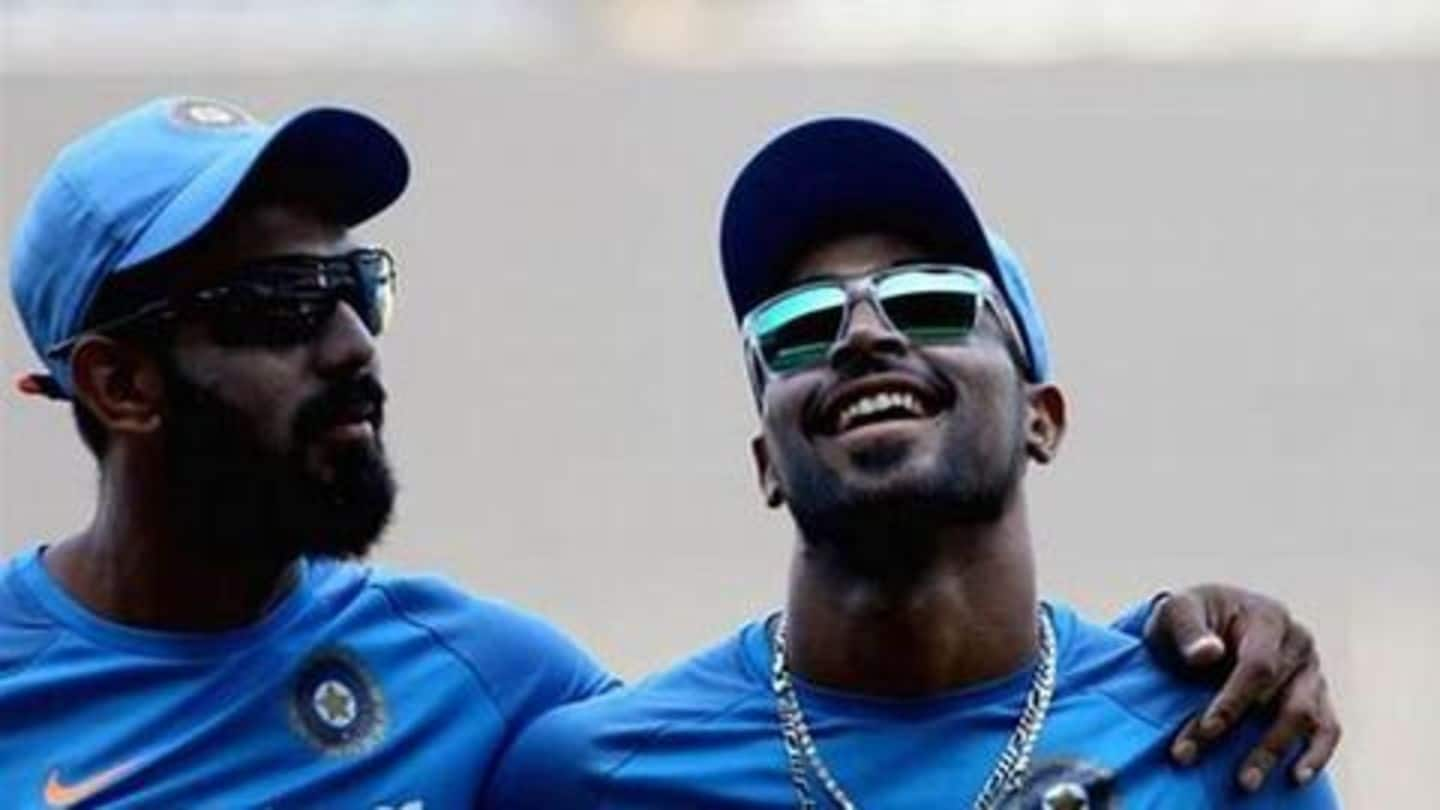 The suspension of Indian cricketers Hardik Pandya and KL Rahul has been lifted by the Committee of Administrators pending Supreme Court hearing on February 5. These two received a lot of flak (and were subsequently banned by BCCI) after their controversial remarks on Karan Johar's Koffee With Karan 6. Due to it, they missed the series against Australia and the tour of New Zealand.
'Suspension order is immediately lifted'
A press release from the board said: "The above matter and decision has been taken with the concurrence of the Learned Amicus Curiae, Mr. P.S. Narasimha. In view of the above, the suspension orders dated 11.01.2019 is immediately lifted pending appointment and adjudication of the allegations by the BCCI Ombudsman."
Pandya could join the Indian team in New Zealand
According to reports, Pandya could join the Indian team in New Zealand. Meanwhile, Rahul might either play domestic cricket or feature for India A in the ongoing home series against England Lions. The two players are likely to be included in the upcoming home series against Australia. BCCI acting president CK Khanna was the first one to voice an opinion on lifting their suspension.
Backstory: From virginity to cool parents, Pandya spoke a lot
Pandya, in his blingy self, sat on the couch and his words were mindless for the most part of the episode. The cricketer boasted how his parents were 'cool' and revealed he told them after he lost virginity. "I told my parents Aaj main karke aaya," Pandya said. But this wasn't the worst part. As the minutes passed by, Pandya passed more cringeworthy remarks.
Pandya spoke about his relationships, women and irked all
About women, Pandya didn't have any good things to say. He said he liked to see them 'move' and credited his love for 'black culture' for this. When Rahul quipped Pandya had 'relationships' with all cheerleaders, Pandya didn't correct him. His demeanor showed he treated the 'allegation' as a 'feather in his cap'. Quite obviously, Pandya was criticized for his statements.
Dear reader, tell us your opinion
The suspensions of Hardik Pandya and KL Rahul have been lifted with immediate effect. Do you think it is a right decision?

— NewsBytes (@NewsBytesApp) January 24, 2019
It is the right decision: Our take
With the World Cup set to start from May 30 onwards, the CoA has taken the right decision. India will want to give Pandya enough game time in order to help him prepare for the coveted tournament. One feels that the governing body was a bit harsh on the two players, as it could have handled the matter in a better fashion.