Rafael Nadal resumes training ahead of ATP Finals: Details here
Rafael Nadal resumes training ahead of ATP Finals: Details here
Nov 08, 2019, 04:51 pm
2 min read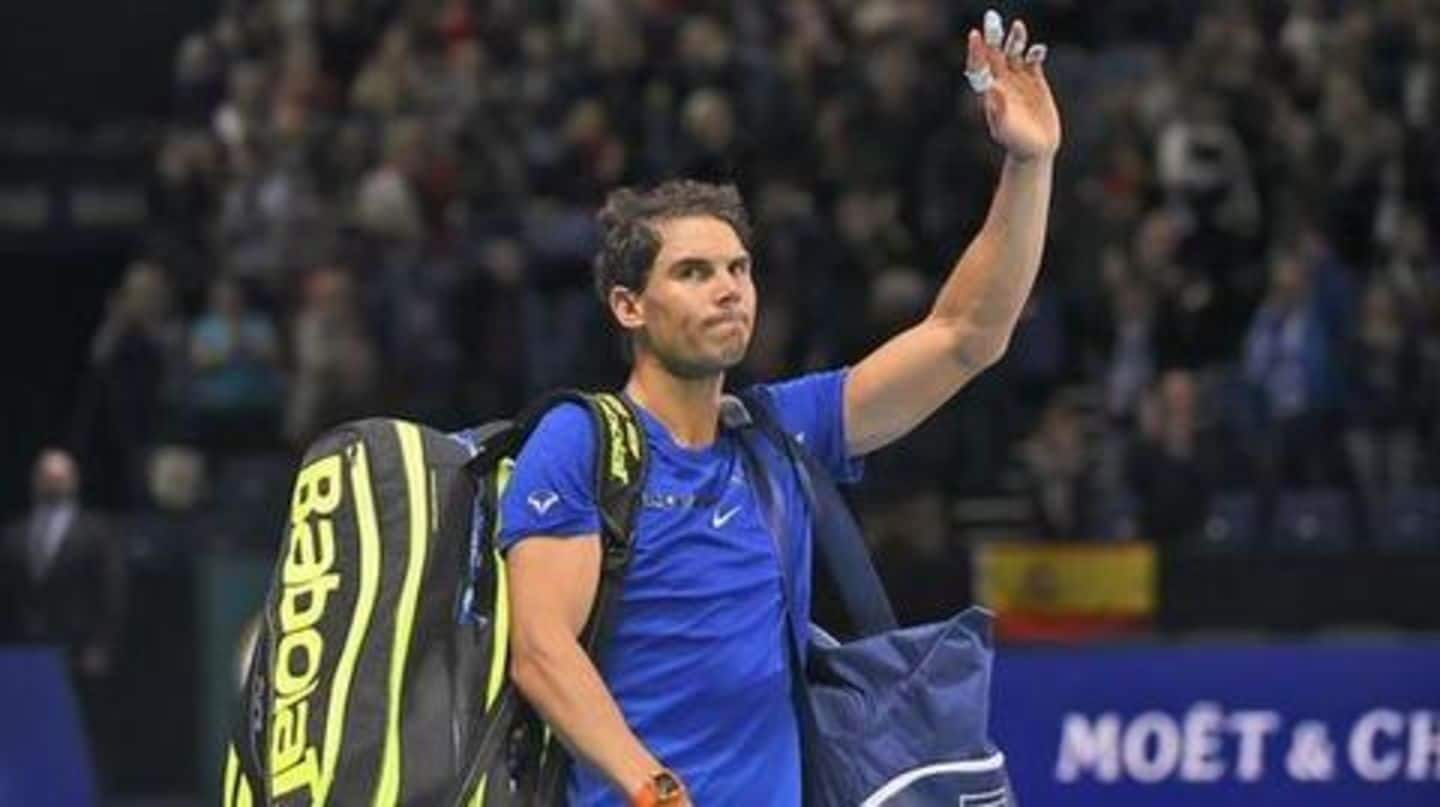 Current world number one Rafael Nadal resumed his training ahead of the upcoming ATP World Tour finals, to be held in London from November 10. Although his participation was doubtful after he had pulled out of the semis of the just-concluded Paris Masters, owing to an abdominal strain, he has put those doubts to rest. Here are further details on this.
Nadal's injury not as serious as presumed
As far as Nadal's abdominal strain is concerned, it was presumed that the injury was severe, casting doubts over his ATP Finals participation. However, upon scan, it has been revealed that the injury is minor and he could continue to participate in the year-closing tournament. Consequently, Nadal confirmed his travel to London from Mallorca to continue with his practice sessions.
Nadal watchful about his serve during training session
As Nadal trained in the indoors, with coach Carlos Moyá, it was notable that he was watchful about his serve, as he did it with less intensity than usual. While it is unclear if Nadal is doing it to avoid any kind of injury, he has revealed that he would start working on his serve in the next few days.
Nadal hits the court ahead of ATP Finals
Nadal's status to be clear by Saturday/Sunday
"We will complete all phases and wait until the end. For now, we can go there and start training. Day by day will tell us the possibilities you have of playing. On Saturday or Sunday, we will know," said Nadal's long-time doctor Angel Ruiz Cotorro.
Roberto Bautista Agut in line to replace Nadal
Although Nadal might have resumed training ahead of the ATP Finals, his participation is still not confirmed. Notably, having not won this tournament to date, Nadal would desperately want to have a shot at the title, but not at the risk of his health. Meanwhile, current world number nine, Roberto Bautista Agut is on standby to replace him, in case he rules himself out.