"Not a cheater," Serena furiously tells umpire, later highlights sexism
"Not a cheater," Serena furiously tells umpire, later highlights sexism
Sep 09, 2018, 10:17 am
2 min read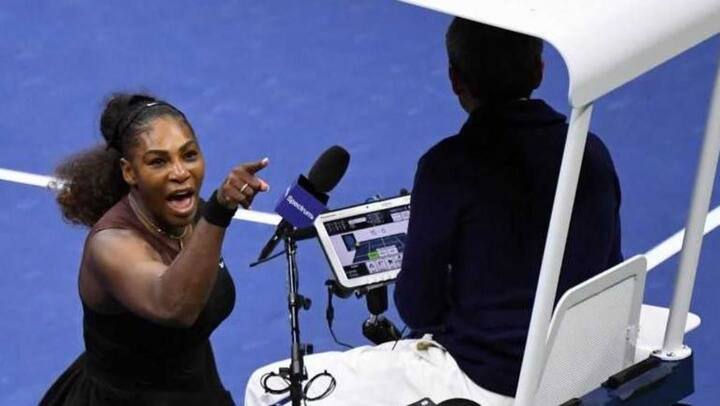 Tennis superstar Serena Williams didn't let umpire Carlos Ramos get away with calling her a cheater in the finals of US Open, and said the latter owed her an apology. Williams lost the match to Japan's Naomi Osaka, 6-2, 6-4, and her anger in the court has already become a global topic. Later in a press meet, Williams called out sexism in tennis.
Ramos penalized Williams, which gave Osaka an edge
On the court, Williams was handed over several code penalties by Ramos. The first one was a warning for coaching, second for breaking her racket, which gave a point to Osaka, and the third one was for calling the umpire 'thief'. At the end of these penalties, Osaka was up to 5-3, meaning one point and she could win the match.
Williams says she has never cheated, stands for what's right
Williams told Ramos she hadn't been coached, and wouldn't ever cheat. "I have never cheated in my life. I have a daughter and I stand for what is right and I have never cheated," she said asserting she would rather lose.
Watch: Williams stands her ground as millions watch
It was a sexist remark, says Williams after match
In a post-match press conference, Williams blamed Ramos for taking away her game. She said she knew male tennis stars have said several things to umpires. "I'm here fighting for women's rights and women's equality and all kinds of stuff, but for me to say 'thief' and for him to take a game? It made me feel like it was a sexist remark," she said.
Further, Williams also dived into the Cornet shirt-changing incident
Sticking to her theme of fighting for equality, Williams said, "Cornet should be able to take off her shirt without getting a fine. This is outrageous." The reference was to French star being called 'unsportsmanlike' for fixing her shirt on the court. Williams' statements got her applauds from media. Meanwhile, Women's Tennis Association assured they would look into the dispute.
Grace personified: Williams ensured spotlight remained on Naomi