Former USA gymnastics doctor accused of sexual abuse
Former USA gymnastics doctor accused of sexual abuse
Feb 19, 2017, 07:30 am
2 min read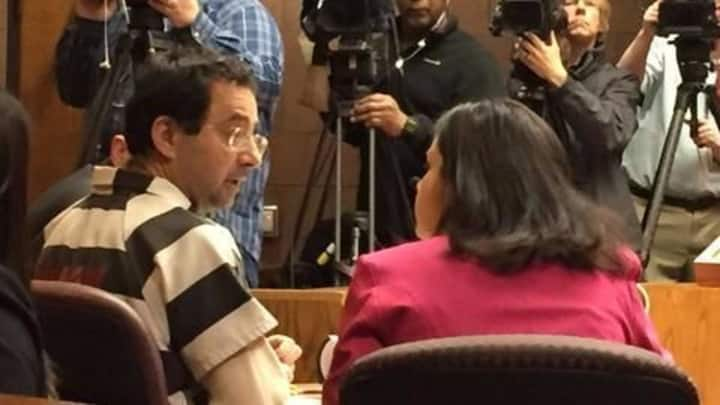 A sports doctor who treated the United States' Olympic gymnasts has been accused of sexual abuse by his former patients and athletes. Larry Nassar, 53, is also charged for possession of child pornography material - more than 37,000 images, including Go Pro video he allegedly made himself. About 60 former patients have filed complaints against him alleging molestation under the guise of pelvic procedures.
US gymnasts allege sexual abuse by coaches and others
About 368 United States' gymnasts have come forward and alleged sexual abuse by over 100 coaches and gym owners, an investigation by newspaper the Indianapolis Star revealed. The gymnasts also alleged that their complains were ignored as USA Gymnastics did not alert the police. However, the body claims that they have done whatever needed to "address and guard against child sexual abuse."
USA Gymnastics avoided going to FBI
The USA Gymnastics posted on their website that they had hired a private investigator to conduct interviews with the athletes. It was only after the investigation was complete by the investigator, the country's sport governing body alerted the Federal Bureau of Investigation about the allegations.
Larry stripped off his medical licence
The accused doctor, Larry Nassar was stripped off from his medical licence after several complaints against him. He was also fired by USA Gymnastics and Michigan State University, where he was working. He has however, pleaded not guilty.
Nassar to be tried on sex assault charges
After a 25-year old woman testified against Larry Nassar saying that he abused her from the age of six until 12 during family visits to his Michigan home, the court ordered sex assault charges against Larry. The woman, neither his patient nor an athlete said, "Almost every time I was there for a couple of years, something occurred."