Shakib Al Hasan wants to take a break from cricket
Shakib Al Hasan wants to take a break from cricket
Mar 07, 2022, 12:13 pm
3 min read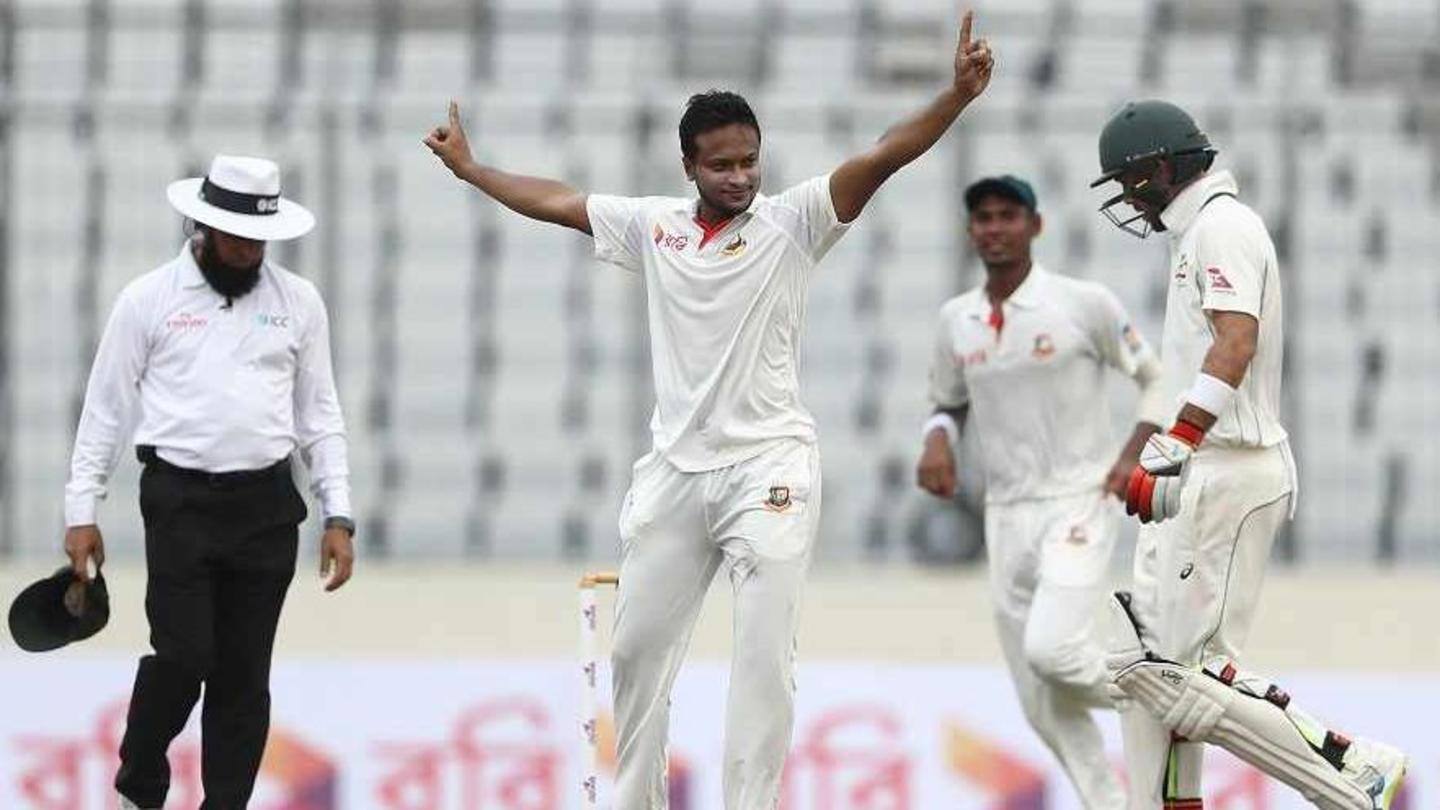 Bangladesh all-rounder Shakib Al Hasan has expressed his desire for a break from international cricket. The 34-year-old said he is not in a "situation to play cricket" and is mentally and physically exhausted. He was included in both Test and ODI sides for the tour of South Africa. Reportedly, Shakib agreed to play following a conversation with Bangladesh Cricket Board (BCB) President Nazmul Hasan.
Why does this story matter?
Shakib is one of the most prolific all-rounders across formats.
His outings in international cricket have been cut short lately due to workload management.
He has skipped several series since the 2017 South African tour.
Shakib stole the show in the 2019 World Cup (scored 606 runs and took 11 wickets).
Thereafter, he served a one-year suspension from October 2019 to October 2020.
"I have spoken with Papon (Nazmul Hasan - BCB president) and agreed to play, and that is why I was in the team. After the Afghanistan series, I have given it a deep thought because it's immaterial whether I am doing well or not because if I cannot enjoy then that is worrying. Then I am also depriving my teammates," Shakib said.
Not possible to play international cricket right now: Shakib
"The mental and physical condition that I am in right now, it is not possible for me to play international cricket. If I get a break and get back the interest then it will be easy for me to play cricket. In the Afghanistan series, I was feeling like a passenger and I don't want to be like that," added Shakib.
Will Shakib leave one format?
In December 2021, Shakib said that he might retire from one of the three formats in the future. In an interview with Dhaka-based TV channel NTV, Shakib stated that playing all three formats in international cricket is "close to impossible". "The time has come for me to think about Test cricket. This is the fact: whether I will play Tests or not," Shakib said.
A look at Shakib's international career
In an international career that has spanned over a decade, Shakib smashed 12,597 runs from 373 matches at an average of 34.60. The tally includes 14 centuries. Shakib also has 616 wickets to his name at an average of 28.22. He owns 22 five-wicket hauls. He has the distinction of registering a hundred and a five-for in a Test match.
Shakib has missed several tours of late
Since the 2017/18 South Africa tour, Shakib has played only eight of the 27 Tests Bangladesh have played. He missed the last tour citing personal reasons. Last year, he missed the series against Sri Lanka in order to take part in the Indian Premier League (IPL). He recently sat out of the New Zealand tour as well.
Shakib has played 81 internationals since November 2017
Shakib has played 81 international games since November 1, 2017. He racked up 2,700 runs at an average of 35.52 in this period (Best score: 124*). Shakib also accounted for 129 wickets at 23.42. The tally includes four five-wicket hauls.
Jalal Yunus, BCB's cricket operation chairman, confirmed the board has asked Shakib to take a call regarding the SA tour after a small vacation. "He is mentally low and we have asked him to have a short break and afterward tell us how he feels," Yunus said. "He did not tell us that he is unavailable for the South Africa series."