I still regret the 2003 World Cup against India: Akhtar
I still regret the 2003 World Cup against India: Akhtar
Aug 06, 2019, 02:30 pm
2 min read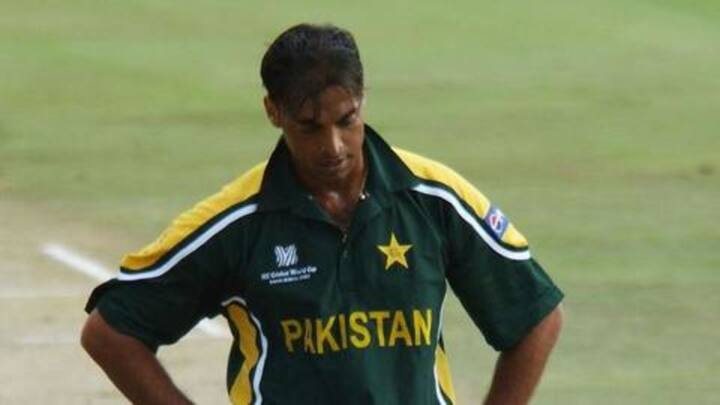 Pakistan have endured a tough time against arch-rivals India in the ICC World Cup. To date, Pakistan have met India on seven occasions in the tournament and are yet to pocket a win. One of the most bitter losses for Pakistan came during the 2003 World Cup. On the same note, former Pakistan pacer Shoaib Akhtar said it still remains the most disappointing loss.
India pummel Pakistan by six wickets to script historic win
Batting first, Pakistan posted a challenging total of 273/7, courtesy Saeed Anwar's 101, while Zaheer Khan and Ashish Nehra claimed two wickets each. In reply, Sachin Tendulkar fought back with an amazing knock of 98. However, it was the pair of Rahul Dravid (44*) and Yuvraj Singh (50*) which ensured India manage to get past Pakistan and keep their unbeaten streak alive.
Most disappointing loss of Shoaib's career
Shoaib admitted that the loss remains the most disappointing one, as they failed to defend a challenging total like 274, despite having a star-studded bowling line-up. He also revealed he had a numb knee and took four-to-five injections before the encounter. "Because of the injections, water had filled up in my left knee and there was no sensation in it," said Shoaib.
I wasn't able to run properly: Shoaib
"I wasn't able to run properly through my bowling run-up. As a result, I was not able to bowl properly. Indian openers, Sachin Tendulkar and Virender Sehwag, went for the charge from the word go," added Shoaib, as reported by IANS.
Shoaib realized how to bowl, but it was too late
Shoaib revealed that he realized later that bowling short to the Indian batsmen, especially Tendulkar, from the start of the innings would have done the job. However, the realization came too late, since following his initial failure, he was taken off the attack. "I told the captain that I should have persisted with such bowling from the very beginning," continued Shoaib.
Bitter experience for Shoaib as he regrets the loss
Shoaib added that Pakistan could have easily beaten India in 1999 and 2003, but credited India for playing well against them. He regrets the 2003 loss the most as a few more runs and better bowling could have helped them win. "But unfortunately, my fitness came in the way and also, it was poor captaincy that made us lose that match," he concluded.